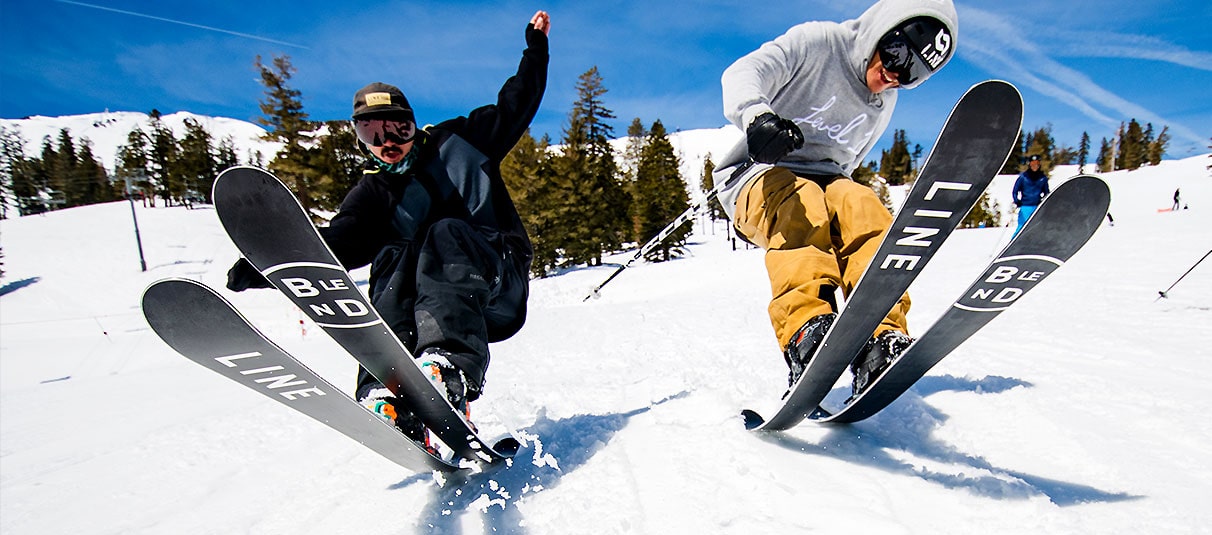 Line Skis, infamously known for their twin-tipped, freestyle-inspired skis, is boldly branching out and releasing a ski designed for carving deep trenches, tight turning, and slicing up groomers. The all-new Line Blade features gas pedal metal construction with 100% Aspen wood and independent titanal pieces in the tip and tail, providing torsional stability while still providing that energetic, snappy feel. While you may not be inclined to ski switch or pop off that side hit with playful style, this ski will have you ripping down fresh corduroy like a boss.
Founded in 1995 by Jason Levinthal in a one-car garage, Line Skis made a name for themselves in the ski industry through their short, twin-tipped skis geared towards freestyle skiers. Now producing full-length freeskis, Line offers a wide array of skis ranging from the 88mm Sick Day to the 117mm Outline. With a pro team stacked with athletes such as Eric Pollard, Tom Wallisch, and Hadley Hammer, the company holds a notorious reputation for their fun, playful jibbing skis.

Taking a different approach with the Blades, Line focused on several innovative techniques, giving the ski a unique shape, titanal material throughout, and light aspen wood for the core. As a result, users will find the torsional rigidity and edge grip, allowing for tight and controlled turns without the loss of style and ease. Available in a range of sizes, the Blade has a 95mm waist underfoot with a tip and tail inspired by directional skateboards. It is also available in a women's version with a slightly more narrow waist to allow for maximum carving potential.
While we patiently await winter's return and start obsessing over new gear, keep your eyes peeled for the Line Blades. With all-mountain performance, lively stability, and tight turning radius, the Blade offers loyal Line skiers the perfect vice for slaying not only those perfect corduroy groomers but the entire mountain. See you out there!