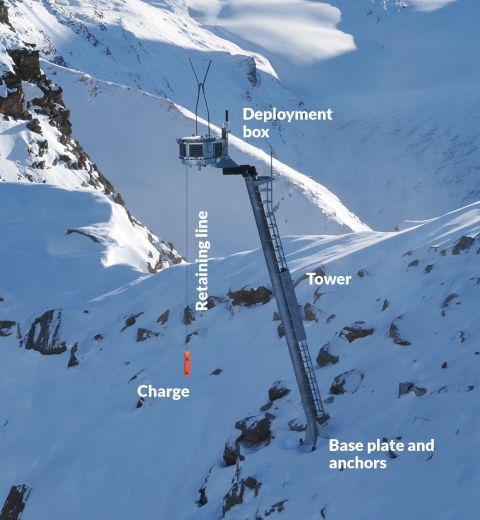 Lizard Head Pass on CO Highway 145, in Southwestern Colorado, is receiving state of the art avalanche mitigation equipment. In the months of August and September, 5 towers will be installed just outside the town of Rico, Co above-known slide paths. These towers will provide remote detonation abilities to CDOT's arsenal on Lizard Head Pass. This project will be installed by Wyssen Avalanche Control and comes at a cost of $1.4 million. Each Tower/System contains 12 charges capable of triggering avalanches remotely by percussion. The deployment box will lower each charge to a safe distance via the retaining line for remote detonation.
 CDOT aims to improve efficiency, as well as increase safety for workers with this upgrade. This upgrade will also increase reliability on Lizard Head Pass (CO145). This is the main alternative route through the San Juan Mountain Range when the "Million Dollar Highway" (Silverton/Ouray) closes, frequently and regularly due to snow. Howitzer and Avalauncher resources have been utilized previously on this mountain pass. CDOT currently operates 30 systems, comparable to the one being installed here, atop various mountain passes in Colorado.
Lizard Head pass rises to 10,246 feet in the San Juan Mountains between Rico, Co and Telluride, Co. Lizard Head Pass is a major thoroughfare for workforce members as well as ski visitors to Telluride Ski Resort. No traffic delays are expected on CO 145, considering the location of the installations. In very sad and recent news, Sam Wyssen, CEO of Wyssen Avalanche Control. Has died in a plane crash on July 25th, 2020. Rest In Peace Sam Wyssen and thank you for your many contributions towards avalanche mitigation equipment. Our condolences go out to the families affected by this tragedy.
Sources