March Madness has arrived at Revelstoke Mountain Resort, which means the snowpack is at its peak, the days are longer, and the lifts are open later. From first chair to last call, there's no shortage of events to keep skiers and riders busy on and off the hill. This month is lined up to be legendary, with big snow, big events, and big vibes, March is hands down the best time to visit Revy, a gem in the Kootenay–Columbia range. 
Located on BC's revered Power Highway, Revelstoke offers steep, deep, adrenaline-pumping inbounds runs and untracked backcountry lines, all from the center of its picturesque town. Offering a massive variety of lift-accessed terrain and heli-skiing tours via Selkirk Tangiers, Revelstoke is a powder paradise. Set against the backdrop of British Columbia's incredible landscape and awe-inspiring views, Revy has something for everyone and is easily a must-ski on any traveler's bucket list.
Boasting accessible big mountain terrain, tucked into the Selkirk Range of interior BC, Revelstoke was a flawless fit for the Natural Selection Tour. With high-quality, light snow that's consistent and reliable, the top snowboarders in the world competed on the most exciting natural terrain on Earth. As part of the Selkirk-Tangiers Heli Skiing tenure, Revelstoke Mountain Resort hosted the NST during the event's weather window of March 4-11. 
Riders who advanced through DUELS, 8 men and 4 women, went head-to-head in a bracket-style competition until one rider was named the winner of the Revelstoke Phase. Packed with daily events, stop two on the Natural Selection Tour brought Revelstoke a unique outdoor event and experience. The event was created to inspire a deeper connection to Mother Nature and pushed freeride snowboarding to new levels. Revelstoke's authentic mountain community was highlighted and celebrated at the Tour, with support from Tourism Revelstoke and the Province of British Columbia. The brainchild of one of snowboarding's G.O.A.T.s Travis Rice, this contest was one for the ages. Check out the replay to see for yourself!
The future of freeskiing is here, as top young talent in the sport descended upon Revelstoke for the IFSA Junior Free-Ski Regional Tour, which made a stop at Revelstoke Moutain Resort on March 10-12. This event hosted some of the best  U12, 12-14, & 15-18-year-old big mountain skiers in the region. 
The International Freeskiers Association (IFSA) was established in 1996 by freeskiing pioneer Shane McConkey, providing a continued progression from the early development of junior freeskiers through adulthood. It has since evolved to be the premier junior and adult big mountain freeride competition. Emerging young athletes competed at the highest level, pursuing the most challenging lines on the mountain in an event inspiring any age skier.
Do you think you've got what it takes to wear the crown?! The annual King and Queen of the Mountain Competition returned to Revelstoke in an open contest format to anoint a new champion. Over a span of two days, skiers and snowboarders had a chance to prove who reigns supreme in a hybrid freeride and freestyle competition that took place from March 18-19. 
Directly beneath the Stoke Chair, the hand-built freeride venue on SWF kicked off day one for competitors. On day two, a custom slopestyle course was set up in the Terrain Park for skiers and riders to throw down their best tricks. Mountain royalty was found and a King & Queen were crowned by combining the highest scores from each event. Prizes were distributed to the top three athletes in all four divisions. Whether participating or spectating, this fun event was full of high fives, good vibes, and huge sends.
Calling all beer lovers! Revy Beer Fest is a brand-new Beer Festival in the heart of the Columbia Mountains, offering a taste of authentic mountain culture. Send off winter in style at this two-day festival and sample some of the region's best local craft beers and spirits. 
It's hard to imagine a better spring skiing experience, than hitting stunning slopes at Revelstoke Moutain Resort followed by a beer fest at the Revelation Lodge. Post-festival, keep the good times rolling with an after-party in the village at the base of the resort. Tickets are available now, so don't miss out on this one-of-a-kind end-of-season celebration.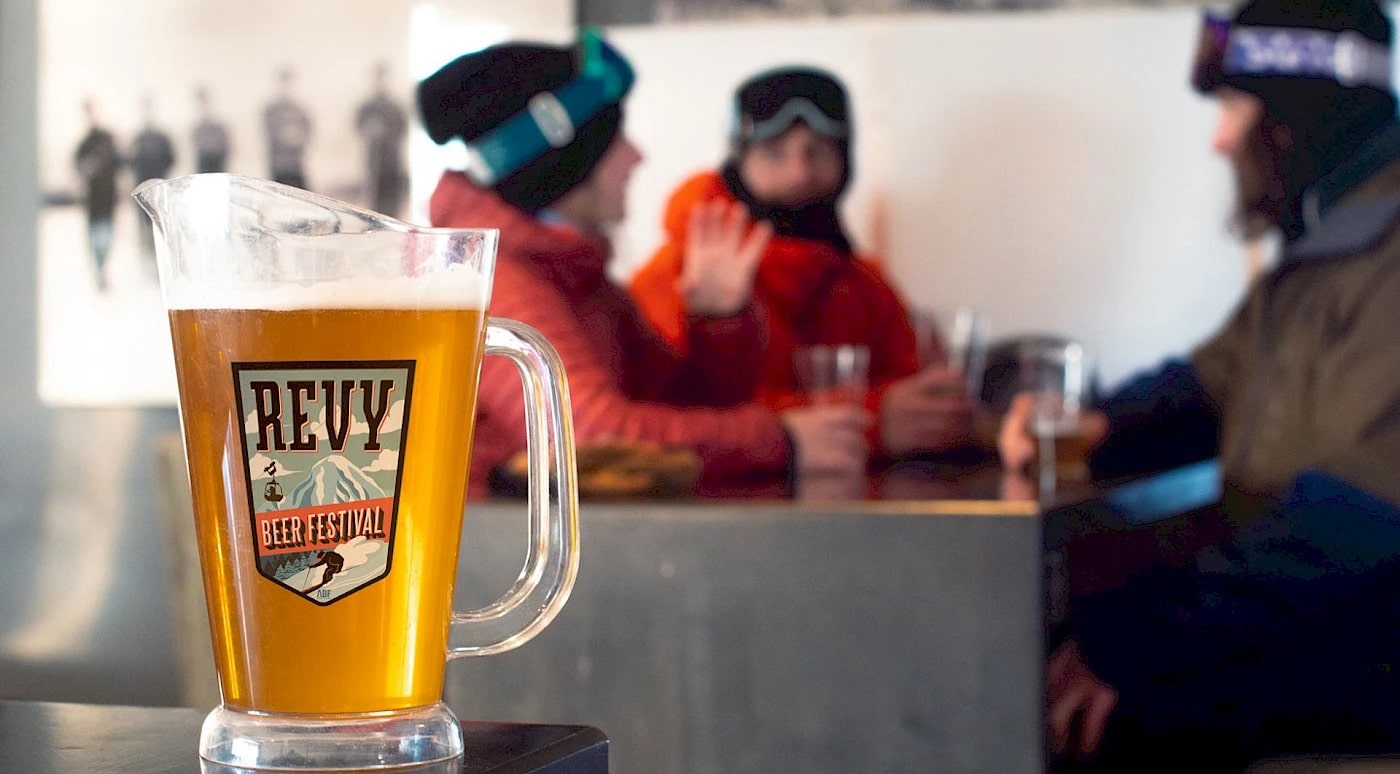 Aprés-ski in the spring is unmatched in Revelstoke and the perfect time to take in Revy's small-town vibes. You'll be hard-pressed to find a better way to recap an unforgettable day on some of the longest runs in North America than over a few adult beverages with your friends. With live music and a sunny patio to accompany an aprés scene as varied as its terrain, Revelstoke's aprés ski scene incorporates tasty bites, pub crawls, happy hours, and even spots where you can dance the night away. Just make sure you've changed out of your ski boots.
Sample local beers from BC's best ski towns and breweries at the Revelation Lodge or try award-winning spirits, using locally sourced ingredients, at Monashee Spirits. Go-to après-ski spots and nightlife options in Revelstoke include, The Mac Tavern, Rockford Bar & Grill, The Village Idiot, The River City Pub, Chubby Funsters, Mt Begbie Brewing Co, and Rumpus Beer Company. While the nightlife may seem tranquil and modest, there are friendly locals and adventure seekers from all over the world here with one common goal: to have a good time and as much fun as possible.