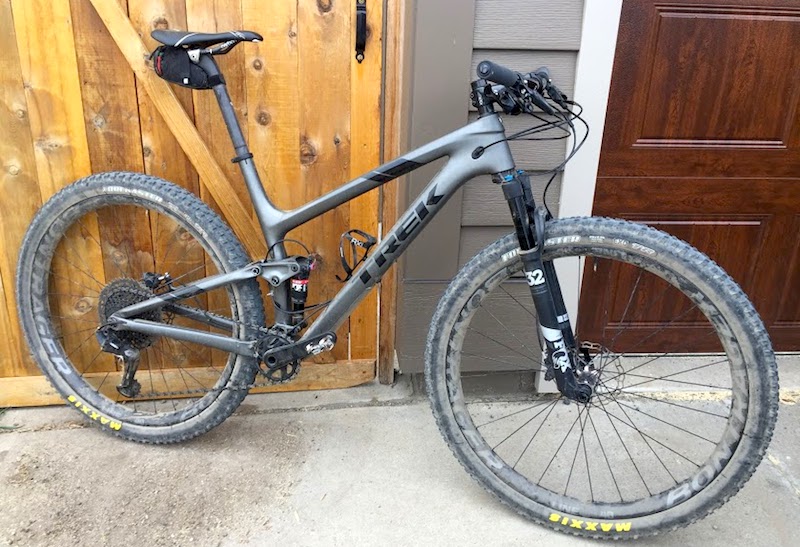 I'm signed up for a mountain bike race later this fall that has a history of being quite muddy. I'm flying there, only bringing one set of wheels, and don't want to worry about changing tires at the last minute. I bought a pair of Maxxis Forekaster 29 x 2.35″ tires on sale over Labor Day and so far I'm very impressed. In this size, the tire is 120 TPI, Dual Compound rubber, and uses Maxxis' EXO sidewall protection.
Maxxis bills the Forekaster as an aggressive XC tire optimized for loose or muddy conditions.  The Wide Trail (WT) casing is designed for today's wider rims in the 30-35mm internal width range. Claimed weight is 735 grams, which is respectable for a tire of this size. Out of the box, they didn't look like anything special. The tread appeared far less aggressive than I'd seen in pictures, but I figured I'd still give them a go.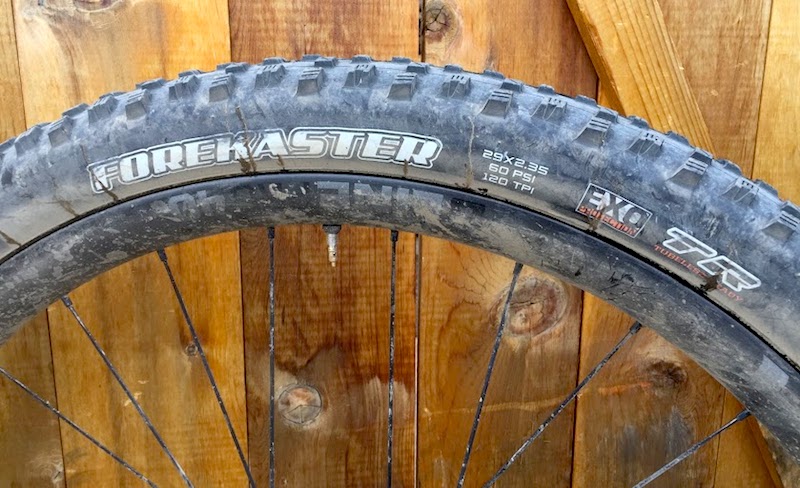 Mounting up the Forekasters took a bit of muscle, but most tires are a snug fit this particular pair of wheels. Tubeless was a piece of cake. No headaches on that front.  I've got mine set up on some Bontrager Line Pro 40 (41mm internal width) rims. That's a bit wider than optimal, but I've never had issues running regular tires on plus size rims. The side knobs are ending up a little more inboard than they're probably intended to be, but it hasn't seemed to be a problem.
I'm lucky to live in a spot where I can ride a few miles to the trails. Minutes into my first ride, I wasn't paying attention and ran over the base of a broken glass bottle. I pulled over, fully expecting to have wrecked two brand new tires, but there was no damage to be found. Win number one. I don't have a ton of miles on these yet, but I get the vibe that wear and durability will not be an issue.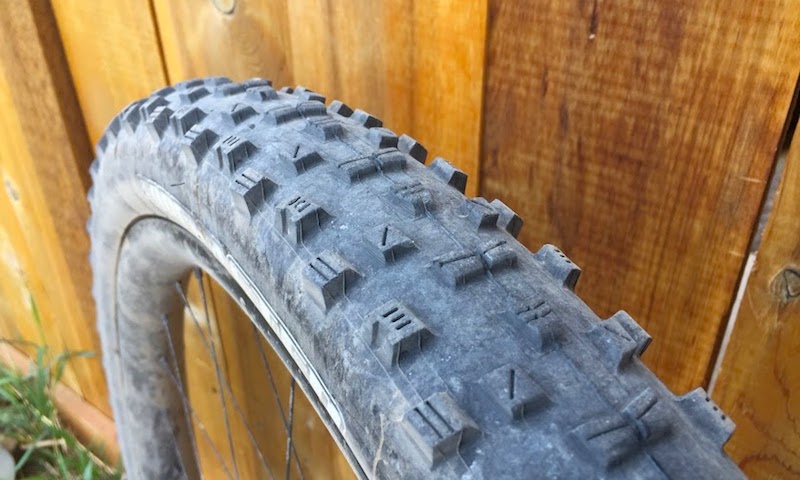 I've been running the Forekasters at 25 psi front and rear, which seems to offer a great combination of grip, handling, compliance, and fast rolling. The sidewalls aren't showing signs of any excessive bulging or folding, and I have yet to lose any pressure from burping a tire. Cornering is solid and predictable. My previous tire, that will go unnamed, was 60 grams heavier and yet lost all structure below 30 psi.
Trail conditions in Montana right now are a mix of firm packed and loose/rocky. On hardpack and the road en route to the trails, these things haul. I find my self constantly thinking, "Dang, these tires are fast!" I'd been riding some Maxxis Recon's earlier in the summer (also a great tire), with a much shallower tread pattern, and the Forekasters feel just as quick. Loose over hardpack can be tricky on any tire and this isn't the Forekasters strength, nor intention. They aren't terrible by any means but lack a little grip compared to a true semi-slick XC tire.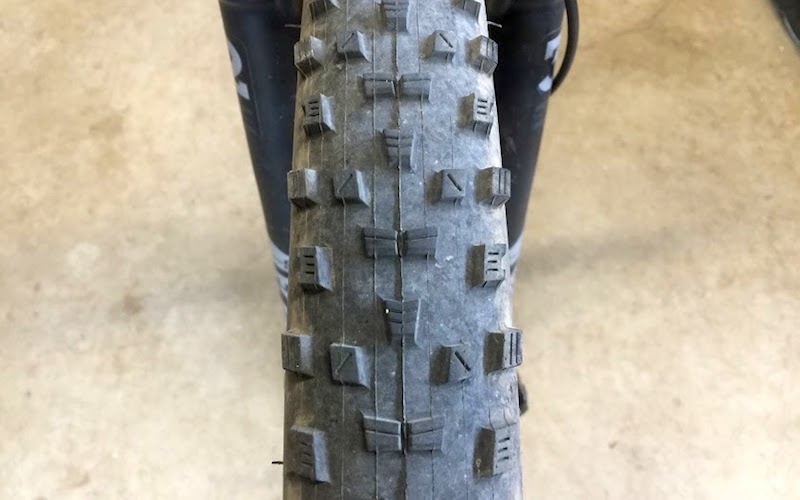 It's taken me a couple rides to get confident on the Forekasters in loose conditions, but overall the grip is top notch. A few sections of off camber gravel that I always struggle with went by without issue last night, and they power over sand and rocks with minimal digging in. It can be a little challenging to break the rear tire free in corners, but that just speaks to how good the grip is. Braking performance reflects this as well – stopping is predictable, with minimal squirm or sliding. 
I bought these tires for mud, but unfortunately, I haven't found any yet. They've done well in a few small stream crossings, but that's not enough to make any big conclusions. If you're looking for an all-around XC/Trail tire, I'd highly recommend giving these a look. They're available in a variety of 27.5″ and 29″ sizes for however you ride.