Brought to you by 10 Barrel Brewing
Report from Monday, January 11, 2021
A frigid cold morning turned into a warm and sunny day skiing Mt. Emmons. Mt. Emmons, also known as the Red Lady, is one of the classic ski descents in Crested Butte, CO sitting at 12,343′. There are two ways to ascend Mt. Emmons in the winter: the Trappers Way and Red Coon Glades. My roommate Josh and I decided to take the less traveled Red Coon Glades to Coon Ridge.
Josh and I made it about 2,500 vertical feet up through Red Coon Glades in about 90 minutes. The skin up to the top of Red Coon Glades was quick and easy. The last 800′ up Coon Ridge took us another 90 minutes to get to the summit. Coon Ridge was exposed, required careful route-finding, some bootpacking, and a brief scramble. Prior to getting on the ridge, we had concerns of remotely triggering an avalanche into Red Lady Basin. Once on the ridge, we were much more comfortable and were able to skin about 3/4 of it. The last several hundred feet required a bootpack and a short section of class 3 scrambling.
Once on the summit ridge, we took a short break before our descent down Red Lady Bowl. We transitioned and dropped into one of the most well-known descents in the state. The bowl had between 30 and 40 tracks down it, so the top section was choppy and opened up into some softer snow. Below the main bowl, we found soft snow, sun, and followed a gully back to the trailhead.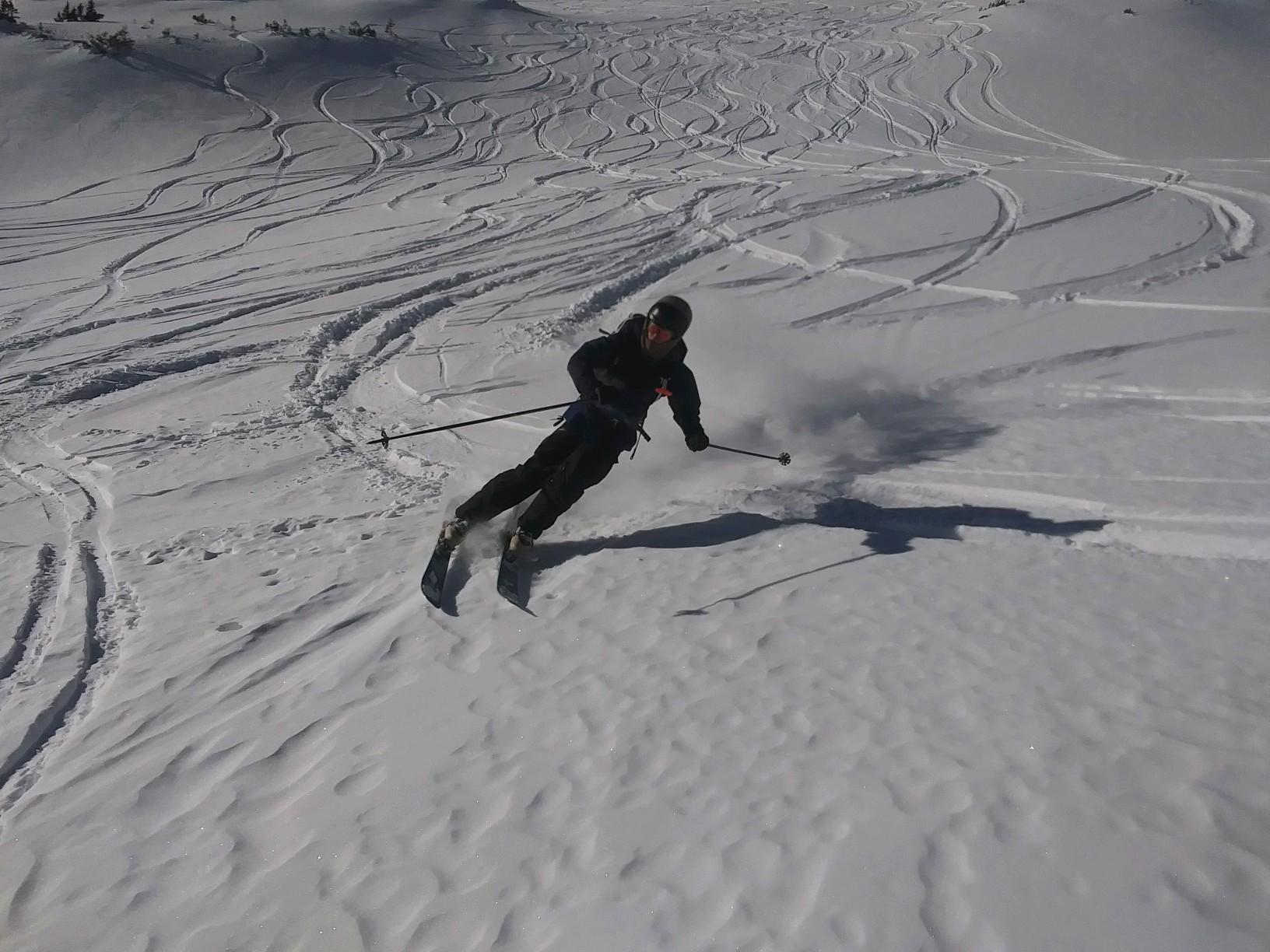 After several weeks of considerable avalanche danger, sunshine, and a lack of snow lowered the avalanche danger to moderate making skiing Red Lady Bowl a blast. Red Lady Bowl is at a southeast aspect above treeline, where persistent slab avalanches are still possible. We saw no red flag warnings of shooting cracks or collapsing. We spotted about 10 avalanches in Redwell and Wolverine Basins on more northerly facing aspects. We did not observe and slides on the southeast aspect above the treeline.
Avalanche Forecast:
Weather Forecast:
Photos: