In March 1976, the USA's most famous skier, Spider Sabich, was shot and killed in Aspen, CO, by his singer/actress girlfriend, Claudine Longet.  Cocaine was found in her bloodstream.  Spider's blood was found on his bathroom floor, and he died in the ambulance en route to the hospital.  Claudine got away with a $250 fine.  This still ranks as the single biggest scandal in skiing history, and almost none of us have heard of it.
Not many people talk about Spider Sabich anymore, but in the 1970s, his name was ubiquitous in the ski world. Sabich was one of the most well know American ski racers in the late 60s and early 70s. His story told of soaring success and horrific tragedy. Even Robert Redford's character in "Downhill Racer" is allegedly based on Spider Sabich's life.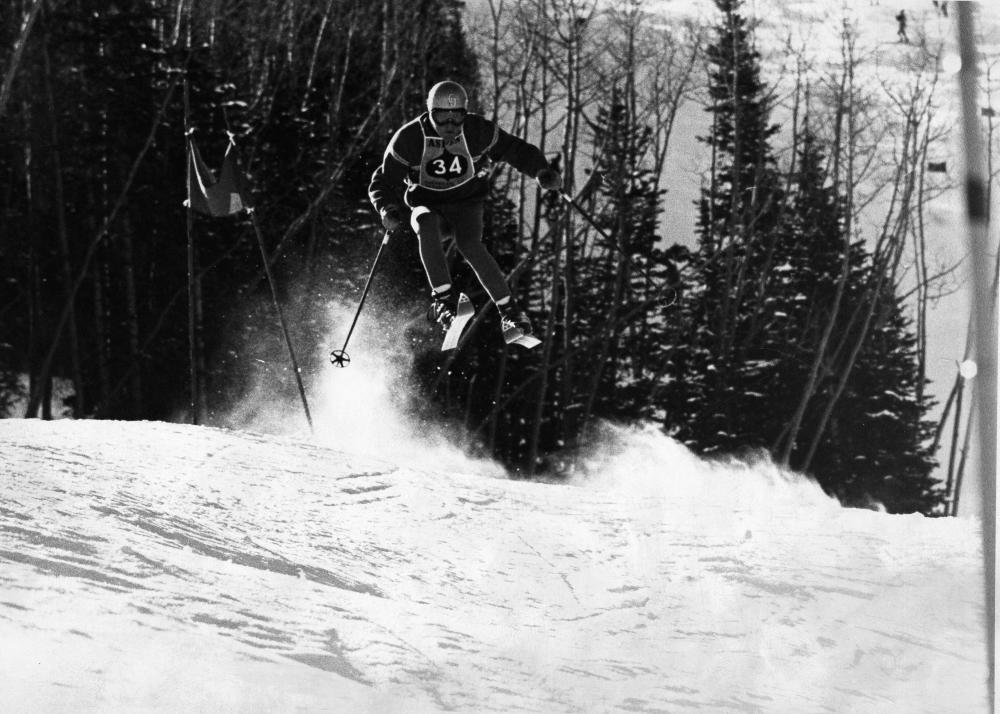 Spider grew up skiing at Edelweiss ski area in Kyburz, California, near modern-day Sierra-at-Tahoe ski resort.  He torched the ski racing competition in high school and was taken on a scholarship to ski with Billy Kid at Colorado University in Boulder.
In 1968, Spider made the Olympics and placed 5th in the slalom event.  He was blue-eyed, blond-haired, good-looking, skilled with the ladies, and the most famous skier in America at the time.  He was on top of the world.
"He was so charming and very sexy.  It was the same type of charisma you see in movie stars." longtime friend Dede Brinkman/Sacramento Bee.
Spider moved to Aspen and joined the USA's Professional Ski Racing Tour in 1970 and dominated it.  His star only grew brighter.
"Spider was a babe magnet. Just catching his overflow was fine with me."

– Spider's brother Steve
Spider began participating in celebrity ski racing events in the 70s designed to drum up support and fans for the US Pro Tour that he was on.  
In 1972, Spider met Claudine Longet, singer and Hollywood starlet, at a celebrity ski race in Bear Valley, California.  They felt an intense mutual attraction and immediately became an item.  He was 31, and she was 34.  Spider was the top racer on the US tour (reportedly earning around $200,000 a year from winnings and endorsements). She was a well-known French actress and singer (likely most famous for her marriage and subsequent divorce to Andy Williams). They became the Aspen celebrity couple.
Spider invited Claudine and her three kids to move in with him in Aspen in 1973.  Spider had been living as an unruly, partying bachelor and his new life with Claudine and her children was a major change.  After Claudine and the kids came, his wild days were abruptly ended.  Naturally, there were conflicts between the two.
Once, she threw a glass of wine at Spider's head at a nightclub when he wasn't giving her enough attention.  She forbade him from attending the 'Best Breast' bash in Aspen (the 70s were different).  Alcohol, cocaine, and other drugs regularly flowed through Claudine and Spider's veins.  The power couple was weakening.
"Spider smoke, drank and did whatever all of us did.  Let's not forget, those were the '60s and '70s."

– brother Steve Sabich
The drugs, fame, and tension between Spider and Claudine were reaching a new high in 1976.
On March 21st, 1976, Spider came home from skiing at Aspen.  He stripped down to his thermal underwear and went into the bathroom for a shower.  Claudine Longet walked into the bathroom with an imitation WWII model Luger pistol and shot him in the stomach.
Sabich died slowly.  His life-blood left pouring on the bathroom floor.  He died in the ambulance on the way to the hospital.
Longet claimed it was an accident.  She claimed that she was showing the gun to him when it went off.  She informed detectives that their relationship was under no duress.
The trial was front-page news.  The town of Aspen was in upheaval.
Hunter S. Thompson, who lived in Aspen at that time, said the trial was "like fouling your own nest." 
Four days of testimony led to the jury taking only four hours to return a verdict.  The sought-after charge of felony reckless manslaughter was traded in for a conviction of misdemeanor criminally negligent homicide.
Claudine Longet was given a fine of $250 and thirty days in country jail to be served "at a time of her choosing."  She took years to serve the sentence and did it mostly on weekends.
The Spider Sabich tragedy struck the world heavily. Few believed Longet's story.  The media went wild.  Even Saturday Night Live & the Rolling Stones reacted with skits and songs.  SNL had a skit with Chevy Chase called the "Claudine Longet Invitational Ski Shoot."  The Stones delayed their release of "Emotional Rescue" in 1980 while lawyers got them to cut a song with these lyrics:
"Oh, Claudine/Now only Spider knows for sure/But he ain't talkin' about it any more/Is he, Claudine?/There's blood in the chalet/And blood in the snow/She washed her hands of the whole damn show/The best thing you could do, Claudine."
The scandal was worldwide, not just ski-worldwide.  The world mourned the loss of one of its last international ski stars during skiing's unrivaled heyday.  People couldn't understand how Claudine Longet could have possibly gotten away with murdering their California Golden Boy, Spider Sabich.