Wildfire season is here and New Mexico's already got it BAD. Like biggest-fire-in-state-history, seen-from-outer-space, and so-big-that-it's-creating-its-own-weather-patterns, bad.
The wildfire burning in the Sangre de Cristo Mountains east of Santa Fe has been ongoing for over 40 days and is now the largest in the state's recorded history. So far, it's burned an area roughly the size of Los Angeles and has destroyed hundreds of homes and other properties, according to U.S. News and Report.
The blaze has forced state officials to issue a mandatory evacuation order for residents in the areas surrounding Sipapu and Angel Fire ski resorts as well as communities 13 miles south of Taos. The ski areas are directly threatened by the fire—Sipapu is only a few miles from the edge of it right now. Now officially labeled as the Hermits Peak Calf Canyon fire, it has torched 301,971 acres since April 6 and is currently 34% contained, the Santa Fe National Forest reported.
The 50-mile-long wildfire began on April 6 when the U.S. Forest Service failed to contain a controlled burn that was meant to prevent larger wildfires. The Santa Fe National Forest reported that the fire then merged with another, and extremely high and relentless winds fueled the fire's growth for weeks. That's when all hell broke loose.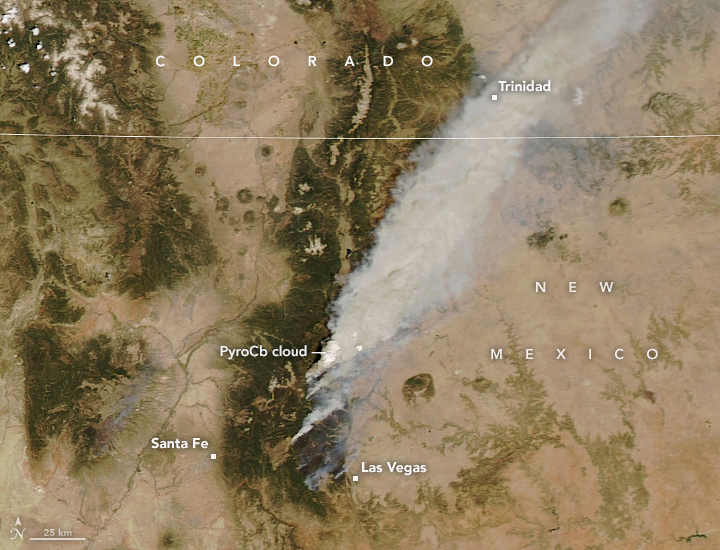 The Hermits Peak Calf Canyon fire is now so large that it can be viewed from outer space. NASA's Earth Observatory wrote:
"The burned area spanned more than 270,000 acres east of Santa Fe and stretched 50 miles (80 kilometers) from its northern to southern perimeter in the Sangre de Cristo mountains. As of May 13, the fire was 29 percent contained, mostly on its southern perimeter, but continued to spread northeast. Hundreds of buildings and homes have been destroyed, and thousands of people were evacuated. Evacuation orders remained in effect in San Miguel, Moro, and Colfax counties, and have been expanded into the ski resort town of Angel Fire. Periods of critical fire weather continued to challenge the 1,800 firefighters battling the blaze. Extremely low humidity and high winds helped spread the fire through dry grass, brush, and trees. Periodic gusts reaching 65 miles (105 kilometers) per hour prevented aerial firefighting efforts, including water drops and the dispersal of flame retardant."
As huge wildfires normally do, the Hermits Peak Calf Canyon fire has produced its own unique weather pattern. According to NASA, "On May 10, 2022, the northern part of the fire produced a pyrocumulonimbus cloud (pyroCb). These vertical plumes, generated by the heat from a wildfire, can loft smoke and particulates high into the stratosphere."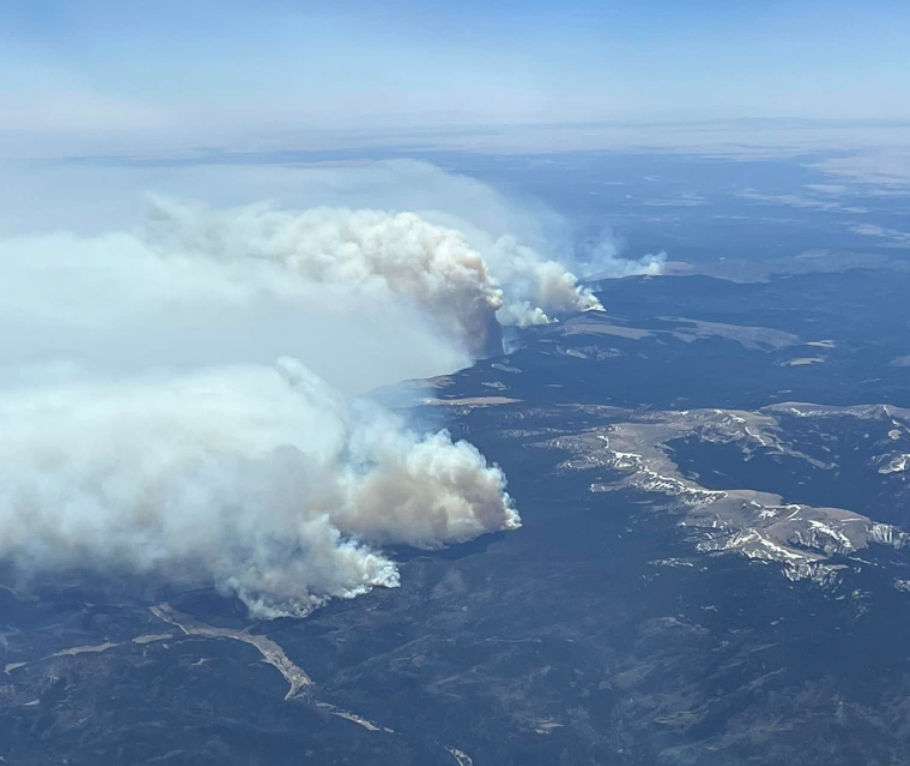 Three incident management teams are now attacking the fire in three separate zones, the Santa Fe New Mexican reports. The fire is ripping through wilderness areas and destroying watersheds and forests that have been used by people in the area for centuries. The historic town of Santa Fe is reporting severe smoke congestion as dozens of nearby mountain communities are currently being evacuated. Climate change, years of fire suppression, and a 25-year-drought are likely factors as to why the fire has grown so large so fast, biologists say.
The Las Dispensas prescribed fire on the Pecos/Las Vegas Ranger District of the Santa Fe National Forest was declared a wildfire at approximately 4:30 p.m. on April 6, 2022. Although forecasted weather conditions were within parameters for the prescribed fire, unexpected erratic winds in the late afternoon caused multiple spot fires that spread outside the project boundary. Named the Hermits Peak Fire, the wildfire is approximately 12 miles northwest of Las Vegas, NM at the base of Hermits Peak in the Pecos Wilderness. The Hermits Peak Fire is burning through mixed conifer in steep, rugged terrain that poses challenges for firefighter access.

On May 15, 2022, at 7:00 AM, the fire was zoned under three Incident Management Teams. The Southwest Area Type 1 Incident Management Team, led by Incident Commander Carl Schwope, assumed command of the Central Zone. Southwest Area Type 2 Incident Management Team, led by Incident Commander Dave Gesser assumed command of the South Zone. The California Type 1 Incident Management Team 2 led by Incident Commander Nickie Johnny assumed command of the North Zone. The three Incident Management Teams bring additional resources and management capabilities to implement a full suppression strategy for the Hermits Peak Fire.