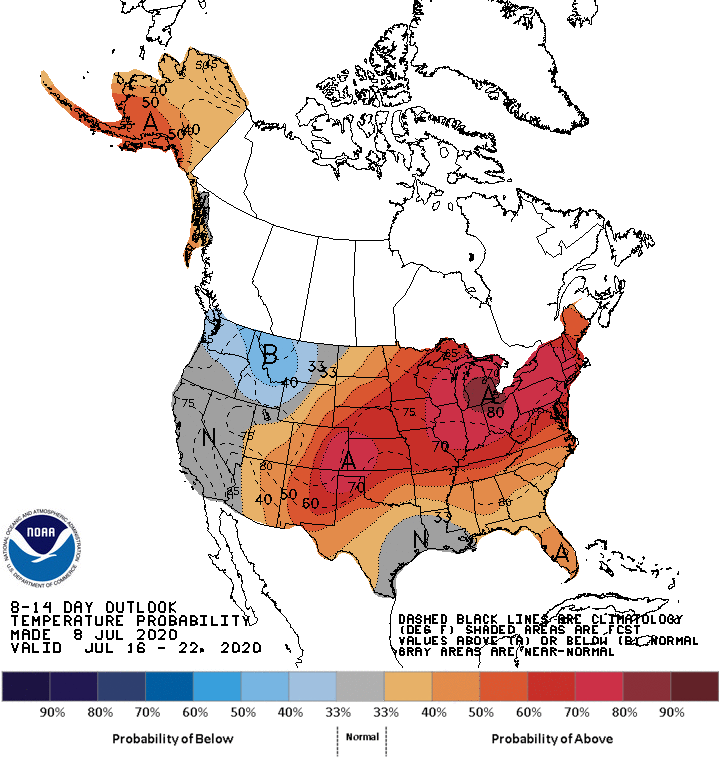 Here's the NOAA's outlook for July 14th -18th:
Above normal temperatures are favored across a broad swath of the country, from parts of the Southwestern CONUS eastward across most of the central and eastern CONUS. The greatest chances of above-normal temperatures (greater than 80 percent) are indicated for parts of the southern and central High Plains. Conversely, near to below-normal temperature probabilities are enhanced for most of the western CONUS and Parts of the Northern Plains. Below normal temperatures are favored for central and northern Mainland Alaska, while above-normal temperatures are likely for coastal regions of southern Alaska.

Expect below normal precipitation across the Southwest, Central and Southern Plains, and extending eastward to most of the eastern CONUS, except for southern Florida where above-normal precipitation is favored. The greatest likelihood of below-normal precipitation (greater than 50 percent) is noted for parts of Arizona, New Mexico and Texas. Above normal precipitation is also likely for parts of the northwestern CONUS. Probabilities of above-normal precipitation are also elevated for parts of the Northern Plains and Upper Mississippi valley as well as the Great Lakes region. Above normal precipitation is favored across northern Alaska.