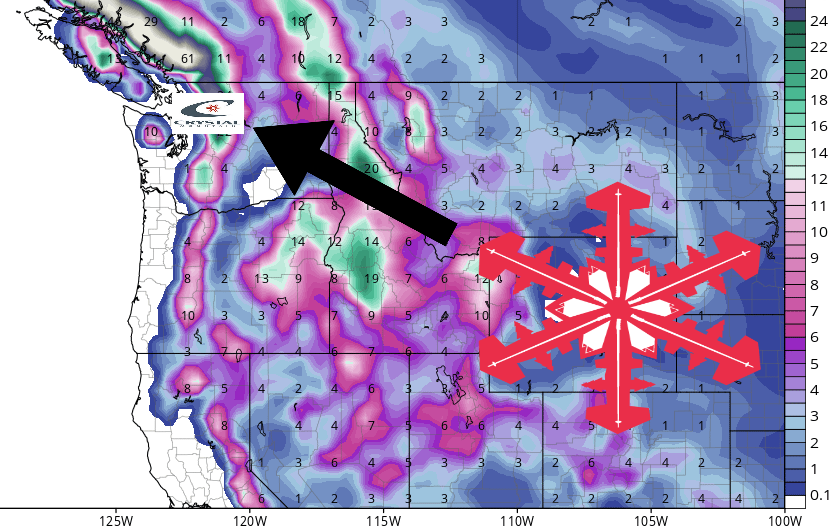 An Atmospheric River is forecasted to impact Washington through Thursday. It's already dropped a few feet of snow on the mountains in the PNW. Persistent snowfall is expected to impact the area Tonight – Thursday.
"Showers linger through Wednesday. Our next storm system arrives Wednesday night – Thursday with another round of breezy to gusty winds! Stay tuned for more details over the next day or so!"

– NOAA Seattle, WA
Crystal Mountain Resort, WA has already received 28″ of fresh snow in the past 48 hours, so it's about to get real deep.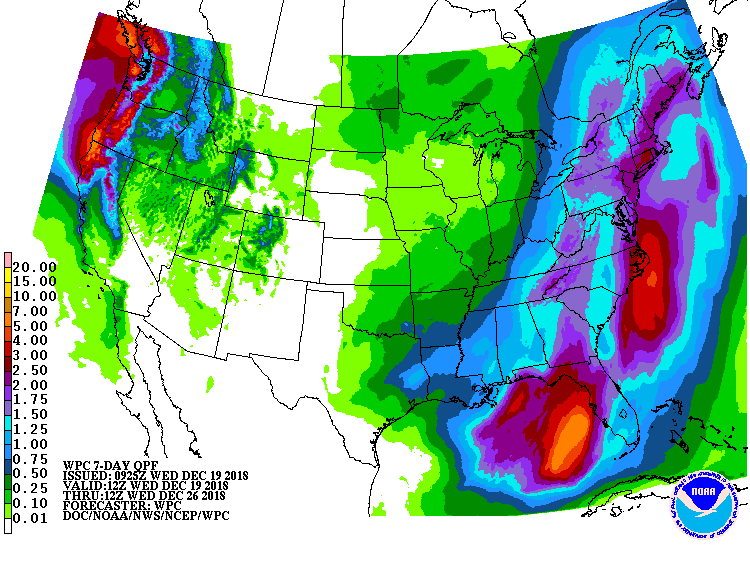 Snow levels are forecasted to hover between 3,000ft and 4,000ft, before dropping towards the end of the storm.
The 6-10 day outlook calls for above average precipitation and below average temperatures in Washington.
Additional Storm Info: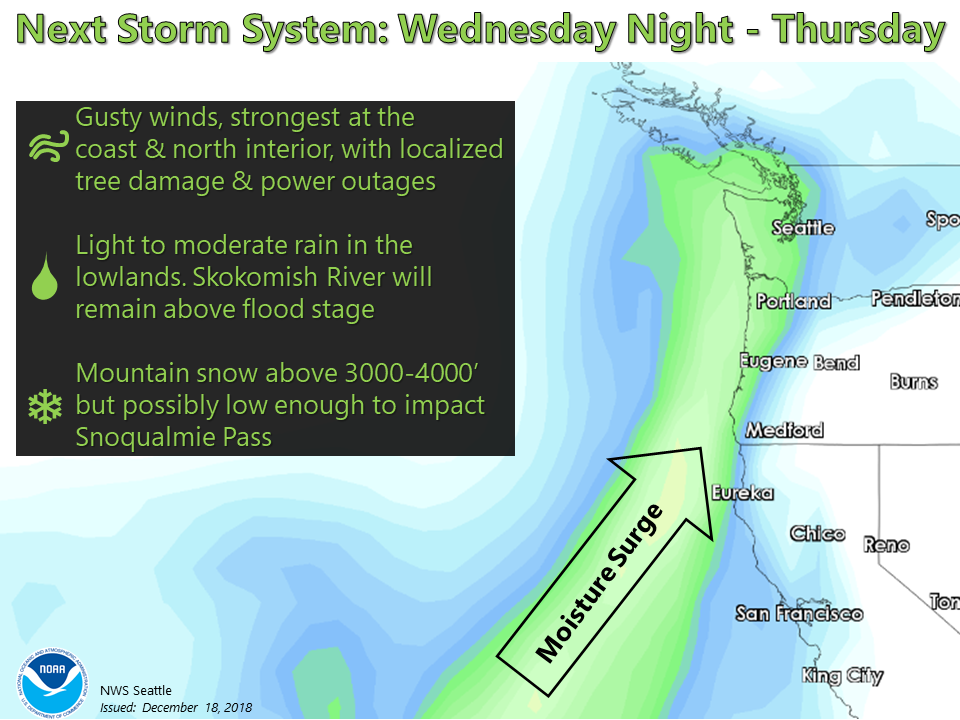 Washington: 

10-20″ of Snow Tonight – Thursday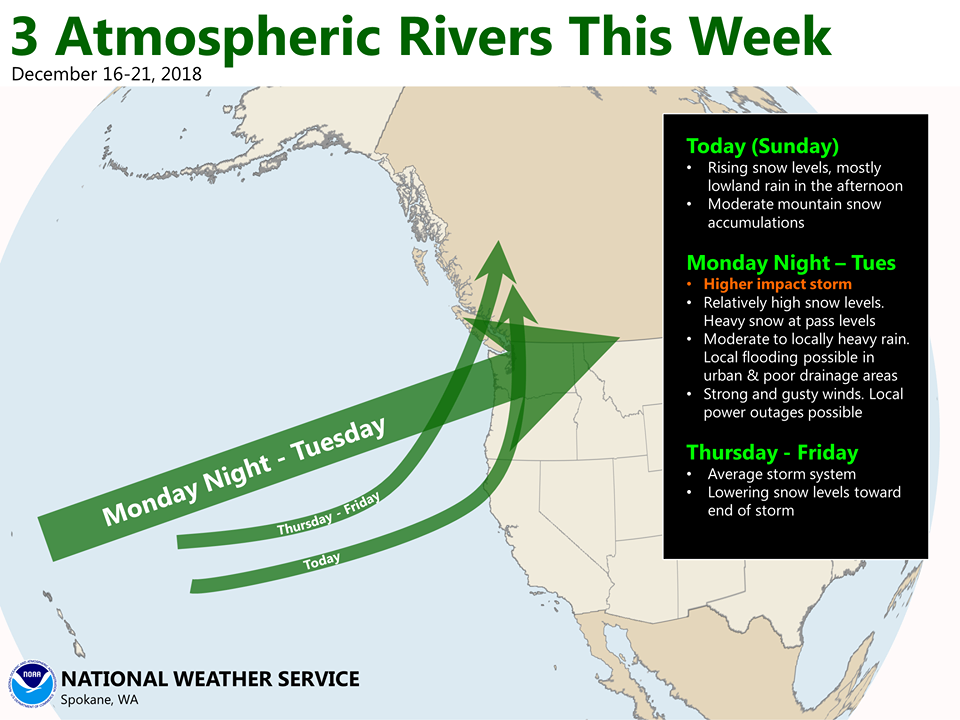 Forecast Discussion:
Area Forecast Discussion
National Weather Service Seattle WA
916 AM PST Wed Dec 19 2018

.SYNOPSIS...A strong frontal system will bring rain and windy
conditions tonight and Thursday. Weak high pressure aloft will
bring mostly dry weather Friday and Saturday. A second frontal
system will bring another round of rain and wind Saturday night
and Sunday. There will be a chance of showers Monday and Tuesday
with a broad upper trough over the area.

&&

.SHORT TERM /TODAY THROUGH FRIDAY/...Weak high pressure aloft will
bring a relatively quiet weather day today with just a few showers
and mostly cloudy skies. A strong frontal system will move through
the area tonight and Thursday. High wind is a good bet at the
coast and north interior with a deep surface tracking inland over
central Vancouver Island around midday. High wind is also
possible further south over the Puget Sound area later in the day
as the low moves inland and the OLM-BLI gradient pops up to around
+10MB. There will also be a strong push of westerlies down the
Strait of Juan de Fuca late Thursday as the low moves inland.
Winds will ease all areas Thursday night. Snow levels should rise
high enough tonight that snow in the mountains won`t be a big
concern although Mount Baker could get advisory amounts. Things
will dry out quickly Thursday night behind the front with an upper
ridge moving over the area on Friday. Schneider

.LONG TERM /SATURDAY THROUGH TUESDAY/...Previous discussion...A
quick moving shortwave trough will carry moisture into Washington
Friday night into early Saturday. Rain showers associated with
this system look to decrease in coverage through the day as the
next ridge briefly tries to build across the area ahead of another
strong Pacific storm system. A strong low looks to barrel into
the Pacific Northwest Saturday night and Sunday, carrying with it
another threat for heavy rain and wind. At this point in time this
system looks similar to previous systems so will have to keep an
eye on potential impacts as time gets closer. There could be a
brief break Sunday night but another storm system seems likely
right in time for Christmas Eve. Beginning to see some
disagreement between ECMWF and GFS but looking at ensemble
guidance /EPS GEMS and GEFS/ it looks like the ECMWF may be a
little too aggressive at this point. Regardless, strong troughing
looks imminent and at this point looks to linger through Christmas
Day. Could see a break after this system, which would be much
appreciated as a ridge tries to build into the region.