If you've never heard of a Via Ferrata, you're not alone. These routes are gaining popularity, and feel like somewhere between high consequence hiking, and rock climbing. All participants must wear a standard rock climbing harness, equipped with a "via" specific lanyard system, containing required shock absorbing cord. Additionally, a standard rock climbing helmet is worn. Gloves are recommended, while climbing shoes are not required.
Your speed on this route will depend on your comfortability with heights. I recommend bringing a small pack with some water to stay hydrated, and maybe a small snack. This excursion could take some folks at least 2 hours, if not more. Before you begin this journey, a Rock Ranger will inspect your safety equipment, to verify your gear is up to par and installed properly. You will then be briefed on the Do's and Dont's of the route, and they send you on your way. This Brochure will bring readers further up to speed on the safety equipment plus other helpful information.
In Italian, "Via Ferrata" translates to "Iron Path". This route is the nation's first public, free Via Feratta route, utilizing modern safety standards. The Uncompahgre River Gorge is just outside the bustling mountain town of Ouray, Colorado, which is home to more climbers per capita than anywhere in the U.S.A! This scenic gorge in Ouray County is home to the recently completed Ouray Via Ferrata. The rock type is Uncompahgre Formation Quartzite, with tons of quality climbing in the immediate area. The word Uncompahgre is an Ouray Indian word meaning "Hot Water Springs", due to abundant geothermal activity in the area.
Historically these routes have been used for mountain travel, in very rough terrain. Much of the history of Via Ferrata routes come to us from various regions in the Alps Mountain Ranges. Colorado has a history of these routes used in mining applications for transporting goods and supplies to precarious locations in rough terrain. The nearby Southwest Colorado town of Telluride's Via Ferrata is an example of these historic relics of the past, still open to adventure seekers.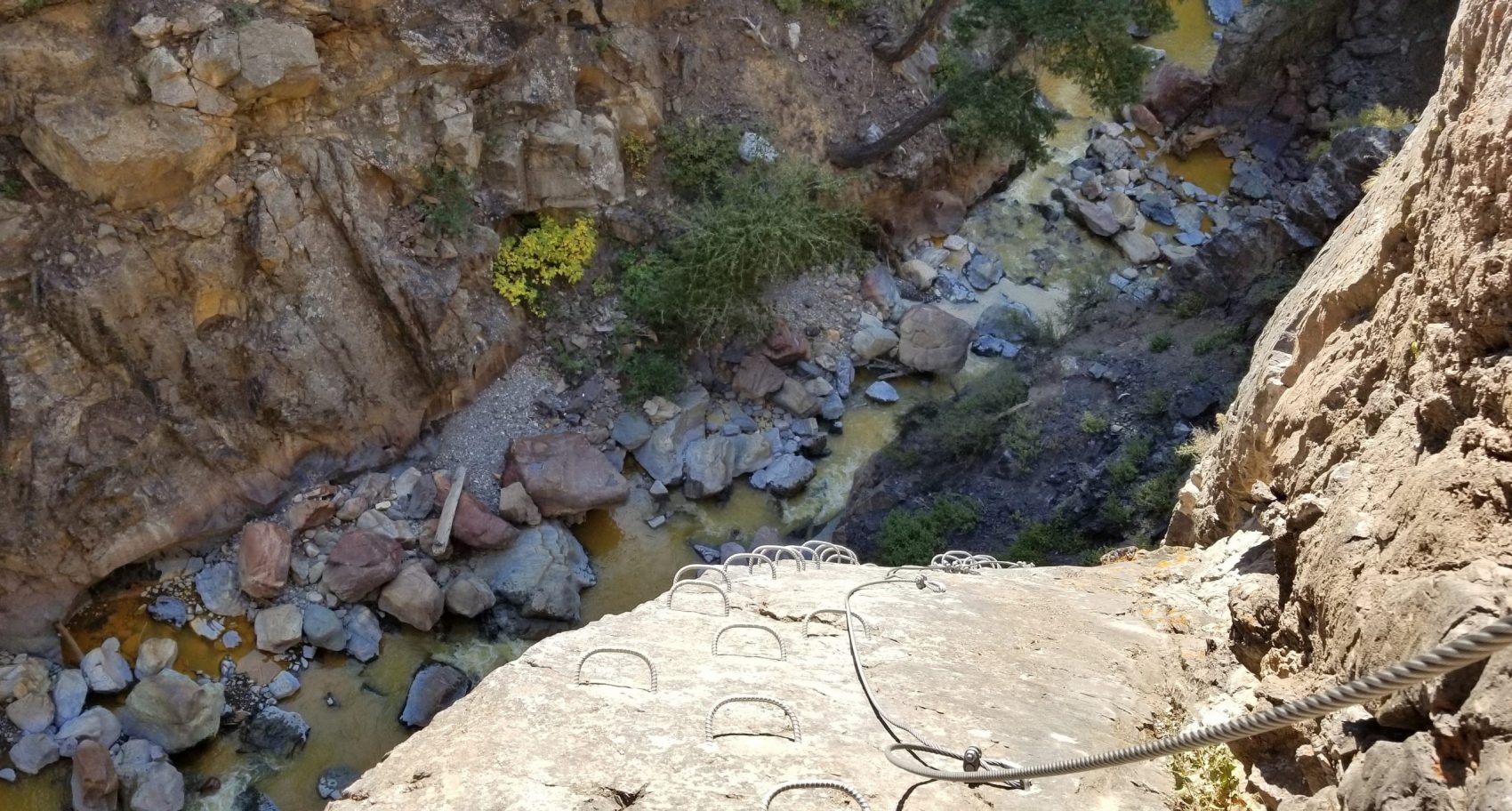 Right across the gorge, each winter, this gorge is transformed into a world-renowned ice climbing park. The Ouray Ice Park is run by a non-profit organization and skillfully creates more than 100 established ice routes spanning over 3 miles of Ice! Be on the lookout for a full article, by yours truly, about the Ouray Ice Park coming winter 2020/2021. Shoutout to my good friend Liz Proper for capturing pictures and providing high-quality company! Climb On!
Sources