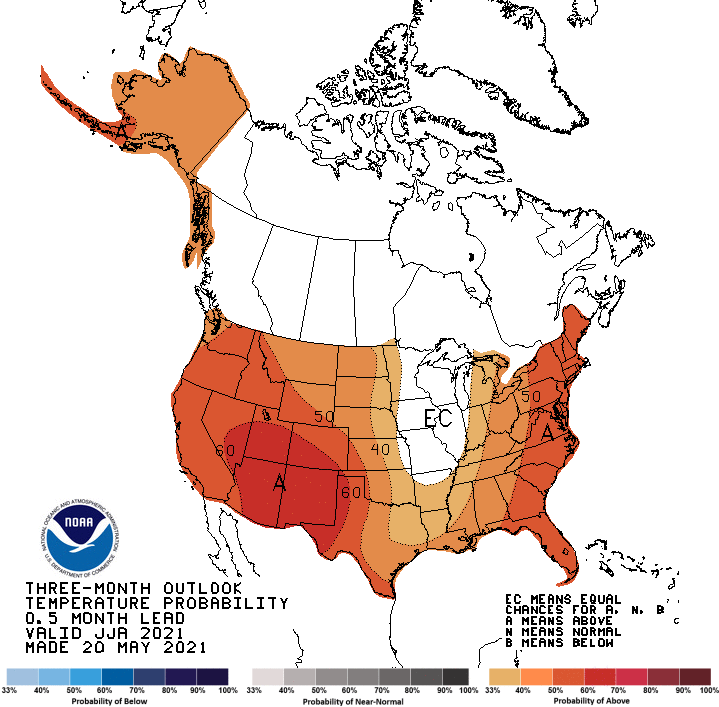 Here is the updated outlook for temperature & precipitation this summer. The higher probabilities are for warmer and drier, largely due to the lingering La Niña in the tropical Pacific Ocean.
Full summary from the Climate Prediction Center below:
TEMPERATURE
Above normal temperatures are favored throughout a majority of the forecast domain during JJA, except for parts of the Midwest where equal chances (EC) of below, near, or above-normal temperatures are forecast. This EC area is due to a weaker signal among temperature tools coupled with poor skill historically from the NMME during the summer months. Positive decadal temperature trends and low soil moisture (below the 5th percentile) support the largest probabilities (above 60 percent) for above-normal temperatures across the Southwest. Compared to the previous month, probabilities for above-normal temperatures are decreased from eastern Texas to the lower Mississippi Valley where recent heavy to excessive rainfall resulted in soil moisture exceeding the 70th percentile.
In addition, the June temperature outlook calls for EC for that region. Above normal temperatures are favored throughout Alaska during JJA, but the largest probabilities (above 50 percent) were shifted from northern Mainland Alaska to the Aleutians based on the latest model guidance and recent SST anomalies.
PRECIPITATION
Model guidance remains consistent from previous months depicting elevated probabilities of below-normal precipitation for the Pacific Northwest, northern Rockies, and northern to central high Plains during JJA. Based on good agreement among the latest dynamical models, this favored area of below-normal precipitation was expanded to include the southern high Plains and New Mexico during JJA and JAS. Due to a notable drying trend among the inputs to the NMME and C3S along with the consolidation tool, below-normal precipitation is slightly favored for the desert Southwest through SON 2021. This favored dryness coincides with the monsoon, a wet time of year for the Southwest. The predicted MJO evolution is likely to provide a favorable large-scale environment for the development of an early-season tropical cyclone in the Gulf of Mexico during June. This expectation along with it being a non-El Nino summer and fall supports slightly elevated probabilities for above-normal precipitation along parts of the Gulf Coast and Southeast. The favored area of above-normal precipitation across the remainder of the eastern U.S. from JJA through ASO 2021 is related more to decadal trends. Based on the latest dynamical models, the coverage of elevated probabilities for above normal precipitation are increased to include more of mainland Alaska during JJA and JAS 2021.