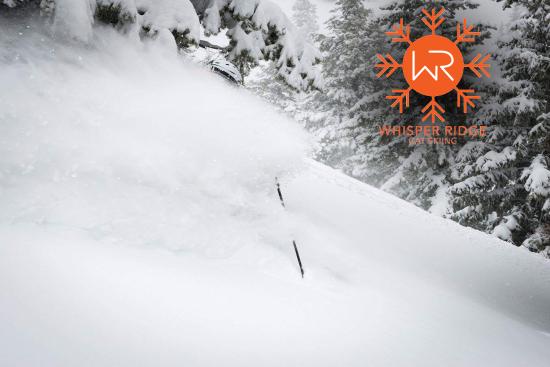 It is no longer a secret that Heli-outfitter Whisper Ridge is teaming up with Powder Mountain with plans to build a helipad at their ski area. The purpose? Allowing access to remote mountain terrain for world-class heli-skiing, heli-biking, and heli-fishing experiences. The plan for the new helipad would allow helicopter flights into otherwise inaccessible mountain areas in Weber County for one-of-a-kind outdoor experiences.
Whisper Ridge is the largest private backcountry ski resort in the world with 70,000 acres of skiable terrain. They are located 60 minutes from Salt Lake City and offer high-end heli-skiing, heli-biking, and heli-fishing packages. Recently, Whisper Ridge, in alliance with Powder Mountain, has developed plans to build a new heliport allowing customers to have an even better experience for both winter and summertime heli-activities.
On August 1st, Powder mountain applied to the Weber County Planning Division to allow Whisper Ridge to build a helipad at their ski resort. The world-class luxury heli-outfitter intends to bring customers to "places further, steeper, and more remote," than is possible with snowcats, according to Dan Lockwood, chief executive officer of Whisper Ridge. The revolutionary helicopter service for shuttling mountain bikers would be unlike any before it.
The decision whether to allow construction of the helipad will be made on Tuesday, August 27th by the Ogden Valley Planning Commission. If approved, the permit would allow usage of the helipad for winter activities such as heli-skiing from December 1st to April 15th, and summer activities like heli-biking and heli-fishing from June 1st to September 30th. The helicopter would run 3 times a week shuttling up to 24 clients per day.