Report from the weekend of 12-13 September 2020
I recently had the pleasure of riding a new (to me) Lift Accessed Downhill Mountain Bike course. It just so happens, it was at the same great little resort that I learned to snowboard (and ski a bit) many years ago. Powderhorn Mountain Resort has been hauling bikes uphill since 2016, with trail construction that started in summer 2015. PMR has trails for all ability levels that receive two thumbs way up from the author! I was so pleasantly delighted to experience some super high-quality trails, at my favorite little gem of a ski area. Powderhorn will be hosting their annual "Color Sunday" event the last weekend in September, to view the color change of the aspen trees from the lift. This will also be Closing Weekend for the bike course.
Our favorite run of the day was a lap that included "Ramble On" and "Mutton Buster." In fact, the author had so much fun that he returned the next morning, after camping nearby, to ride more trails. It was very interesting for me to learn the routes of the biking trails, as they coincide with the existing ski runs that I know so well. Powderhorn is steadily adding trails each summer, both in-house as well as with help from Singletrack Trails. The boundary of the ski area has great potential for further future expansion. Social distancing was easily achieved as I was one of only a handful of folks on the hill that day, even on a weekend!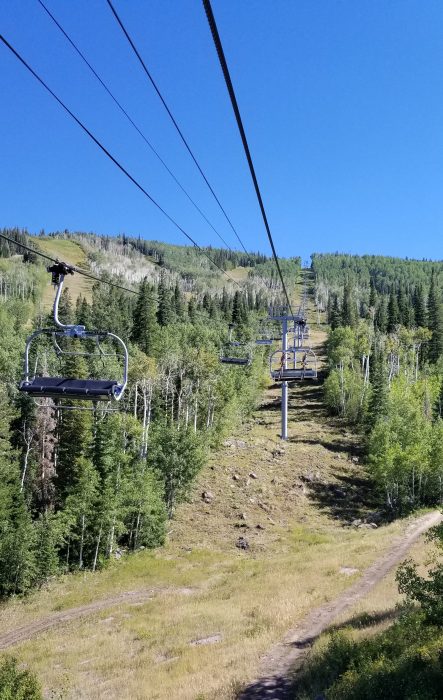 Incredibly fun trails! "Powderhorn is so flowy, and fast, that you really get into the zone. You have this incredible, energized, focus the whole way down. When you finally reach the bottom your mind is in a state of bliss," says Sarah Summers, a longtime local and friend of the authors. I would certainly have to agree with my good friend Sarah on this, the flow of these trails is top-notch. Everyone involved is doing an incredible job, keep up the great work! Fruita and Grand Junction (45-60 mins away) are also known for world-class mountain biking, as well as an annual festival for mountain bikers. Nearby in the works, is a highly anticipated trail under construction by the name of "The Palisade Plunge." If you don't know about this, you may want to find out! Check out the Palisade Plunge.
Only 15 Minutes Drive from Powderhorn slopes you will find plentiful access to camping options. Such camp spots are located in a beautiful high alpine (+10,000ft Above Sea Level) setting, with plentiful fishing opportunities abound. The Grand Mesa National Forest boasts over 300 lakes managed by CPW with various trout species. Another 100+ reservoirs are used strictly for irrigation purposes, by the valleys below. Some trout species one might find include; Colorado River Cutthroat, Snake River Cutthroat, Brook Trout, Rainbow Trout, Brown Trout, Arctic Grayling as well as the World Record Splake!