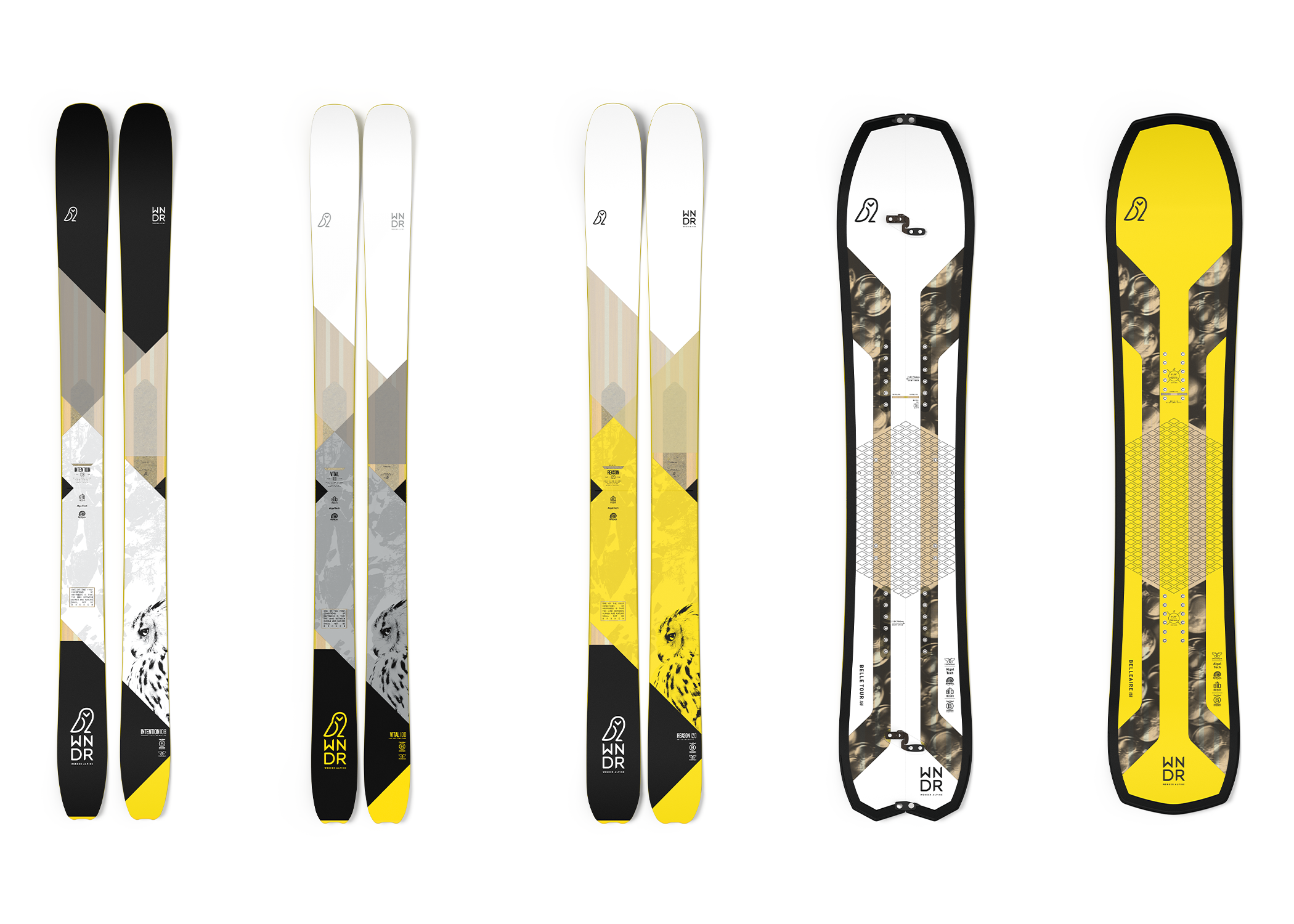 This week, WNDR Alpine unveiled its 2023 lineup. WNDR is well known as the industry leader in sustainability and environmentally friendly engineering, so it's always cool to see what new products they've been cooking up in the lab over the past year!
I'm a big fan of WNDR Alpine's skis after having tested the Vital 100 Camber and Reverse Camber models, so I, personally, am super stoked to see what the next era of innovation brings.
If you're not familiar with WNDR Alpine, take a look at this article to learn more about why they're such a big deal in the ski industry.
BelleAire and BelleTour snowboards
The first, and perhaps the biggest addition to the WNDR lineup, is the BelleAire and BelleTour snowboard models. Previously, WNDR has only produced skis, so getting into the snowboard and splitboard industry is a pretty big deal.
The BelleAire is WNDR's downhill snowboard model, built to charge hard and go fast in whatever conditions are thrown at it. However, weighing only 3,000 grams in the 156cm length, the BelleAire is not particularly heavy. So how does WNDR create such a stable board while keeping the weight low? Algae! The biomaterials derived from WNDR's microalgae oil increase damping and stability while keeping the weight low, allowing riders to charge hard all day and minimizing leg soreness the next day! I've personally experienced the incredible damping properties of WNDR Alpine's algae-derived materials and can attest that they're absolutely incredible. I've never had such a light, nimble ski that retained so much stability in every condition. The BelleAire will come in lengths at 148, 152, 156, 159, and 164cm.
WNDR's BelleTour is the splitboard counterpart the BelleAire. The BelleTour weighs in at 3,300g in the 156cm length. The extra weight compared to the BelleAire can be attributed to an increase in thickness of the core near the waist of the board, which gives the board a stiffer, evenly distributed, and supportive feel when touring, especially when breaking trail. Where most splitboards perform like a regular snowboard simply split in half, the thicker core of the BelleTour provides additional power and stability. The engineered cross blocks near the tip and tail of the board increase the torsional rigidity and provide additional stiffness for a more powerful and stable ride. The BelleTour will come in lengths at 148, 152, 156, 159, and 164cm.
Intention 108

The Intention 108 is WNDR Alpine's new addition to their 2023 ski lineup. The Intention 108 is the successor to its predecessor, the Intention 110, WNDR's very first ski. With a slightly shorter turn radius and moderately stiffer flex than the 110, the Intention 108 is sure to perform even better in variable and unpredictable snow conditions. I'm really excited about the 20m turn radius on this ski, as the short turn radius will aid itself well for spring missions where having control and responsiveness on small turns is crucial. The 108mm underfoot width means the new Intention will retain excellent flotation in deep snow. Integrating 1900g of WNDR's amazing biomaterials and superb engineering, this ski is sure to be a powerful choice in any condition. The Intention 108 will be available in both camber and reverse camber shapes at 164, 170, 176, 182, 188, and 194cm.
Vital 100
I've tested the Vital 100 in the camber and reverse camber shapes, and both skis have been some of my favorite skis I've ever ridden. In both shapes, the confluence of stability, responsiveness, and weight made these skis excellent choices for any day of touring. I especially enjoyed the camber shape and its ridiculously good, nimble, and playful performance on alpine missions, where having a stable, nimble ski is ideal for couloir descents and open bowls alike. The reverse camber was a great ski for soft snow, where cherishing the descent was the priority – not just getting down. The Vital 100 camber and reverse camber shapes have created an excellent two ski quiver; the camber version for days where the snow isn't ideal and for terrain that benefits from the energy of a camber ski, and the reverse camber for those powder days, spring corn harvests, and everything else in between. The Vital 100 camber and reverse camber shapes will be available in 155, 162, 169, 176, 183, and 190cm lengths.
Reason 120
Last but certainly not least, the Reason 120. WNDR Alpine describes this ski as an "excitable golden retriever", perfect for powder pursuits where flotation is the priority. However, the incredible damping and stiffness properties of the biomaterials used in the construction of the ski mean that it still performs well in less than ideal conditions despite its impressively low weight, saving your legs on the skintrack without sacrificing downhill performance. Weighing in at just 2100g in the 184cm length, the 2023 Reason 120 is sure to continue to impress as one of the best powder skis in the touring industry. The Reason 120 camber and reverse camber shapes will be available in lengths at 170, 177, 184, and 191cm.
SpiralMade materials
New for the 2023 season is WNDR Alpine's SpiralMade, which utilizes production waste from their own facility in Salt Lake City, Utah to improve the performance and durability in their skis and snowboards. 
"We embraced the concept of 'spiral fabrication' as a play on circularity, acknowledging that while not every material can be recreated in an infinite cycle, we have a very real ability to reconstitute waste material into a new form that's still valuable. Now that the concept has been proven, we're excited to bring SpiralMade to backcountry athletes this season."

– Pep Fujas, WNDR VP of Marketing and Product Development
Spiral Plate is a recycled composite binding retention plate, derived from ski and snowboard flashings and bonded with a biobased resin. According to WNDR, these retention plates bring incredible 35.6% better binding screw retention strength in WNDR's skis when compared to a traditional maple insert.
Spiral Plate insert packs in WNDR's new snowboards enable 5% better binding retention strength than inserts surrounded by traditional aspen. These insert packs allow them to avoid drilling individual holes for threaded inserts in the board's core and enable more efficient and consistent construction across all boards.
The SpiralMade materials show WNDR's industry-standard commitment to both environmentally friendly manufacturing processes and top-notch engineering that creates some of the industry's best products.
Overall, WNDR Alpine has taken another huge leap in innovation for their 2023 lineup! I can't wait to see these products in action and possibly get on a pair to review this season! Shop WNDR Alpine products here.