One of the yearly highlights of the Audi FIS Ski Cross World Cup is the absolutely jam-packed European leg of the race tour. This portion of the Ski Cross World Cup series is known as the 'Cross Alps Tour' and features six World Cup races over a 10 day period. This includes double-header events in Val Thorens, France & Innichen, Italy as well as an evening sprint event and a team relay competition in Arosa, Switzerland. These races are circled on the calendar by high-caliber and smaller World Cup teams alike, as extra quota spots allow larger team entries and opportunities for less supported athletes to compete at the highest level of the sport. These races also allow ample opportunities for athletes to reach Olympic criteria without making the long trek to farther races such as the stop in Nakiska, Canada, and Idre Fjall, Sweden.
The Cross Alps Tour kicked off in the picturesque mountain town of Val Thorens. Nestled deep in the French Alps, Val Thorens has hosted the Ski Cross world cup since December of 2009. 2014 Olympic Champion Jean Frederic Chapuis calls Val Thorens home, and the Ski Cross track used for the World Cup and Europa Cup events was subsequently named after him. Chapuis has won on his home track twice, with his last win there coming in 2016.
The weekend began with a massive amount of snowfall, which caused the postponement of the first race day. Track crews worked tirelessly however to ensure the races were able to be run. The first of two events took place on Dec. 11th, still in tough weather conditions. Snowfall caused upsets through qualifying, with many major players (such as 2018 Olympic Champion Brady Leman from Canada and reigning world champion Alex Fiva from Switzerland) missing out on the finals. Despite a crash in the finish area that left young Swiss skier Sixtine Cousin with a major knee injury, the race was approved and moved on. Frenchman Terence Tchiknavorian showed a strong pace through heats and managed to take his first career World Cup victory just 230 miles from his hometown. 2019 Crystal Globe winner Bastien Midol (also from France) and 2017 Junior World Champion Florian Wilmsmann from Germany rounded out the podium. On the women's side Sandra Naeslund from Sweden continued her winning ways and took a commanding 19th career victory, leading Canadian Brittany Phelan through the final.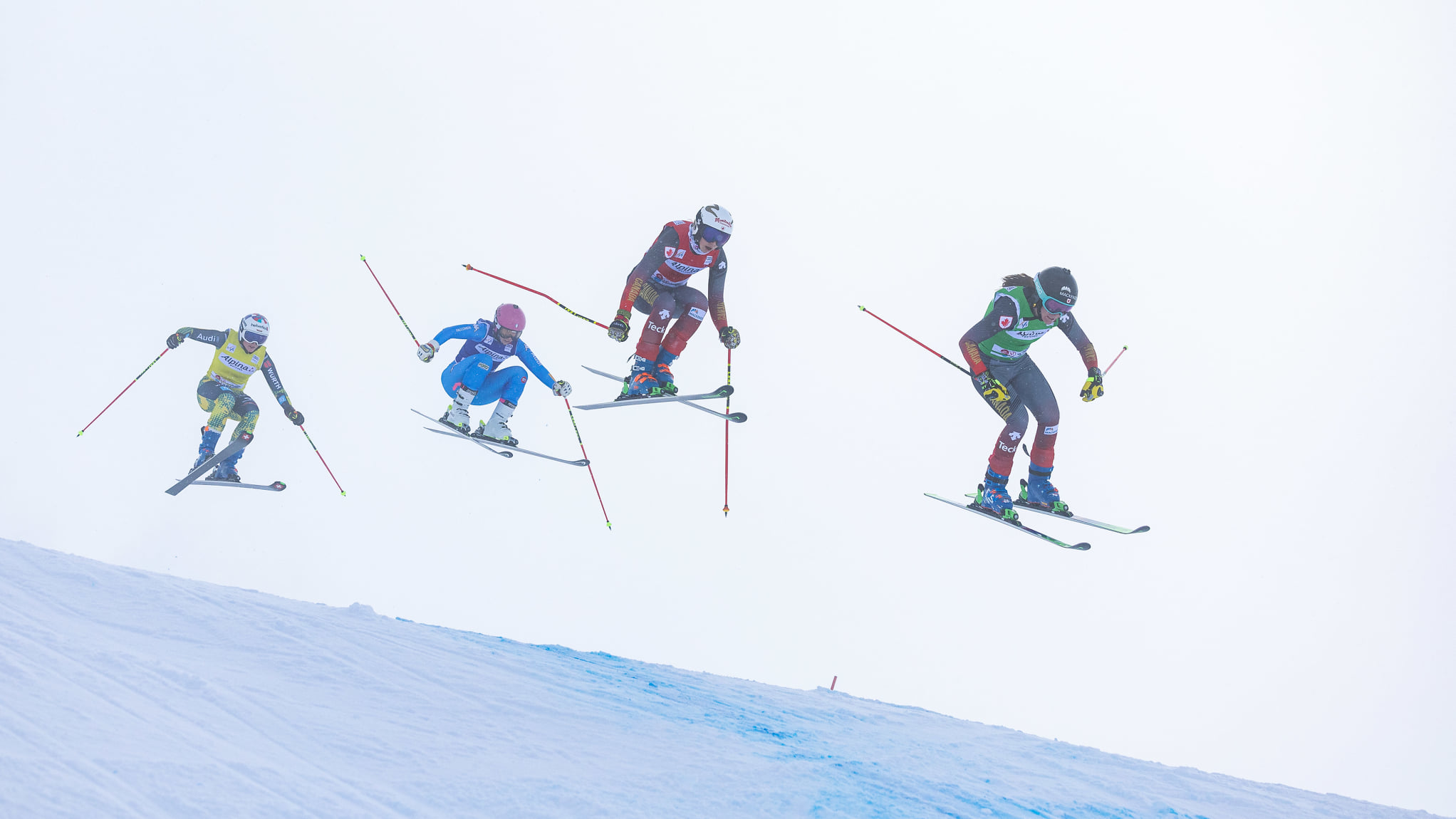 The USA's top Ski Cross World Cup athlete, California's Tyler Wallasch, has had his fair share of ups and downs in his eight years on the circuit.  Wallasch won the 2015 Junior World Championships in Italy and has operated independently from the US Ski Team organization for the majority of his world cup career. Each year on the circuit, Wallasch has become more and more competitive and has been knocking on the door of his first world cup podium. The 27-year-old from Mammoth Mountain began his World Cup season with a 12th place finish on the first day in Val Thorens, but had a stronger qualification spot into the second race day. Strong performances in the first couple rounds secured him a Semi-Final berth and a top-8 finish. A tightly fought semi-final that also included reigning crystal globe winner Reece Howden from Canada ended up with both Wallasch and the previous day's winner Tchiknavorian crashing out in the penultimate corner. Despite this, through some disqualifications of the other two athletes, Wallasch found himself in the first World Cup big final of his career. Capitalizing on a strong start Tyler put himself in contention with the other three athletes and in a medal position, but a mistake on one of Val Thorens' iconic negative turns left him in fourth for a bitter-sweet world cup personal best.  Wallasch battled through an unlucky event in Arosa but found himself back in the top 15 in the first race in Innichen.
Arosa is a spectator favorite on the World Cup circuit, as its sprint format allows super exciting racing. Featuring pyrotechnics through the start section of the track, the battle under the lights is always a treat to watch. This year was no exception. Huge upsets throughout both the men's and women's heats found the top-8 athletes to be a mixed selection of new faces and world cup veterans. Notably, Canadians Zoe Chore and Jared Schmidt found themselves with shots at world cup podiums. While Ski Cross podiums are not an anomaly for a traditionally strong Canadian team, these final appearances were from names that differed from the regular podium sitters. Schmidt achieved World Cup bronze last season in Bakuriani, Georgia, but Chore had only a handful of prior top-8 results. Both of these young Canadians skied exceptional final heats and both ended the day with Bronze medals. Chore capitalized on a major mistake from the World Cup leader Sandra Naeslund and would celebrate alongside her teammate Marielle Thompson who would win the race.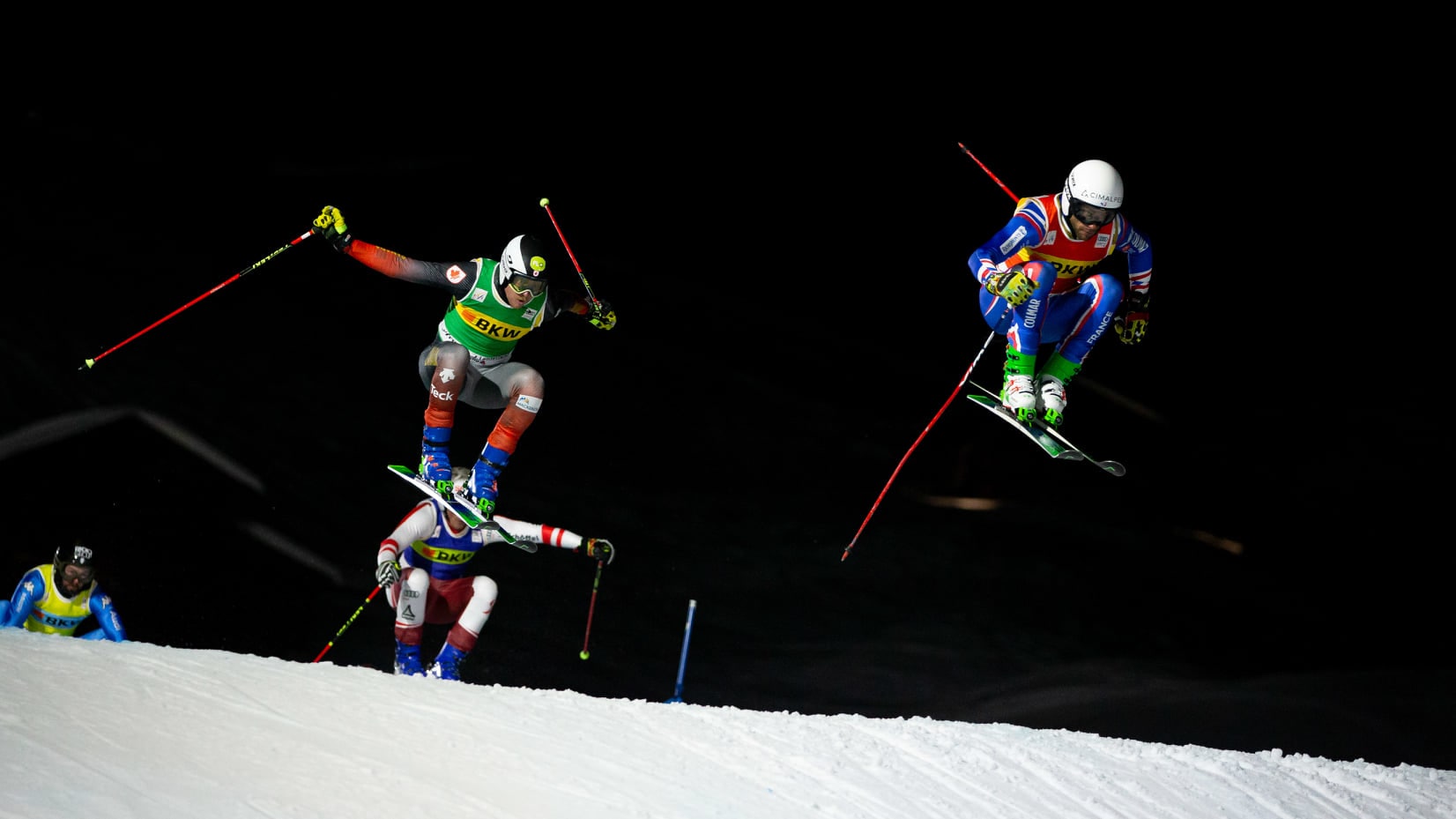 The final stop on the European leg of the World Cup tour was in Innichen, Italy. The Italian track is known for its extremely technical alpine turns, which make up a huge amount of the track. With the magnificent backdrop of the Dolomite peaks, Sandra Naeslund won her 21st and 22nd World Cups, going back-to-back to end a year where she'd recovered from injury and been named World Champion. Canadians Reece Howden, Brittany Phelan, and Marielle Thompson all also reached podiums, to ensure that Canada continues to remain a major force on the World Cup Ski Cross circuit.
The Ski Cross World Cup athletes enjoy a much longer break than the Alpine side, with the next races being in Nakiska, Canada on January 14th & 15th. After strong performances, Frenchman Bastien Midol leads the race for the Crystal Globe. Canada's Brady Leman is the top North American in 11th, and Tyler Wallasch sits in 20th. On the women's side, Sandra Naeslund has a commanding lead over Fanny Smith from Switzerland who sits in 2nd. Despite Naeslund and Smith's dominance, Canada has 5 athletes sitting in the top 10 with Brittany Phelan, Marielle Thompson, Hannah Schmidt, Courtney Hoffos, and Tiana Gairns holding 3rd, 4th, 6th, 7th, and 9th respectively. With these, Canada also holds a strong lead in the Nations Cup going into the Holiday Break.
Full Results & Schedule can be found at fis-ski.com