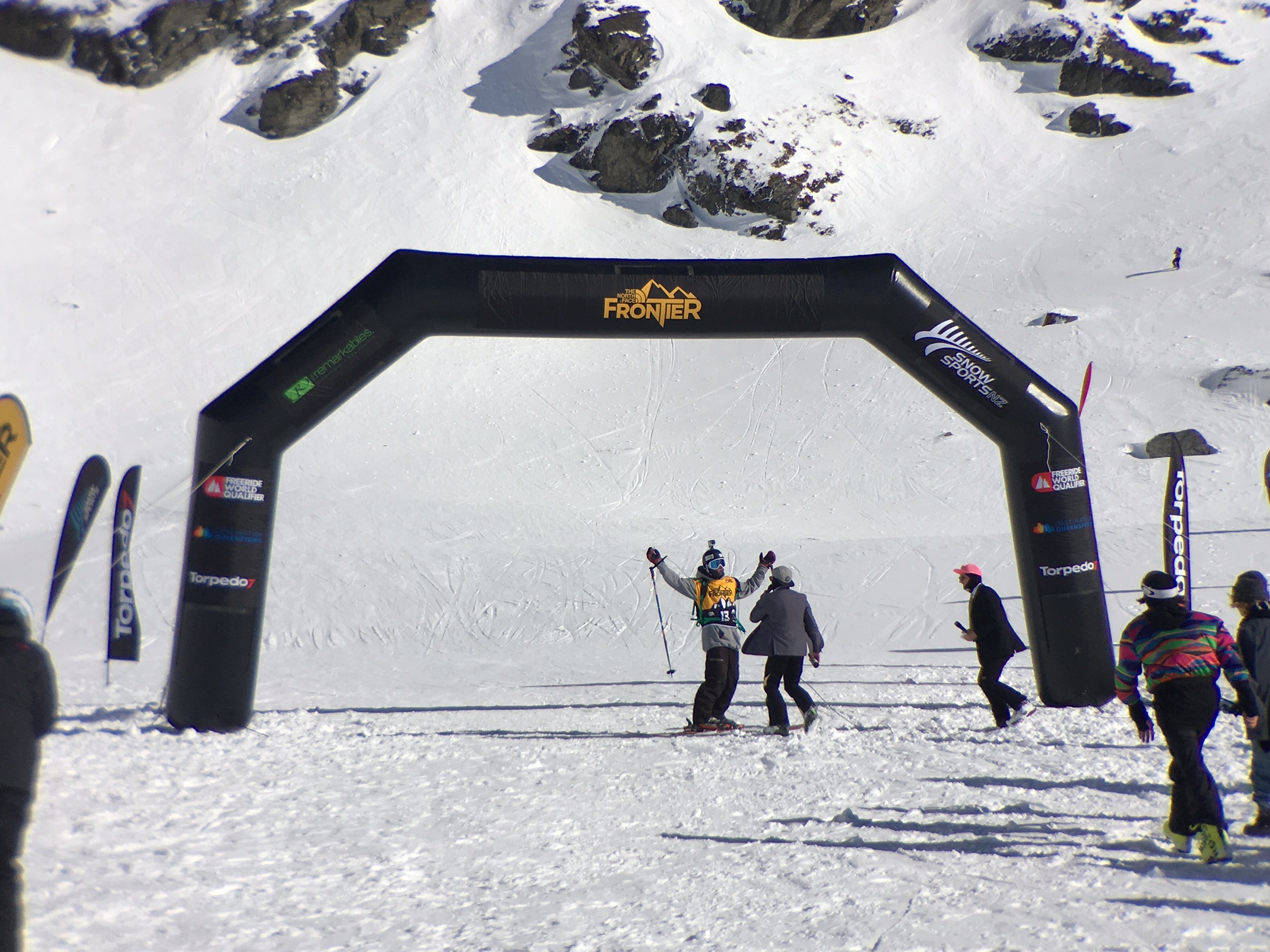 Opening day of the North Face Frontier, at the Remarkables turned out to be a stunner of a day. With some weather concerns heading into Monday, the call to go was made early in the morning and it's a good thing they went for it. The skies were clear and the snow was chalky for most of the day.
The North Face Frontier is a 2* Freeride World Qualifier event, but it was packing quite a heavy hitting field, including the 2016 Junior Freeride Tour winner, Craig Murray. The event kicked off with a bang, as Konstantin Ottner (Germany) sent 2 backflips and a 360 in the opening run. Right away, my feelings of FOMO that I should have entered the comp were quickly erased and I was able to sit back, relax, and enjoy the show.
In between watching these amazing guys and gals hucking their meat, I was able to squeeze in some really fun ski laps. The actual event venue (Shadow Basin) was open for visual inspection in the morning, so I was able to get a lap in there. The snow was chalky, but quite fast and firm. The other place I was excited to check out was the Alta Chutes (also the event for the 4* North Face Frontier event later this week). I kept hearing about how awesome it was in here and now I know why. The chutes have a nice consistent steep pitch, and are at the perfect aspect to avoid direct sunlight. I'm not sure if these chutes see much sun at all during the ski season. It's about a 10 minute boot pack to get in and the snow was goooooooood.
By the end of the day, some of the lower mountain and sun facing aspects started slushing up and turned into some fun spring skiing. I'd love to come back in here and explore a bit more. Overall a super fun day to watch and support some of the best freeskiers from New Zealand and around the world.
The North Face Frontier 2* results:
Men's Ski
1st – Craig Murray (NZL)
2nd – Andrew Wylie (NZL)
3rd – Nick Pascoe (NZL)
13th – Ben Paciotti (USA)
Women's Ski
1st – Laia Castellarnau (ESP)
2nd – Mary Birkeland (NOR)
3rd – Birgit Ertl (AUT)
Men's Snowboard
1st – Rupert Smith (NZL)
2nd – Mario Bromley (NZL)
3rd – Alexandre Alfano (FRA)
Women's Snowboard
1st – Genevieve King (NZL)
2nd – Christina Bruno (USA)
3rd – Randa Shahin (USA)
Photo Tour: