Report from February 01, 2019
Revelstoke Mountain Resort received a solid powder refresh for the weekend with 30 cm in the last 24 hours. The powder gods have finally answered my prayers after too many nightly ritual dances around a blazing fire.
I teamed up with Laurent for our first roommate resort shred of the season. We clearly spend too much time indulging ourselves in the freedom of backcountry skiing.
Due to the vast of expanses of extreme terrain serviced by a mere two chairlifts, spending a day skiing the resort meant you are guaranteed to run into friends. Coincidentally, we stumbled across the two Dutch devils, Pim and Roelof, in the Stoke Chair's lift line. They were admiring Mt Begbie peaking through the clouds across the valley.
After completing the short traverse over to the Vertigo Ridge, we navigated its perfectly-spaced trees. The "stoke" level rose through the roof once we noticed the ridge was virtually untouched. We slarved* energetic heli-skiing turns until our legs gave out.
With a freezing level at 1200 meters, the snow was surprisingly light and fluffy.
Since the clouds lingered in the alpine bowls, we headed for the relative safety of the glades surrounding the Ripper Chair.
Clearly, we weren't the only ones with that idea.
After a short 10-minute wait in the lift line, we promptly escaped the powder-hungry crowd. On our way back to the Stoke Chair, we launched off the never-ending stream of side hits on the Downtowner.
Laurent, confident as ever, skillfully launched off cat tracks crisscrossing the mountain.
With one last lap in store, we headed for the the Parachute couloir, halfway down the Vertigo Ridge. While we weren't the first ones in, the snow was well preserved, allowing me to comfortably maneuver down the meandering chute.
We left the resort, satisfied of our long overdue powder day and hoping for many more to come.
SNOW NUMBERS
SNOW FORECAST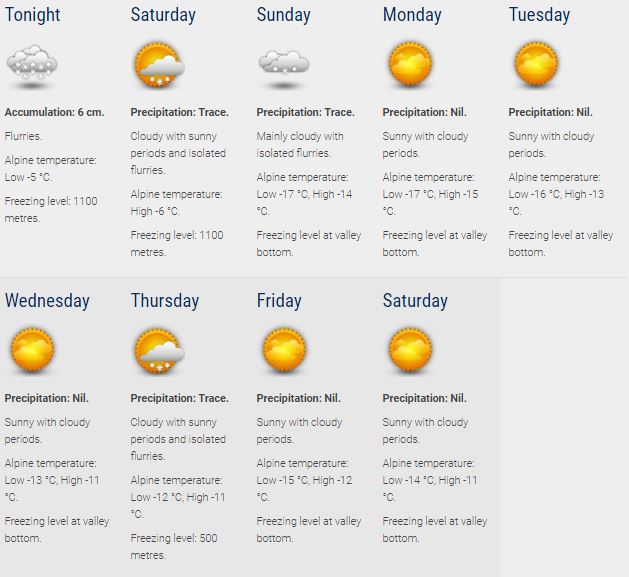 PHOTOS