Is a winter trip to Santa Fe the perfect ski vacation? Well, we think perhaps the answer is yes, especially if your beloved is one of those folks that absolutely hate to ski. Together in one small city, we found an abundance of history and culture, as well as activities galore to keep your loved one entertained – while you shred a fun mountain quite literally on the doorstep.
Visit in the summer, and the town of Santa Fe is a hive of activity; the historic plaza is brimming with tourists. As I write this in late February, the sun is shining and the streets have a quiet buzz that feels welcoming without being overwhelming.
From traditional Pueblo-style architecture of the city buildings to the old-school charm of the local ski resorts, there's an air of nostalgia everywhere you go.
Skiing the New Mexico way
Ski Santa Fe is just 16 miles and less than 30 minutes from downtown Santa Fe. When a storm hits, the ski resort offers up fresh, dry powder to rival the best Colorado has to offer on a friendly, fun mountain – a nice mix of beginner, intermediate and expert.
It's a small and fiercely independent resort that just makes your heart swell. Lift tickets still sit below the $100 mark for a day ticket. The vibe is distinctly chilled and family-oriented, with no beer at the base. Midweek skiing has no lines and near-empty slopes.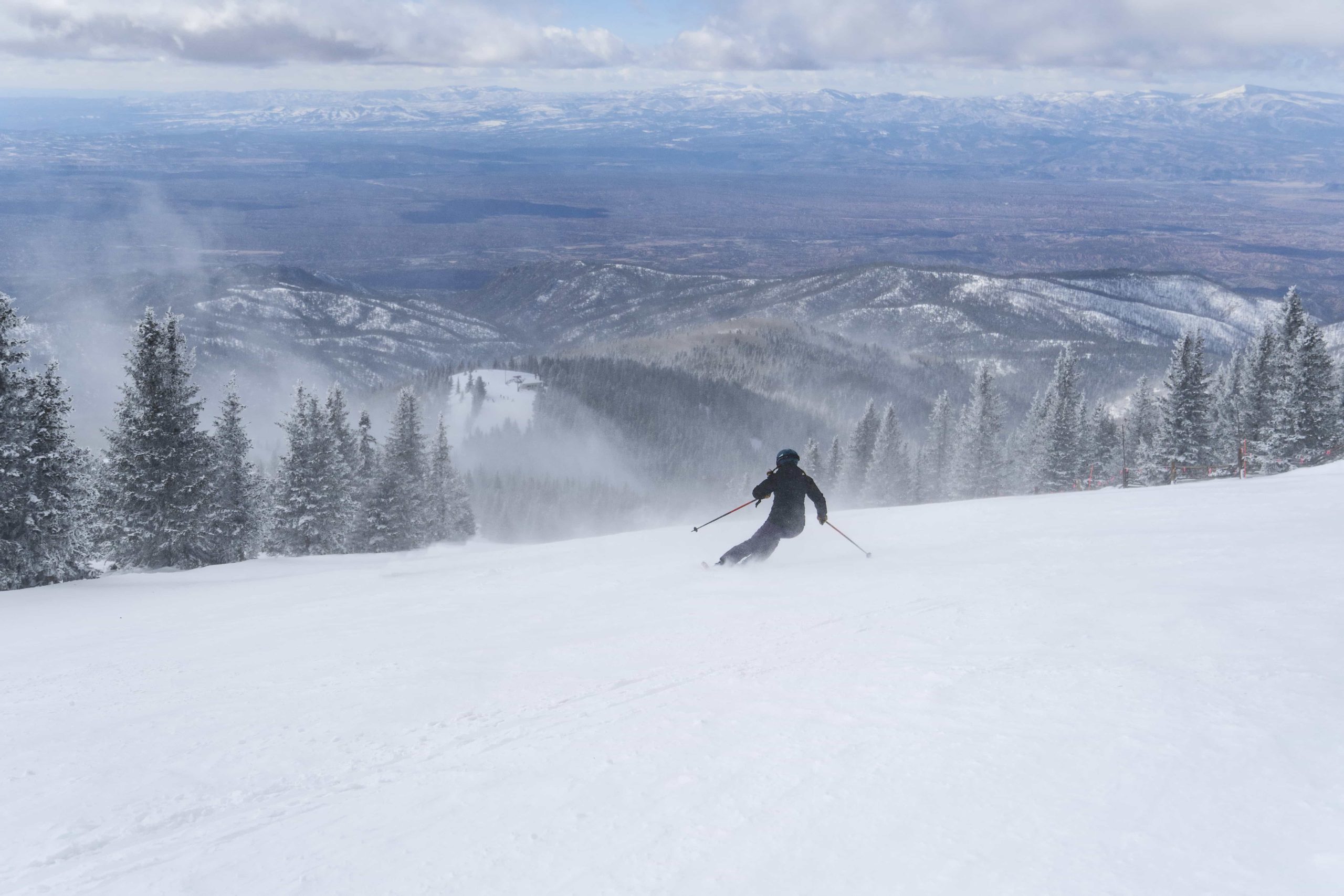 There is even a free public bus that runs to Ski Santa Fe.
Getting to Santa Fe is a breeze. A small airport offers direct flights or connections from Denver, Phoenix and Dallas-Fort Worth. Alternatively, you can fly into Albuquerque and take a scenic, one-hour transfer.
Location, location, location – the old and the new
Wherever you choose to stay in Santa Fe, you're only a short drive from Ski Santa Fe. Choices abound. We chose two very different properties: Bishop's Lodge, the newest Auberge property, and for a complete contrast La Fonda on the plaza, the oldest inn in Santa Fe.
Bishop's Lodge – an oasis of calm
Bishop's Lodge is the newest one-of-a-kind lodging from Auberge Resorts Collection – an incredibly high-end, luxury lodging company that specializes in extraordinary destinations and includes prestige hotels such as Aspen's Hotel Jerome and Madeline Hotel in Telluride. This latest offering reimagines centuries of history in the form of the original homestead of Bishop Lamy, including his original chapel made from adobe brick and recently brought up to date with an $85 million renovation.
A room with wow factor. With a mix of classic southwestern style and clean contemporary furnishings, rooms feature an indoor fireplace, four-poster bed, walk-in raindrop shower, and a private balcony with an outdoor fireplace. Upon arrival, you're greeted with fresh cheese, meats and a 'three sisters' local offering. In a post-covid world, it's both lovely and rare to see that Bishop's Lodge still offers daily room service as well as their unique turndown service (no spoilers!).
Across the property, original Pueblo architecture sits side by side with a brand new 12 suite bunkhouse – the quintessential lap of luxury for large groups. Constructed from reclaimed New Mexico wood and finished to the highest standards, it's the perfect setting for your next big family ski trip, work conference or wedding party! Ski wedding anyone?! An intimate ballroom with an enclosed secret garden would be the perfect venue for a ski-lovers wedding.
Several hiking and/or running trails begin on the property, continuing into the New Mexican landscape, making it easy for the outdoor enthusiast to add an extra level to their trip. What's more, Bishop's Lodge has its own stables, and horse riding is available in the warmer months too.
The property also boasts a heated outdoor pool, hot tub and luxury spa to kick back and soak away the stresses of real life. Several fire pits burn across the grounds, and a series of lanterns light up the paths of the property in the evening. When it's time to refuel, head over to the on-site Skyfire restaurant, which serves up a fine dining experience for breakfast, lunch and dinner.
100 years of La Fonda on the Plaza
Celebrating its 100th birthday this year, 2022, the iconic La Fonda was our second hotel in Santa Fe. Known as the oldest inn in the United States, La Fonda has a prime location on the SE corner of the historic plaza. Ideally located for shoppers and culture seekers, staying here takes you back in time and immerses you in a world of history.
In fact, the hotel itself is actual history. Originally built in 1607, the hotel was given new life in 1922. Rebuilt in the distinct 'Santa Fe style', otherwise known as pueblo-revivalist architecture, the hotel's outside appearance was heavily influenced by John Gaw Meem and Mary Elizabeth Jane Coulter. Inside, the hotel corridors and walls are decorated with original works of art.
After the railroad came to town, the famous Harvey company took the lease and brought with it its legendary Harvey girls and a prosperous time for all. Regaled stories of the early railroad building and later espionage surrounding the Manhattan project have ensured La Fonda as a legendary landmark.
Dining takes place just inside the lobby at La Plazuela. The once outdoor plaza is now a popular atrium restaurant serving southwestern delights for breakfast, lunch and dinner.
Within a stone's throw of La Fonda on the plaza, the history of Santa Fe begins to unfold.
Immerse yourself in history and culture
As well as being the oldest state capital in the USA, Santa Fe is proud to lay claim to the oldest church in the USA and the oldest state building (still in official use) in the form of the Palace of the Governors. The living history of Native American Hispanic and Anglo cultures combine in a small city where you can get lost in the blend of art and history.
The 412-year-old historic plaza offers a bustling market with vendors selling southwestern and Native American art, sculpture, pottery and jewelry. It also boasts more than 250 art galleries, including more than 100 in only a half-mile stretch of Canyon Road. There are also 20 museums, a popular performing arts center, opera and several literary and arts festivals scattered throughout the year.
Step outside the plaza and you'll find the Loretto Chapel. Built in 1873, the chapel is home to gothic-style architecture and its 'miraculous' staircase. There's even an Unsolved Mysteries episode that delves into the mystery that surrounds this religious building. Who was the mystical carpenter? What is the strange wood, and where did it come from? How can it support itself with no central pole or stair supports?
This year, 2022, Santa Fe celebrates a year of milestones. It's the centennial birthday of not only La Fonda on the plaza but also Santa Fe Playhouse and the Santa Fe Indian Market. The Georgia O'Keeffe Museum is turning 25, the Museum of Contemporary Native Art is 50, and the Institute of American Indian Art turns 60.
Santa Fe is also home to the original Meow Wolf, House of Eternal Return. Birthed by young artists from Santa Fe, with investment from Game of Thrones' very own local George RR Martin, this immersive experience has brought a fun and interactive art concept to life. The best advice we can give: touch everything, look everywhere and let your mind flow.
Further afield in Los Alamos, you'll come across the Manhattan Project National Historical Park visitor center and Bradbury Science Museum. Home of the Manhattan Project, and still a working nuclear laboratory, this is a piece of history that it's important to remember – the place where the first atomic bomb was developed during World War II.
Cuisine that's worth writing home about
Santa Fe has no shortage of restaurants to whet your appetite, in fact with more than 400 to choose from, it's quite the hub of gastronomic delight. From distinctive southwestern fare to innovative modern cuisine prepared by award-winning chefs such as Mark Kiffin at The Compound (winner of James Beard award) and local celeb 'Chef Rocky' at Palace Prime, you're simply spoiled for choice. Santa Fe also hosts New Mexico's only AAA four diamond restaurants in Geronimo and Terra at The Four Seasons.
If you're a more budget-conscious traveler but still crave award-winning fare, try the Loretto Green Chile Cheeseburger at Luminaria restaurant. This taste sensation of a burger won the Green Chile Cheeseburger Smackdown People's Choice Award in 2021, as SnowBrains editor-in-chief, Steven Agar, can certainly attest after giving it a huge thumbs up.
And if you find yourself asked the question of 'red or green?' when you're ordering anything with chile. In Santa Fe, the answer is always 'Christmas'. It's the Santa Fean's super cute and friendly way of saying both red and green. Though perhaps order some extra water just in case.
Add in a weekly local farmers' market and endless food trucks – it's fair to say Santa Fe is a sure-fire winner for foodies.
Relax and unwind with non-ski activities
The plaza also marks the beginning of the Margarita Trail; 40+ unique margarita recipes to experience as you jaunt around Santa Fe. Get yourself a digital or paper passport to record your progress. Upon completion of margarita milestones, you'll win prizes whilst savoring some unique Margarita combinations. Look out for the trail coming soon on Strava for those that would rather run it than drink it!
En route from the plaza to our next stop. A quick refueling at Cowgirl BBQ, another popular margarita venue, makes sure you have a belly full of great-tasting inexpensive fare to soak up the alcohol that's ahead.
When your brain is full of absorbing history (and margaritas), we recommend a trip to the Railyard District, where you can take a beer and spirits tour. In particular, we recommend visiting Altar Spirits, the newest distillery that's creating flavorful cocktails with passion and flair. Owned and operated by a local female entrepreneur and led by a team of passionate distillery experts, you'll devour homemade gin and vodka cocktails that'll more than tickle your tastebuds. Our fave of the day was the not-yet-named vodka cocktail made with, unbelievably, milk punch!
If you have an appetite for peace and tranquillity, or simply want to unwind, Ten Thousand Waves Japanese Spa and Resort is on hand to offer precisely that. Natural mineral hot springs, sauna, steam room and a plunge pool bring healing and rejuvenation to mind, body and soul – together in a top 20 destination spa resort as voted by Condé Nast readers.
For those who have not had enough high energy exploits, venture outside the city of Santa Fe and you'll stumble upon hundreds of miles of off-road trails being used (and abused) by MTB and motorized vehicles. When the idea of pedaling or pumping hardcore trails isn't your idea of fun, you can keep it low-key by hiring e-bikes or hiking.
The best of both worlds: 320 days of sunshine and a real ski mountain
Balmy winter temps, glorious blue skies and sunshine. History, culture and fine dining. Real skiing, quiet slopes and dry powder.
Santa Fe has everything a skier (and your non-skiing partner) could possibly want. Santa Fe offers visitors a luxury, high-end ski trip different from the kind you find at Vail or Aspen; there are no fur coats and very little bling. It feels authentic, luxurious and welcoming, even to the average ski bum, not just for the rich and famous.
The question isn't should you and your ski-averse partner take a trip to Santa Fe; it's more simply, how long should you visit for?