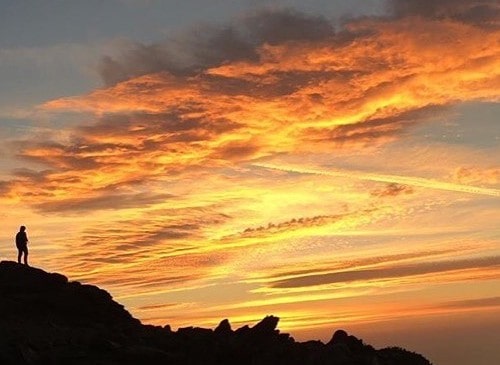 It's summer on Mt. Shasta and there is still time to climb California's most cherished peak. With the payoff from a big winter snowpack, most routes remain in good to excellent condition. We're transitioning from the Avalanche Gulch route and our groups are accessing the north and east sides of the mountain in search of more technical challenge and stellar views. The last few weeks have brought more consistent temperatures and mild sunny days, with warm days ahead, there's no better time to be on Mt. Shasta.
For those who have experienced Shasta's south side but have never ventured to the "dark" side of the mountain, Mt. Shasta's north side climb is the perfect fit. The North side of Shasta is known for its beautiful sunrises and sunsets; the climb follows the Hotlum-Bolam ridge, skirting a manageable opening in the Hotlum Glacier. This climb is a must for any mountaineer seeking to climb a beautiful route with a little bit more technical challenge.
With the change of the season comes a transition to a focus on glacier skills and technical instruction. We offer courses tailored to all levels of mountaineering experience. Our Glacier I Seminar follows a 4-day itinerary and is perfect for the aspiring mountaineer seeking to build a solid foundation of mountain skills. In addition to a focus on skill-building, the Glacier I Seminar provides an opportunity to climb the Hotlum-Bolam ridge route, culminating skills learned during the course and benefiting from two days of acclimation for a chance to summit Mt. Shasta.
The Glacier II Seminar builds on the skills acquired in Glacier I or another similar alpine climb. The seminar provides an in-depth and comprehensive focus on glacial travel and crevasse rescue practice. Our next course is on August 8-12, 2019.
Held on the Hotlum Glacier, it is possible to access a series of icefalls providing a perfect training ground for ice climbing should the opportunity arise.  The finale of the 5-day seminar includes a summit attempt via the dramatic Hotlum Glacier.
The Hotlum Glacier offers terrain to build upon your mountaineering foundation. Crevasses and icefalls decorate the largest glacier in California and provide a perfect classroom to increase your confidence and safety. Climbing the Hotlum is one of Mt. Shasta's most dramatic and unique features.
For those with goals of enjoying a scenic route but with a little less technical challenge there is the beautiful Clear Creek Route which lies on Mt. Shasta's east face. Don't be fooled though, while non-technical, the challenge of this route lies in overcoming long sections of loose rock and scree. Although most of the climb does travel on the broad Clear Creek bench, there are snowfields encountered and will require an ice ax and crampons for portions of the climb.
We continue to enjoy the benefits from a big winter snow season and mild spring and summer weather, it's been a fantastic season on the volcano and conditions could not be better in northern California. This is the season to join us for a summit climb or backpacking trip on the Pacific Crest Trail or Lassen National Park.
See you outside!