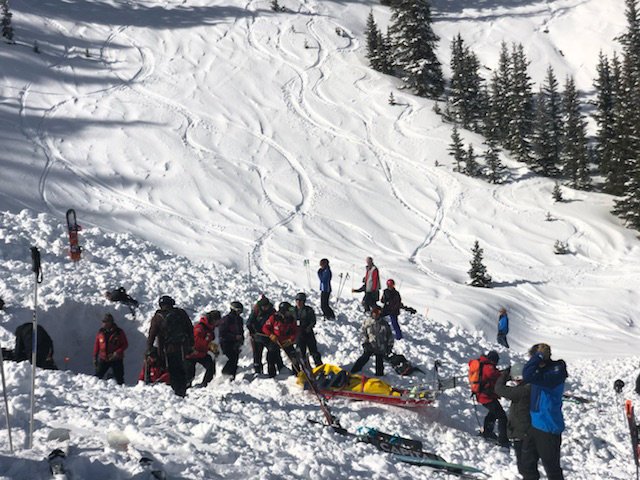 Two skiers were critically injured in an avalanche on Thursday near Kachina Peak, the highest point at Taos Ski Valley ski resort, NM reports the Taos News.
According to a press release from the resort, an "inbounds avalanche" occurred in chute three on Kachina just before noon, burying two men who have not yet been identified. Rescuers searching the base of the chute extracted the men just before 1 pm and performed CPR on them before rushing them to the base of the resort.
The search for others who might have been buried was called off after 2 pm, with rescuers determining there to be "no additional victims."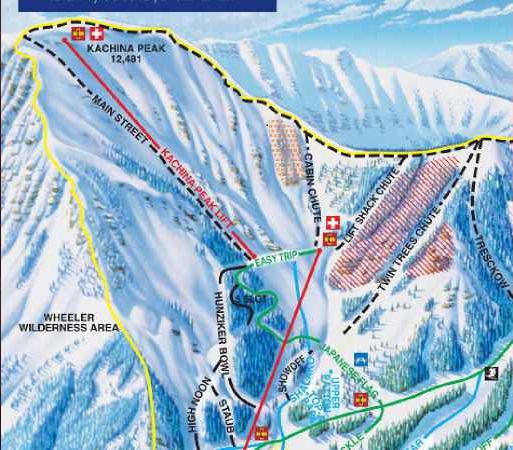 During the search, dozens of rescuers and volunteers used avalanche probes, shovels and the help of rescue dogs to search the area under the peak for anyone else who might have been swept under in the slide.
According to Taos News photographer Morgan Timms, who was at the scene of the accident on Thursday, the snow from the avalanche was so deep that the probes, which are as long as 30 feet, could not reach the bottom of the snowpack.
A woman at the scene of the rescue effort who spoke with Timms on the condition of anonymity said she could see – and hear – the moment of the collapse.
"I see two people trying to come down and a third person on the left. They were really good skiers it looked like," she said and then directed Timms attention to a point near the top of the steep run. "I turned my back to put my bindings on … and then I heard a sound. It sounded like an earthquake coming."
The witness said a cloud of snow rushed down the run, but she couldn't see how many people were buried once it settled.
Medics of Taos Volunteer Fire Department also responded to the ski resort on Thursday to provide assistance in the rescue.
The Kachina Peak Ski Valley lift, which provides easy access to expert terrain at the top of the mountain, opened on Jan. 15. It was built in 2015, providing access to sections of the mountain which were previously only accessible on foot.
The mountain had received 2 inches of snow in the last day and 15 inches in the last week, the Taos Ski Valley website said. The area where the avalanche happened is prone to winds that can blow up the mountain and cause a cornice, meaning avalanches can occur there even without a high level of recent snowfall, a spokesperson said.