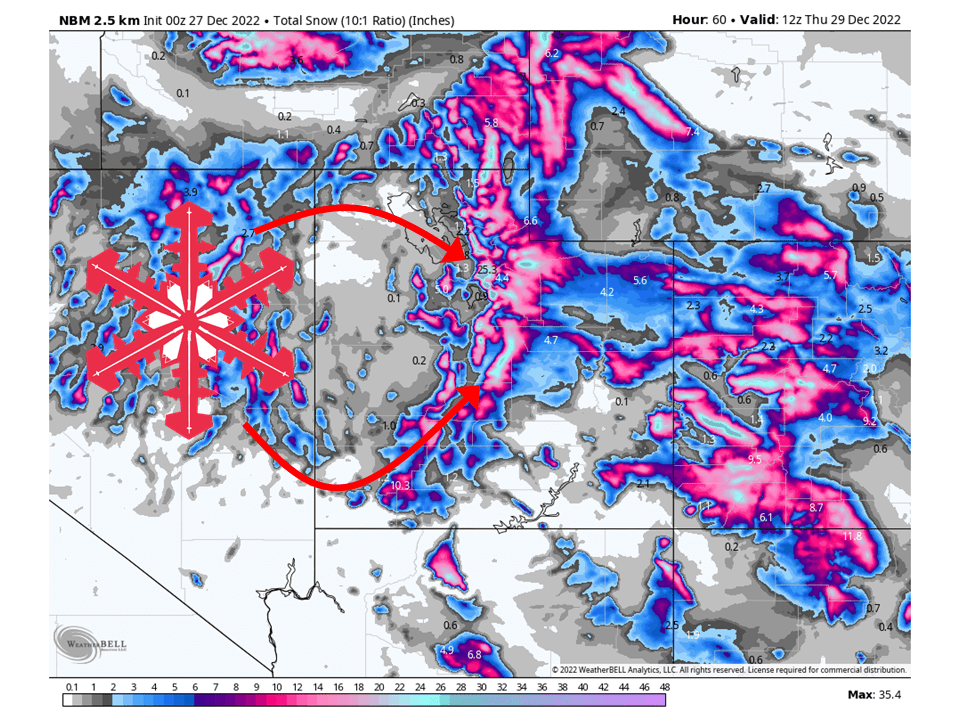 10:45 pm MST, 12/26/2022
Forecast By SnowBrains Chief Meteorologist – Eric McNamee
Forecast Summary:
A fire hose of moisture will bring 1-2 FEET of snow to Utah's mountains Tuesday and Wednesday

Snow will start across the northern Utah mountains midday Tuesday as moisture is transported into the region.

Snow then continues nonstop through Tuesday night and the day Wednesday before tapering off Wednesday night

More snow is possible later in the week as a parade of storms marches through the West into the New Year and beyond.

Resorts likely to see the most snow are:
Alta: 18-26″
Snowbird:18-26″
Brighton: 16-24″
Solitude:16-24″
Park City: 10-14″
Deer Valley:10-14″
Canyons: 10-14″
Snowbasin: 8-14″
Powder Mountain: 8-14″
Beaver Mountain: 10-16″
Brian Head: 8-14″
Short-Term Forecast:
Tuesday-Thursday:
A fire hose of moisture will direct itself at Utah and bring 1-2 Feet of snow across the mountains Tuesday and Wednesday.  Snow will get started Tuesday midday as moisture begins to get transported into the area from the Pacific. The airmass associated with said moisture will be quite warm so snow levels will be quite high to start. I would not be surprised if some resorts see rain to start near their bases. Tuesday evening, snow levels will start to lower as colder air aloft begins to move in. However, snow liquid ratios will be quite low, resulting in very dense snow.
Wednesday morning, a cold front will push through and allow snow to fall at all elevations and keep snow showers continuing on and off in unstable northwest flow. By Wednesday night, snow will generally taper off, but places like the Cottonwoods could still see some light snow continue into Thursday. Overall though, most places will be dry through Thursday morning. Another weak wave disturbance moves through Thursday afternoon, bringing some additional light totals.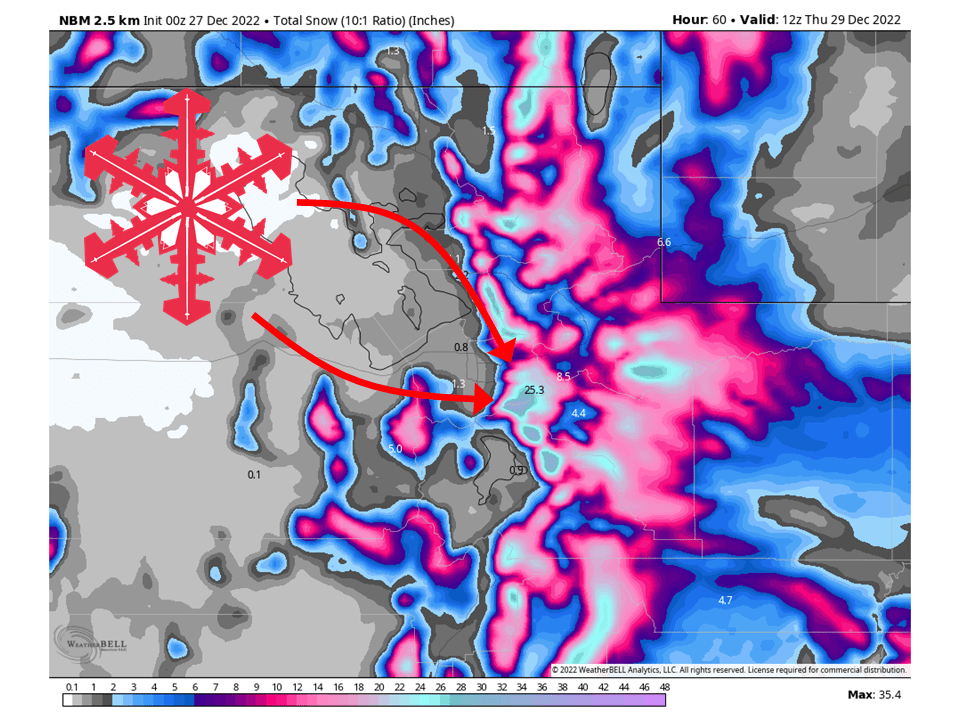 Long-Term Forecast:
Friday-Monday:
Another round of snow will come during the weekend, bringing more decent snow to the state. As of right now, temperatures will be pretty similar to the system moving through Tuesday and Wednesday so snow levels may be an issue to start out. However, there is still some time between then and now so things could change. Regardless of that, another good shot of snow is on tap for the latter part of this week.
Extended Forecast:
Tuesday and Beyond:
The parade of storms continues into the New Year as global ensembles indicate above-average precipitation and near to below-average temperatures across Utah in the extended.