Forecast By SnowBrains Meteorologist – Eric McNamee
10:30 AM MST, Nov. 17, 2020
Forecast Summary:
An extremely moist storm will hit California tonight and tomorrow, bringing 1-2 FEET of snow along the Sierra's, with the higher amounts possible around Lake Tahoe.
Resorts like to get the most snow are Boreal, Kirkwood, Sugar Bowl, Squaw, Alpine, Northstar, Homewood, and Heavenly. 
Drier weather is expected in the long-term forecast period. 
Short-Term Forecast:
Tuesday-Thursday:
1-2 Feet of snow is expected to fall in the Sierra's through Thursday, especially around the Lake Tahoe area.
A very potent storm from the Pacific will transport high amounts of moisture into Northern California.
High winds aloft will help allow for a large area of orographic lifting, increasing snowfall rates and amounts. 
By Thursday afternoon the moisture tap will end and conditions will begin to dry out. 
Significant snowfall is forecast across the higher mountain
elevations later today into Wednesday with several feet of
accumulation expected near the higher northern Sierra passes and
across the peaks. Strong southwest winds will also be possible
into tonight. As this is a milder, wetter storm, snow levels will
be higher around 6500 to 7500 feet, lowering to 5500 to 6500 feet
on Wednesday. Heavy snowfall will likely hold off across Donner
Pass on I-80 until late this afternoon.
Unstable post-frontal airmass will support continuing showers over
the mountains on Wednesday. A few lines of showers/thunderstorms
may organize over the Central Valley on Wednesday as a couple
stronger short-waves move across the region, but QPF likely won`t
be as high as today given the faster movement of storms along with
less deep available moisture. Shower chances expected to taper off
Wednesday night and Thursday as the trough begins to weaken and
lift out.
-NWS Sacramento 11/17/2020
Long-Term Forecast:
Friday-Monday:
Heading into the weekend, the storm track will shift to the north, resulting in heavy snow missing the Sierra's.
Some light snow totals are possible, but nothing in comparison to what we will see today and tomorrow.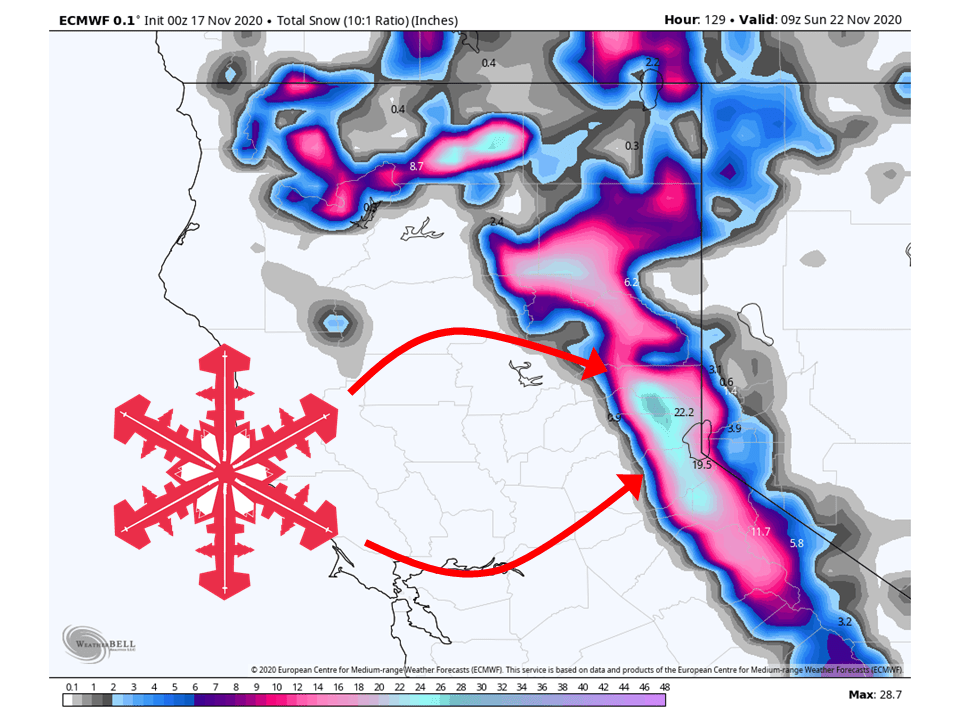 Extended Forecast:
Monday and Beyond:
Global models and ensemble indicate active weather is possible in the extended period.
Below-average temperatures and above-average precipitation is possible.