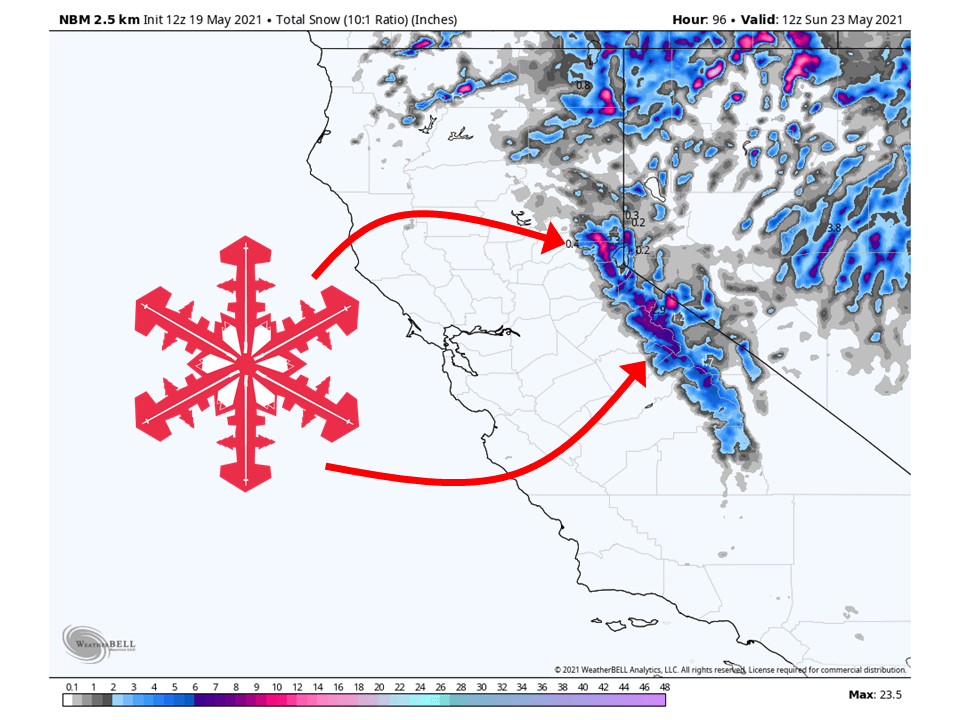 Forecast By SnowBrains Meteorologist – Eric McNamee
 2:35 PM MST, 5/19/2021
Forecast Summary:
A trough moving through California the next few days will bring 2-6″ of snow to the Sierra by Saturday.
Precipitation will begin tomorrow and continue through Friday.
By Friday and Saturday, precipitation will become more spotty as the trough moves into the Great Basin.
Conditions will then dry out heading into next week and through the extended.
The open resort that looks to see the most snow is Mammoth.
Short-Term Forecast:
Wednesday-Saturday:
A trough currently over the PNW will dig into California and bring 2-6″ of snow to the Sierra through Saturday.
Precipitaion will start in the northern part of the state later in the morning Thursday and fill in during the afternoon.
This will occur again on Friday but further south over the central Sierra.
By Saturday, most precipitation will be over the Great Basin as the trough moves slowly to the east.
Winter Weather Advisories have been issued across the region.
Anomalously cold closed mid/upper low drops south into NorCal
tonight and Thursday, and then hangs out to our east over the
Great Basin on Friday and Saturday. The result will be an
increasing chance of showers over mainly the mountains beginning
tonight across the north, then spreading south through the
northern Sierra on Thursday. Shower chances will continue Friday
and Saturday. A few thunderstorms will also be possible, mainly in
the afternoons and early evenings.

Several inches of snow will be possible above 3500-4000 feet in
the northern mountains, and above 5000 feet across the northern
Sierra (SREF and GEFS plumes indicate potential for 1-2 inches of
accumulation at KBLU). Recent warm temperatures will likely limit
accumulations on road surfaces, but there will be a chance for
some travel impacts near the higher northern Sierra passes later
Thursday and Thursday evening if stronger convective showers
develop. The winter weather advisory has been extended further
south to include the crest of the northern Sierra thru Thursday
evening.
-NWS Sacramento 5/19/2021
Long-Term Forecast:
Sunday-Tuesday:
Getting into Sunday, all snow will end as the trough moves off to the wast.
This trough will be replaced with high pressure and result in clearer & warm conditions.
Extended Forecast:
Tuesday and Beyond:
Global ensembles are indicating a generally dry pattern in the extended period of the forecast, with cooler temperatures as well.