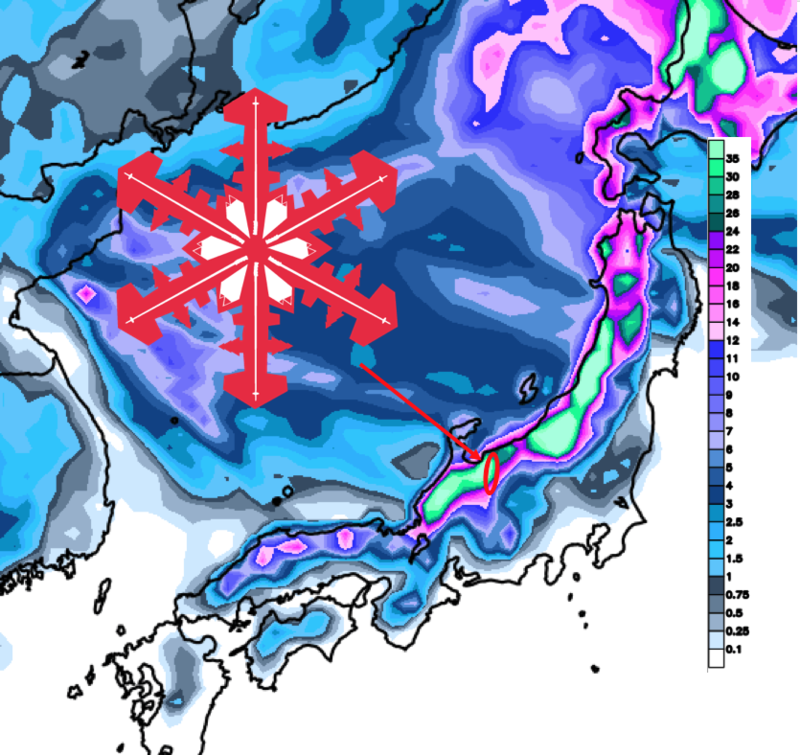 Forecast By SnowBrains Meteorologist Nathan Tarino
Last Updated 3 AM MST – January 9th
Brought to you by HAKUBAVALLEY
Forecast Summary
HAKUBAVALLEY and each of its nine constituent snow resorts operating this season will benefit from a prolonged sea-effect snowstorm next week. Snow will begin Tuesday morning and continue falling daily before eventually pausing Friday.
2 to 4 feet of snow will fall across each of HAKUBAVALLEY's resorts by week's end. The taller more northerly resorts will see the heaviest accumulations, though snowfall will be distributed relatively evenly across the area.
After a short break over the weekend, snow will return next week. Another 1-2+ feet of snow appears possible! 
Geography Recap
Japan's unique geography and topography are responsible for huge annual snowfall totals in the Japanese alps, where HAKUBAVALLEY is conveniently located. In the winter, the Siberian landmass generates a massive amount of cold polar continental airmasses, which are blown southeastward toward the Sea of Japan by wintertime prevailing winds. The sea of Japan is kept unusually warm by the northward-flowing Tsushima current. Cold air and warm water are the two chief ingredients for lake effect (or sea-effect) snowstorms, and Japan has them in abundance!
Japan is also unique in that there are 10,000′ peaks within 20 miles of the coast of the Sea of Japan, forcing any landfilling sea effect snow bands upward over the mountains and further increasing snowfall rates over the high peaks – and the ski resorts.
Short Term Forecast
Heavy snow will develop Tuesday morning, and last into the overnight before slowing. Lighter snow showers will fill in late Tuesday night and last into Wednesday afternoon.
Heavy snowfall will resume by Thursday morning. The heaviest snow will fall through the day Thursday, but moderate snowfall rates will continue through the overnight and into Friday afternoon before finally tapering off.
By the time snow lightens up for the weekend, some pretty epic totals will have fallen. Below are forecast snow totals through Saturday morning, broken down by resort:
Hakuba Cortina –

30-50″

Happo-One –

26-44″

Tsugaike –

26-46″

Hakuba Norikura –

24-40″

Iwatake –

18-34″

Hakuba47 –

24-42″

Goryu –

24-42″

Kashimayari –

20-36″

Jigatake –

18-34″
Extended Forecast
As is typical of Japan in the heart of winter, the snow won't stop after this storm. Yet another storm looks to begin early next week, and a prolonged period of snow is likely thereafter.
There remains considerable uncertainty in forecast snowfall amounts at such lead times. Still, another round of significant snow (1-2'+) will be possible if things fall into place. 
January, February, and March are Japan's snowiest months. Storm cycles like this week's will be common until the Spring.