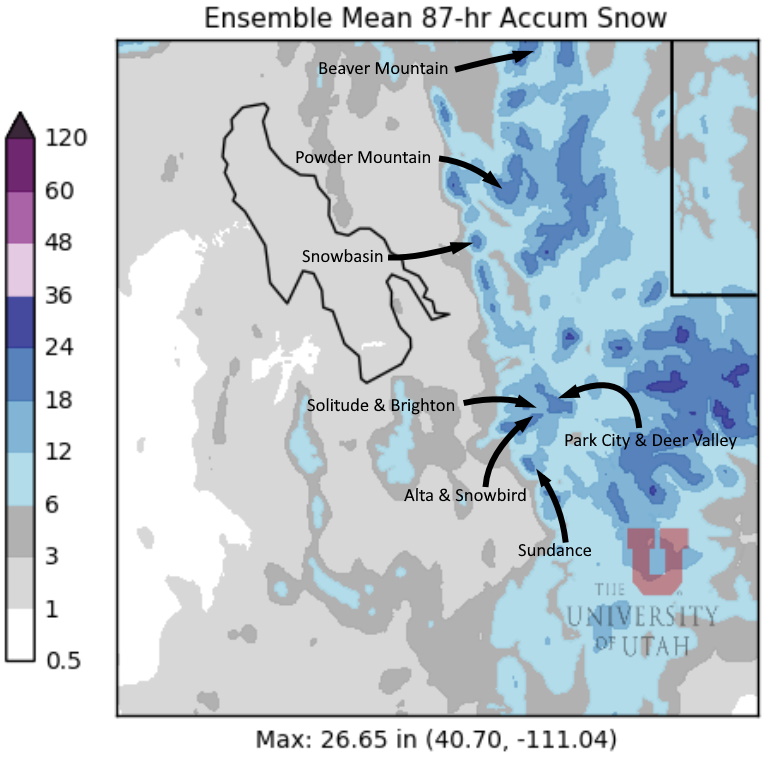 By SnowBriains Forecaster Nathan Tarino
10 PM MST Friday, March 3rd
Forecast Summary
This winter has been a great one in Utah. Alta and Brighton are fast approaching 600″ on the season, with Solitude and Snowbird not far behind. Park City resorts have reported 400″+ already. Our snowpack is fat at all elevations. Skiing conditions have sat between great and phenomenal for the majority of the season, both inbounds and out.
I got a kick out of reading today's avalanche forecast and seeing this tally of the new snow over the last week:

Compared to the rest of this insane winter, last week didn't even seem that snowy to me.
Another stretch of active winter weather will kick off the month of March. Some light snow fell this (Friday) morning, with 3-7″ reported in the Cottonwoods and a couple of inches farther north. Much more snow will come this weekend and through next week, with Sunday and Monday the clear picks for ski days.
There will be more chances for snow into next week and maybe beyond. More discussion on the long term is below.
Short Term Forecast
Snow showers wrap up through the afternoon. Limited, if any, accumulation will be noted through the remainder of the afternoon and evening.
Snow fires back up for the Northern & Central Wasatch through Saturday afternoon. While an inch or two isn't out of the question prior to lift closures Saturday afternoon, most of the snow will fall after last chair.
Snow will fall overnight into Sunday, slowly tapering off in the morning. Sunday morning will offer up some pretty good skiing, as I expect:
15-25″ at Alta/Bird
20-35″ at Solitude/Brighton
14-20″ at the Park City Resorts
8-14″ for the Northern Utah Resorts (maybe a little less at Snowbasin)
3-7″ at Sundance
After a short break through the day, another wave of snow showers will come Sunday night and last into the day on Monday. Additional accumulations will keep on adding up. Look for another:
10-18″ for Alta/Bird
10-20″ for Solitude/Brighton
8-12″ for the Park City Resorts
4-8″ for the Northern Utah Resorts
12-20″ at Sundance
It just keeps on snowing.
Extended Outlook
Chances for snow showers look to continue at times through Wednesday, Thursday, and Friday. Snowfall during this period looks to be fairly light, but some accumulations should slowly stack up through the rest of the week. Skiing conditions should hold at fantastic for most of the week, especially on shady north-aspect slopes. I look forward to continuing to rip pow laps in the backcountry.
Ensembles hint at another potentially bigger dump around the middle of the month. This is way out at the edge of what I'd consider forecastable, as weather models aren't particularly skillful beyond ~10 days out. While I would take this with a grain of salt, there is some suggestion of an especially snowy period around mid-March.
The CPC long-range outlooks look pretty great, with a forecast leaning toward cooler and wetter-than-average weather for most of the West: