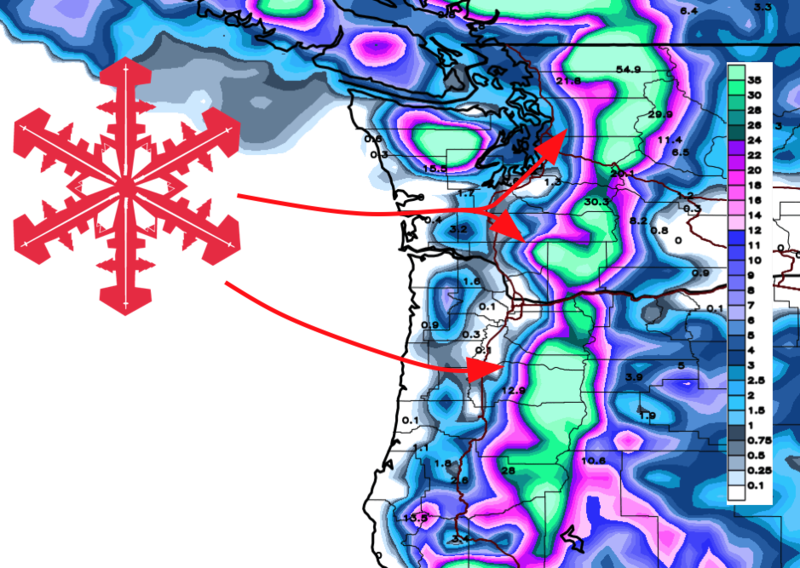 Forecast by SnowBrains Meteorologist Nathan Tarino
Last Updated 3 PM MST December 21st
Forecast Summary
Riding conditions are already pretty good across the Pacific Northwest after 8-16″ of snow fell over the last couple of days. Conditions will only improve as a parade of storms keeps the flakes falling almost constantly across the region through this weekend and beyond. The short and midrange snow forecasts look very promising.
The first storm of many will bring snow mainly above 3500′ across the Washington Cascades Tuesday night before snow spreads south across Oregon through Wednesday afternoon. Storms will continue with only short breaks all the way through next Monday, with snow levels dropping fast late this week. When the storms finally break early next week, resorts across the Cascades will be digging out from 2-4 feet of new snow.
Very chilly weather will settle in next week, persisting into the New Year. A period of drier weather is expected across the Cascades to close out 2021, but skiing conditions should still be great with a ton of new snow and cold temps keeping things fresh.
Short Term Forecast
Tuesday Night – Wednesday Night:
Flakes will start falling again tonight across the higher terrain in Washington, while Oregon's resorts will start to see snow by Wednesday afternoon. Snow levels will start off somewhat high around 4000′, but will fall closer to 2500′ by early Thursday morning.
In Washington, the best totals will be found at Crystal Mountain (8-12″) and Mount Baker (14-26″) with lesser snowfall along Snoqualmie and Stevens Pass (4-8″). In Oregon, both Mt. Hood and Bachelor are in for 6-12″ by Thursday morning.
Thursday will be a great pow day across the region!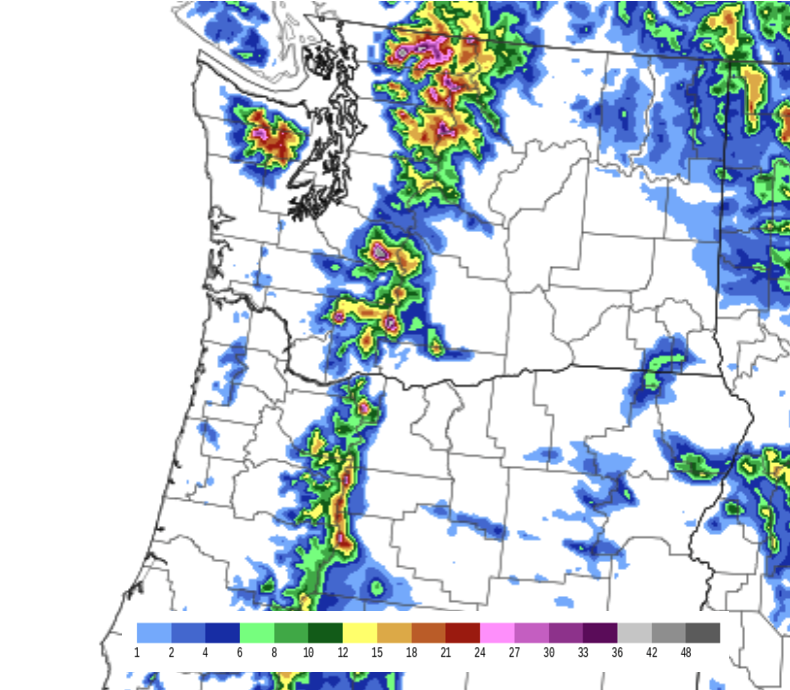 Thursday – Friday
Heavy snow will continue from Thursday afternoon into Friday afternoon, taking on additional accumulations across the Cascades. A cold airmass will make for low snow levels around 2500′ with fluffier than usual snow.
By the end of the day Friday, another 6-12″ of snow will have fallen at the Washington resorts, with 8-16″ of new snow at Bachelor and Hood. 
Holiday Weekend and Beyond
Much more snow will fall over the weekend and a few more inches are likely early next week, but totals remain uncertain for now. Still, there is high confidence that skiing and riding conditions will stay incredible on Christmas and thereafter.
A very cold airmass will settle into the region by the weekend. Snow is expected to fall all the way to sea level in Western Washington on Saturday night! Near zero and potentially sub-zero temperatures will be possible in the mountains as we head into next week.
Look for chilly and somewhat quieter weather as 2021 gives way to '22: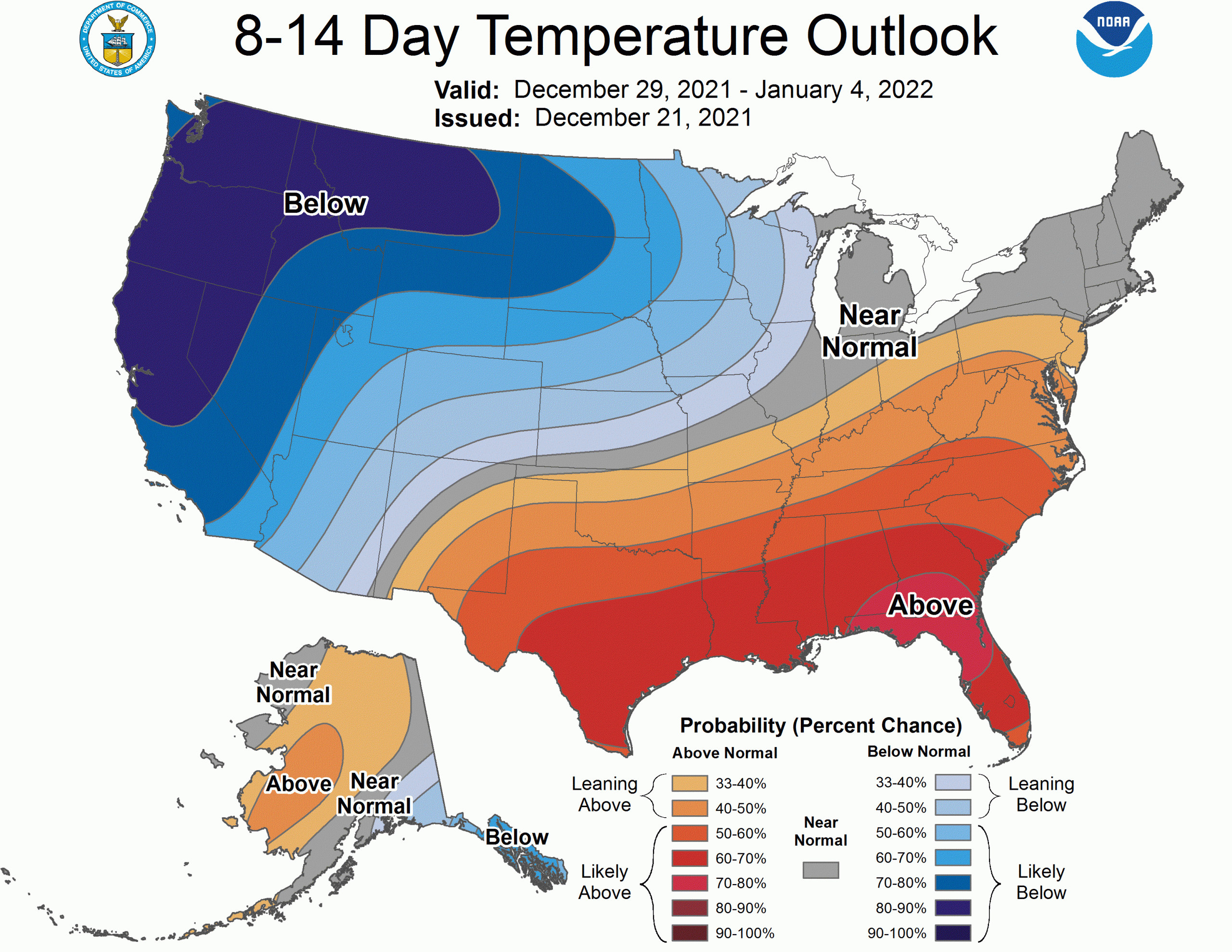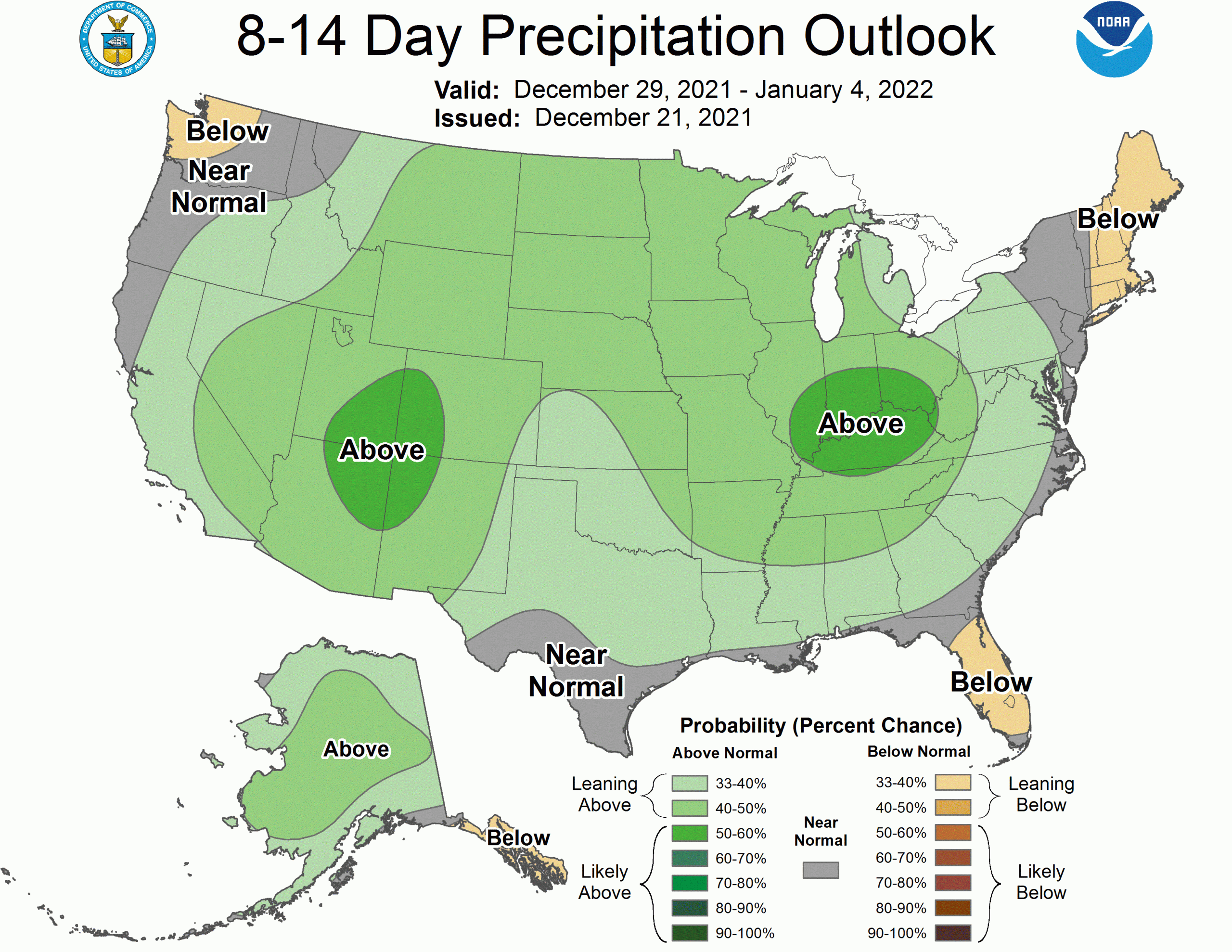 Happy holidays and enjoy the snow!