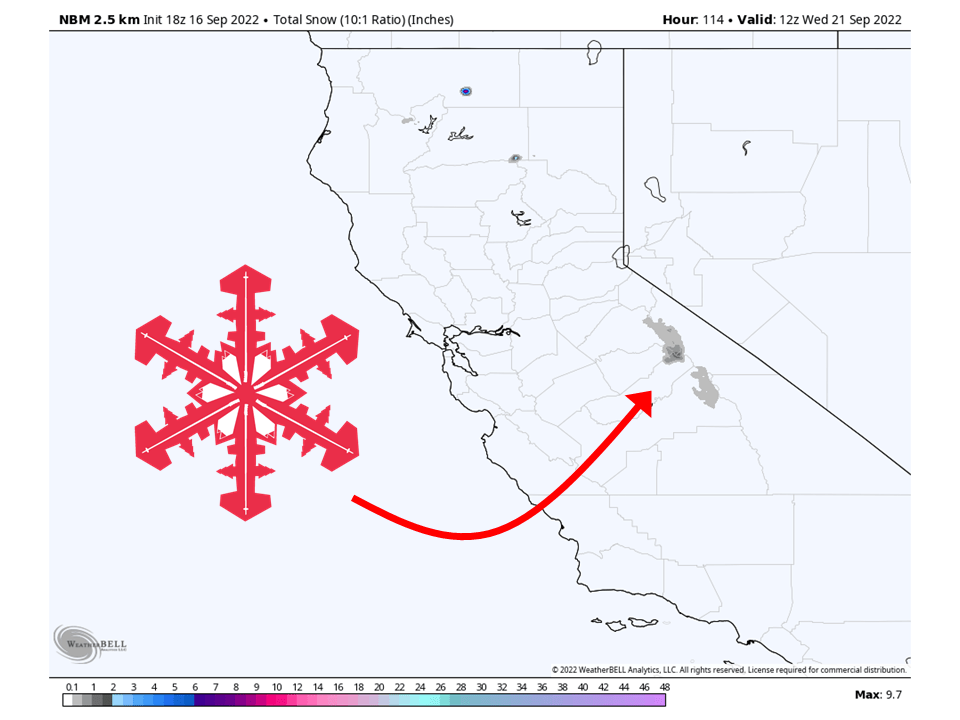 3:45 pm MDT, 9/16/2022
Forecast By SnowBrains Chief Meteorologist – Eric McNamee
Forecast Summary:
A closed low will move through California and bring the season's first snowfall to the Sierra Nevada.
Snow will initially start Sunday and be possible on and off through Tuesday night.
By Wednesday the chance for snow will diminish and high pressure will build over the west.
Expecting up to 4″ of snow at most for the high Sierra.
Short-Term Forecast:
Friday Night-Sunday:
A trough currently over British Columbia will dig down the west coast of the US and close off just to the west of California.
As it does so, moisture will be driven towards the Sierra Nevada.
Couple this with colder air aloft, and you have snow falling for the first time this season at higher elevations over the Sierra.
Long-Term Forecast:
Monday-Thursday:
The threat of snow will continue on and off through Tuesday night as the through sticks around the region.
Most of the snow will fall during the overnights of Sunday, Monday, and Tuesday.
Conditions then dry out Wednesday as high pressure builds over the west.
Extended Forecast:
Sunday and Beyond:
Global ensembles indicate below-average precipitation across California through the extended.