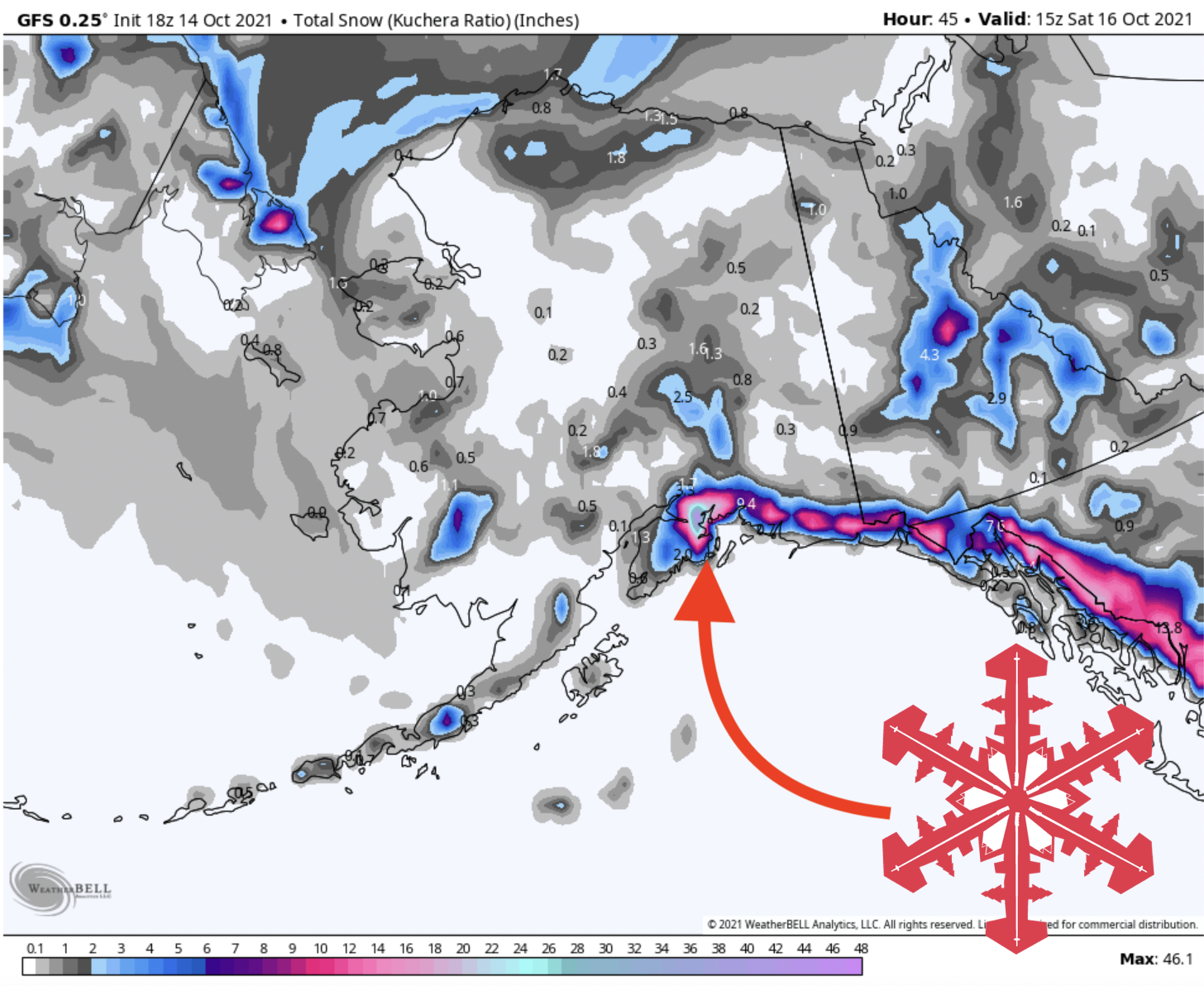 Forecast Summary:
Multiple lingering high-moisture events will run through Alaska this week, bringing upwards of 30″ of snow to the mountains near Anchorage and totals of 60-80″ and up to 100-150″ or more to the mountains surrounding Prince William Sound.
Short-Term Forecast:
Thursday-Saturday:
A lingering weak mid-latitude cyclone is currently causing heavy snow in the Alaskan Coastal mountains. Amounts vary slightly by model, but most models agree on close to 30″ for slopes above 1,000 feet near Prince William Sound by Saturday afternoon. Totals on the highest and most exposed peaks in the Chugach may see totals of 50" or more.
Since the storm passed to the south of Alaska and is currently marching to the southeast, the counterclockwise rotation means most of the moisture is slamming into the mountains near Prince William Sound and getting squeezed out before it can bring significant totals to peaks further to the northwest. Anchorage, Alyeska, and the Talkeetna Mountains all fall in this zone, and could see only about 10″ or so above 1,000 feet by the time the storm is completely done on Saturday.
This storm lacks the convective elements necessary to see uniform totals across even small distances, so the primary vertical forcing is orographic (being forced up and over mountain ranges), which explains why the windward side of the Chugach will get hammered with snow while the leeward areas will see far less accumulation.
Saturday-Monday:
The region will only see a few hours of dry weather before another powerful system moves in on Saturday night.
Again, this storm is tracking fairly far off the coast to the south, and so the bullseye will remain on Prince William Sound. This storm has more moisture than the last, but is also warmer, so consistent snow level may be as high as 2,000′. Accumulations of 25-30″ are possible for the upper Chugach on Sunday, with totals of only about 5-10″ above 2,000′ in leeward areas.
Snowfall accumulations will taper throughout Monday, bringing a maximum of only 5-10″ at max and trace-to-none in leeward regions.
Long-range forecast:
Tuesday and Beyond:
A third, powerful incoming system will actually pull a lot of this new moisture supply back up into Alaska from the south. It's far enough out that forecast totals could change significantly by next week, however, the models are pointing towards maximums of up to 45″ in a day on Tuesday with an additional 20 inches per day for at least the following two days.
There are two moisture sources from this storm, one from the south from the exiting second storm, and another coming from the west with the incoming third system. The primary moisture is being drawn up from further south in the Pacific, but the fact that there is a second source of precipitation and moisture coming from the West means that totals will be slightly more balanced between both sides of the Chugach. Alyeska ski resort could squeeze 20-30″ out of this storm. High peaks in the region could see similar totals.