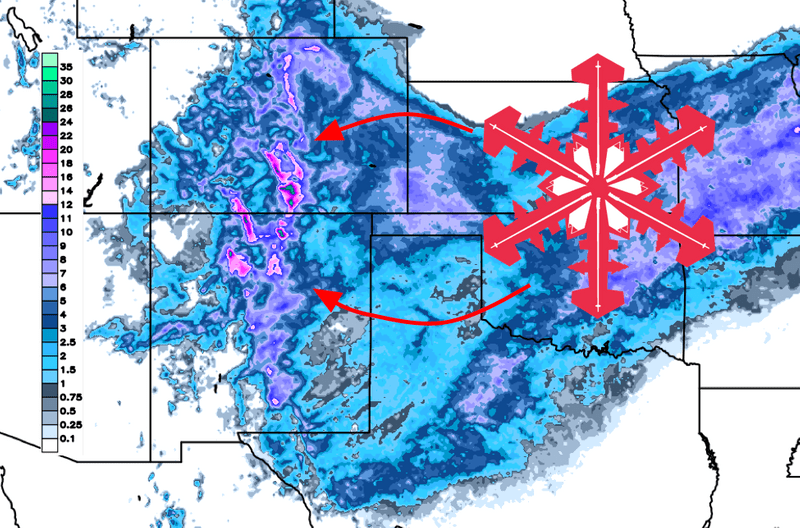 Forecast by SnowBrains Meteorologist Nathan Tarino
Last Updated 10 PM MST February 2nd
Forecast Summary
After a long break, resorts across New Mexico and Colorado are next up for some new snow through the middle of the week. A few favored resorts are expected to pick up fairly significant snowfall by Thursday morning, with resorts along the San Juan and Sangre de Cristo ranges in for as much as 20″ of snow.
Wednesday will be the best day to ski Colorado and both Wednesday and Thursday will be quite good in New Mexico.
The long range forecast looks pretty bleak, and this might be the only shot at a legitimate pow day for at least a week in most of the region. The exception will be the farthest north areas in Colorado, which may benefit from a couple of smaller brush-by systems next week.
Short Range Forecast
An upper level trough and attendant cold front will push across the Southern Rockies Tuesday evening and Wednesday, bringing accumulating snow across the region. Snow will begin in northern Colorado by Tuesday afternoon and steadily spread southward into New Mexico overnight. Heavy accumulations are likely through the day Wednesday, with the biggest snow totals expected over southern Colorado and Northern New Mexico. Resorts like Wolf Creek, Telluride, and Taos in New Mexico will likely be the winners in this storm. I expect Eldora to do unusually well too, benefitting from upslope flow out of the east.
I expect accumulations of 12-20″ in the San Juan and Sangre De Cristo ranges by Thursday morning. Lighter accumulations of 5-10″ are likely across most of the central Colorado resorts, with the heaviest snow falling closer to the Front Range and lesser totals to the west – Eldora will likely be close to the top of that range. Steamboat and its surrounding backcountry will be in for notably lighter snowfall, closer to 2-3″ out of this storm. 
Colorado areas will offer up the best skiing Wednesday afternoon. New Mexican skiers will get to ski pow on both Wednesday and Thursday. 
This storm will arrive along with a bitterly cold airmass, making for high snow to liquid ratios and blower powder. This will also necessitate layering up if you're going to ski on Wednesday or especially Thursday morning. Expect mountain temperatures to approach zero Wednesday morning and to fall into the negatives on Thursday morning.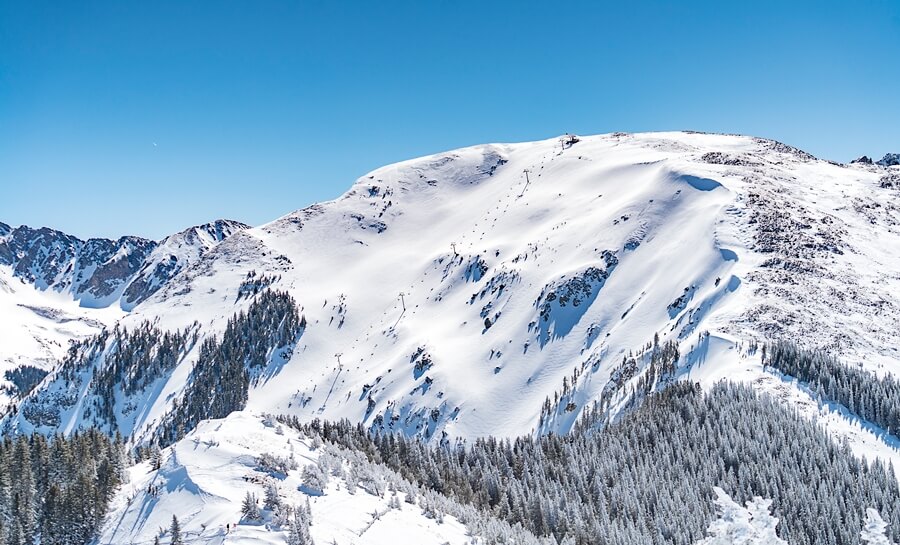 Extended Forecast
The large-scale pattern will remain generally unproductive for snow in Colorado and New Mexico. A ridge of high pressure aloft centered over the Pacific Northwest will continue to make it difficult for pacific moisture to penetrate inland into the Rockies, limiting snow chances until at least the middle of February. Though we'll see good snow this week, it'll be tough to get additional deep days until that ridge either breaks down or moves farther offshore. The storm track will remain generally north of the area, though resorts in northern Colorado could see a few productive brush-by systems in a pattern like this.