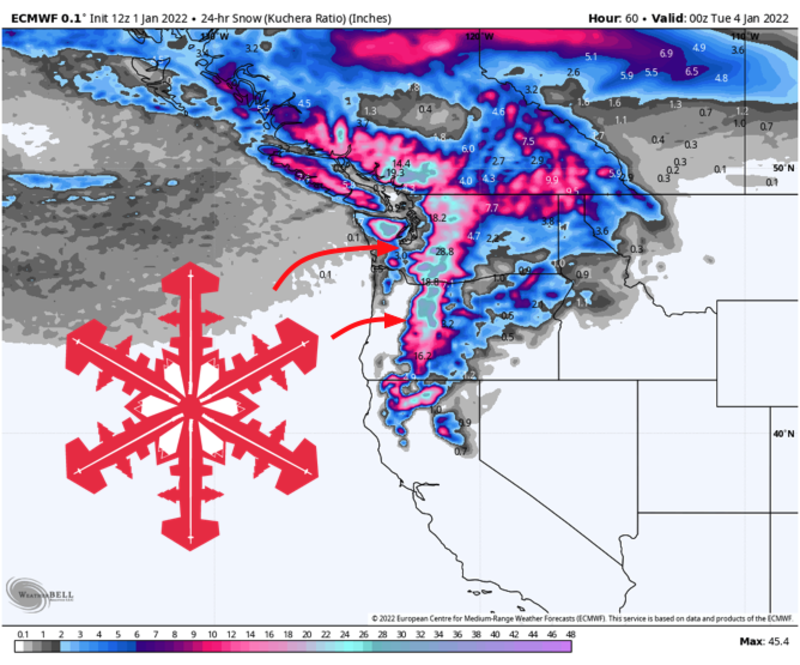 Forecast by SnowBrains meteorologist Nathan Tarino
Last Updated 5 PM MST January 1st
Forecast Summary
A  persistently cold and snowy pattern has kept conditions soft through the holidays and enabled the snowpack to bounce back after an abysmal November. 
Yet another snowy week is on tap across the Cascades, with heavy snow falling Sunday evening all the way through next weekend. By the weekend, resorts across the Cascades could pick up as much as 4 feet of snow! Riding conditions should hold at fantastic through most of this week. However, it should be mentioned that snow levels will climb above many resorts on Thursday.
Long-range forecast tools suggest there is some potential for a drier pattern to set up as we head into the middle of January.
Short Term Forecast
Snowpack Update
Resorts across Oregon and Washington are skiing great after about 2 weeks of almost constant snow. The productive pattern has led to an impressive snowpack bounceback, with most basins in the Cascades either at or above median snow water equivalent for the date.
Sunday night – Tuesday morning
Snow will redevelop across Washington Sunday night, spreading southward into the Oregon Cascades through Monday morning. 
A cold airmass will keep snow levels down to about 2000′ and make for nice fluffy pow in the higher terrain. The new snow will make for excellent conditions both Monday and Tuesday. By midmorning Tuesday, some pretty huge snow totals will have blessed the slopes of the Cascades, with 16-32″ of snow for the Volcanoes in Oregon and 14-28″ of snow across the Washington resorts. Crystal Mountain and Mt. Baker Ski Area will have a good chance to tickle the top end of that range.
Tuesday – Wednesday morning
Without much of a break, snow will redevelop across the Pacific Northwest through the day Tuesday. This storm won't be so strong like its predecessor but will be accompanied by cold temperatures and low snow levels – especially in Washington. Another 3-6″ of snow looks likely across the Cascades before things quiet down by midday Wednesday, with the exception of Mt. Baker which looks to get mostly missed to the south.
Long Range
Another multi-day storm will roll into the region on Thursday, but will likely bring some rain to the higher elevations before cooler air filters back in on Friday. It's still too early to try to put snowfall numbers on this storm, but more significant accumulations look possible on Friday with more good skiing to be had next weekend.
Confidence is increasing that a ridge will build in after the next weekend, effectively shutting down snow chances for a while. The CPC long range outlooks call for drier weather as a result: