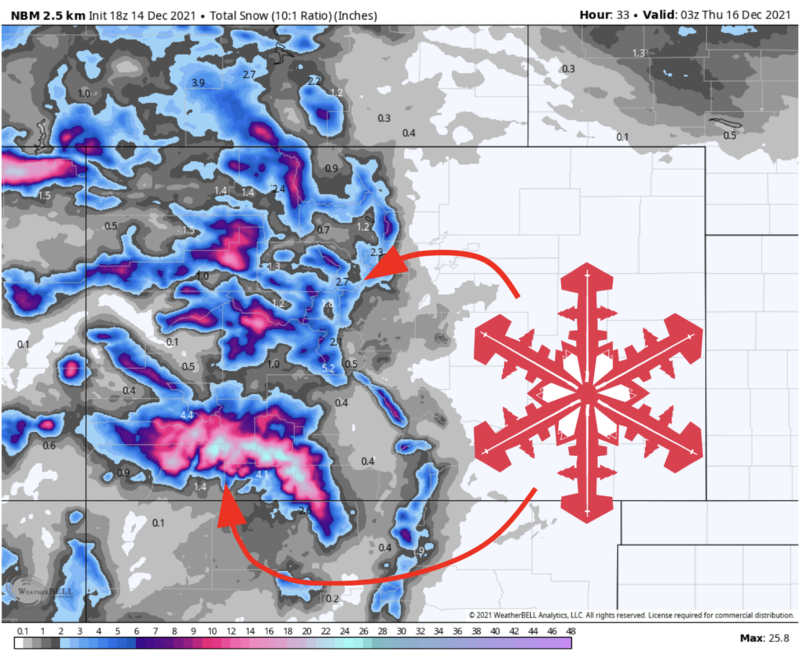 Forecast By SnowBrains Meteorologist Nathan Tarino
1800 MST 12-14-21
Forecast Summary
A powerful storm system is moving across the Intermountain West, dropping massive snow totals on the Wasatch and especially the Sierra Nevada. Colorado's high terrain will see the scraps of this storm Tuesday night and Wednesday, with light accumulations for most resorts and moderate accumulations across the San Juans.
Gusty winds are expected throughout the day Wednesday. Mountain areas will see high gusts, but especially impressive winds are possible in the lee of (east of) the Front Range. Some tree damage and power outages will be possible before winds diminish Wednesday night.
A stretch of quiet weather will take over by the weekend, but powder prospects return just before Christmas.
Snowpack Update
Last week's big dump helped out the snowpack statewide, but a lot more snow is needed to get more terrain open and skiable. Before last week's storm, Colorado's snowpack was looking very anemic, with most stations reporting a much thinner than average snowpack: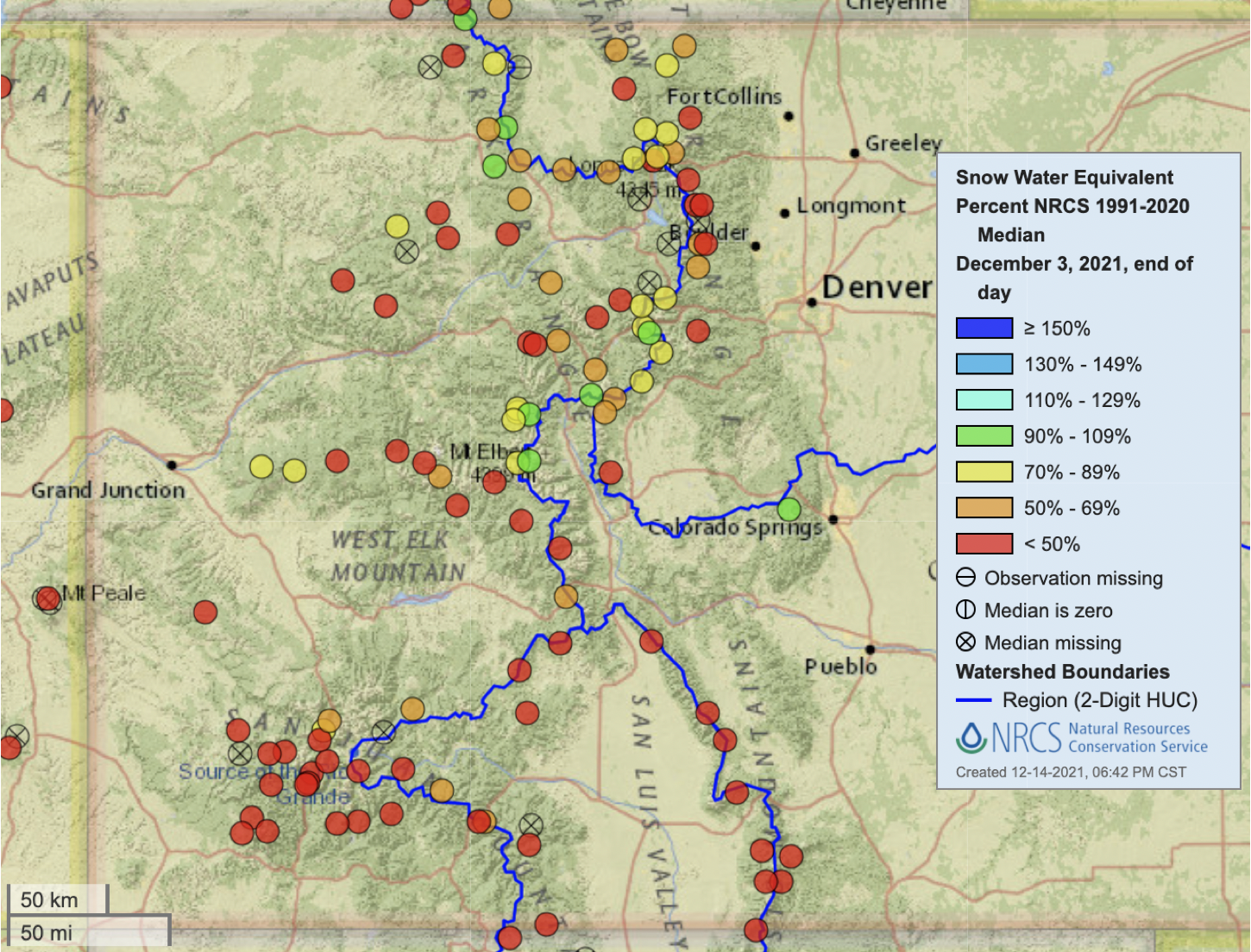 After last week some significant improvement is notable, especially across the San Juans. Still, the snowpack is unimpressive for the middle of December, and we'll need some more consistent storms to get the season properly underway:
Short Term Forecast
Snow will fill in across Colorado overnight. A burst of heavy snowfall will accompany a cold front through the early morning Wednesday. Snow showers and blustery winds will follow behind the front, lasting through the day. Most I-70 resorts are looking at 2-6″ of snow by day's end, Steamboat will pick up 5-10″, while the San Juan resorts (Wolf Creek, Telluride, and Purgatory) will see the best accumulations of 7-15″.
Gusty winds will follow the snow through Wednesday evening. Winds will likely be strong enough for some upper mountain wind holds. However, the nastiest winds will be in the lower terrain, where gusts as strong as 80-100 mph will be possible in spots along the Front Range. Check-in with NWS Boulder for location-specific weather alerts.
Another weak storm will bring light snow Thursday night. This won't be a blockbuster storm by any means, but an inch or two of snow will freshen up riding conditions across northern and central Colorado going into Friday. Steamboat will do a bit better, where 3-6″ of additional snowfall is likely.
Long Range
Ensembles suggest a snowier pattern will develop just before Christmas and potentially stay in place into 2022. 10-day forecasts will always be uncertain, but the signal is consistent across most models. The CPC outlooks call for increasing chances at precipitation as we head into the Holidays: