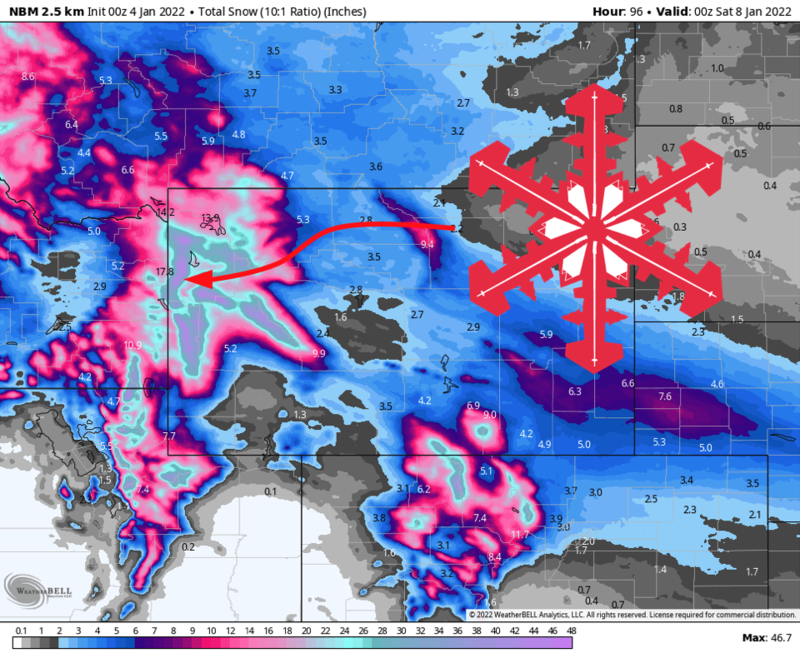 Forecast By SnowBrains Meteorologist Nathan Tarino
Last Updated 11 PM MST January 3rd
Forecast Summary
A volley of disturbances will keep the flakes flying this week. Soft turns will be found in the Tetons daily from Tuesday through Friday! I expect another 25-40″ of snow for Targhee and Jackson Hole by the end of the weekend.
Get out there Wednesday, Thursday afternoon, or Friday morning for the best snow. Tuesday will be worth skiing, too, with another quick refresh Friday night to keep things soft for the weekend warriors.
All good things must come to an end. Signs suggest the productive pattern that's been with us since early December will break down after the weekend, ushering in a drier period as we head into the middle of January.
After a week of heavy snow and occasional strong winds, you can bet backcountry avalanche danger will have risen considerably by the weekend. Pay special attention to the avy report if you plan to venture into the backcountry this week.
Short Term Forecast
Tuesday
Snow showers will fire up across western Wyoming early Tuesday morning. Heavy snow will fall overnight, lightning about the time of the first chair on Tuesday. Expect 3-6″ of snow by the time lifts start spinning, with storm totals of 5-8″ by the end of the day.
Winds will whip through the morning. Though things will trend less gusty through the day, there is some wind hold potential, especially in the morning. Temperatures will be chilly, too, so be sure to layer up if you plan to ski Tuesday.
Wednesday
Snow will resume early Wednesday morning. Another quick burst of accumulations will bring 7-14″ of snow across the Tetons, most of it falling by lunchtime Wednesday.
Winds will be peak again early Wednesday. Once again, a couple of wind holds are not out of the question Wednesday morning before the storm moves out of the Tetons through the day.
Midweek and Beyond
Thursday – Friday
Yet another storm will begin by mid-morning Thursday. By Thursday afternoon, each lap should be getting better and better, with heavy snow falling until resorts close down for the day. Snow will continue into Friday morning, with totals on the order of 8-16″.
Warmer temperatures aloft associated with this storm will make for snow on the denser side. Surfy turns are good turns.
The Weekend
A few more snow showers Friday night and Saturday will keep things fresh into the weekend. We're a ways out still, but it looks like enough snow will fall to make for more soft turns on Saturday.
Sunday should be a wonderful day of leftover skiing. 
Beyond
Sadly, it seems certain that a relatively high amplitude ridge will build over the Northwestern US through next week. Snow chances will be limited through at least the middle of the month, and temperatures will run a bit warmer. 
Enjoy the pow!