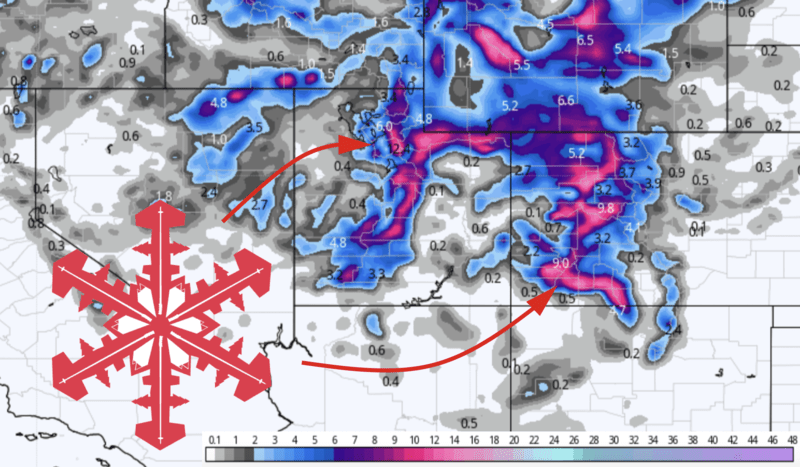 Forecast By Snowbrains Meteorologist Nathan Tarino
Updated Friday, Oct 21st at 2 PM MST
Forecast Summary
After a pretty mild start to fall, the peaks of Utah and Colorado will see some appreciable snow this weekend. A sufficiently cold airmass will mean resorts see pretty much all snow from this storm — great news as mountains start to gear up for winter operations (A-Basin opens Sunday!).
A cold front will push southeastward across Utah Saturday night and across Colorado through the day Sunday. Utah will see significantly heavier snowfall than Colorado with this storm, but solid accumulations will be shared on both sides of the border.
A bit more snow is possible Wednesday/Thursday of next week. The large-scale pattern looks to stay remain fairly progressive into the beginning of November, which should at least keep occasional chances of snow around across the region.
Short Term: Utah
Let's start with Utah because I'm psyched to finally see some snowcapped peaks around Salt Lake:
Rain and snow will fill in across Northern Utah through the late afternoon on Saturday. Snow levels originally around 9,500′ will quickly crash down closer to 6000′ as a cold front sweeps through the area by Saturday evening. Mountain snow will spread through the state as the front pushes southward, with the higher terrain seeing a couple of hours of very heavy snowfall as a band of frontal precip moves through.
Cool, moist, & unstable northwesterly flow will continue behind the front until Sunday evening, bringing continued snow showers across northern Utah until Sunday evening. This should be especially great for the Cottonwoods, where I expect occasionally heavy snow to continue until after dark on Sunday. Lake enhancement is also likely, as Great Salt Lake surface temperatures are up above 60ºF after recent warm weather. 
By Sunday night, expect to see 15-25″ in the Cottonwoods, 10-18″ for the resorts in northern Utah, and 8-14″ in the high terrain of central and southern Utah. If all goes well, I'm taking my rock skis up on Sunday afternoon for my first turns of the year. 
Short Term: Colorado
Colorado won't be quite as deep, but the snow and cold weather are still welcome news as resorts gear up for the winter.
High-elevation snow will begin across western Colorado late Saturday night, with snow levels up around 9,000′. Heavier snow and lower snow levels (down below resort bases) will arrive overnight as the cold front advances southeastward across Colorado.
Moist, fairly cold northwesterly flow behind the front will keep a few snow showers falling through the evening Sunday and even into Monday morning along the Wyoming border. Snow totals won't be huge along the I-70 corridor from this one, but 3-7″ is likely by Monday morning. Elsewhere, the San Juans will do a little better (6-12″) as will Steamboat (5-10″), Purgatory (6-12″), and a few of the farther south and west resorts. 
Extended Forecast
Another smaller storm looks to bring more accumulating snow across both Utah and Colorado next week. While this one isn't nearly as strong as the first, something in the ballpark of another 2-5″ of snow is possible in the high terrain of northern Utah and Colorado on Wednesday/Thursday next week.
Beyond that, the large-scale pattern will remain pretty progressive as we head toward November. That'll keep the occasional shot of mountain snow in the forecast, and also keep excessively long dry streaks away for the time being.
The CPC's long-range outlooks lean just a bit toward cool and wet weather around the turn of the month. Fingers crossed we trend toward a wetter forecast, I'm hoping to start skiing in the Wasatch pretty soon here.