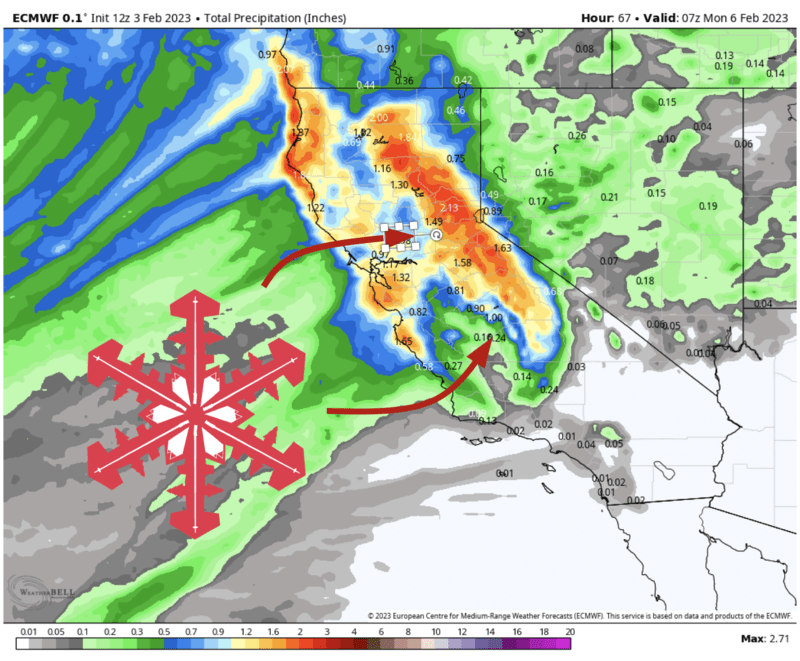 Forecast Summary
After an insane December and first half of January, the Sierras are buried under one of the fatter snowpacks in recent memory. A bit of drier weather has settled in since. Fortunately, another decent storm will impact the range from Saturday night into Sunday. Accumulations should be pretty deep, and skiing on Sunday and Monday should be money.
Long-range prospects are so-so. A drier period looks likely to resume behind this storm, but chances for storms won't go away entirely.
Short Term Forecast
A dying band of rain/mountain snow will approach the Tahoe area Friday afternoon but probably fall apart before bringing any meaningful snowfall. Still, don't be surprised to see a flurry or two around the area on Friday.
By Saturday night, the real storm will have moved onshore. Snow looks to begin ahead of a cold front around Lake Tahoe by close to midnight, intense off the bat with snowfall rates upwards of 2″/hr at times and strong winds. Similarly, heavy snow will make it to Mammoth by early Sunday morning. Snowfall rates will trend a bit lower through the morning on Sunday as the more intense frontal band moves beyond the Sierra, but fairly steady postfrontal snow showers will keep on kicking all the way into Sunday night.
Snow levels will end up fairly low with this one. Expect the prefrontal snow to come through with snow levels around 6000′. A cold airmass behind the front and much weaker winds will make for snow levels as low as ~4,000 feet through the day Sunday, yielding somewhat fluffier snow ratios than you'd typically expect in California. With cold temps and continued snowfall through the day on Sunday, I foresee some really great skiing/boarding conditions for most of the day.
By Monday morning, some pretty fat snow totals are likely. I think Tahoe resorts along the Sierra Crest will likely see 16-24″ of snow total, resorts on the east side of Lake Tahoe will probably end up between 10 and 15″, and Mammoth will catch 10-18″. Kirkwood is my guess for the heaviest snow and could potentially top two feet.
Looking Farther Ahead 
An upper-level ridge will develop over the area as this system departs, making it tough to get more solid storms into the region for about a week. Maybe there's a shot for a bit of snow Wednesday next week, but I wouldn't put too much faith in that. This is reflected in the CPC's 6-10 day outlook, which paints the Golden State in a pretty gross shade of brown: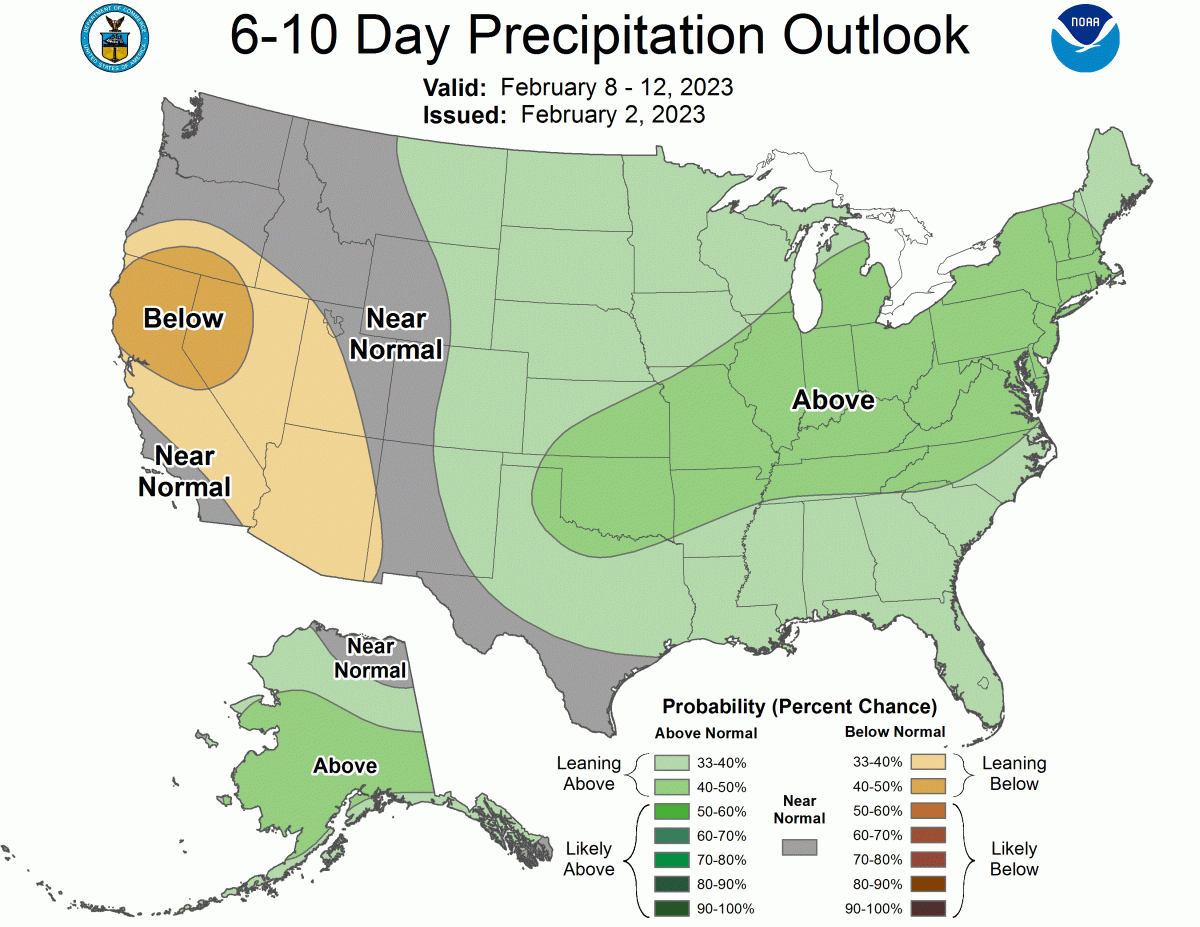 However, there is some suggestion that we could get another stormy period sometime around next weekend. This is still a way out and subject to change, but worth starting to pay attention to at this point. Ensembles support the idea of another trough developing along the Pacific Coast, giving the Sierras another shot at snow. We'll see how it shakes out.