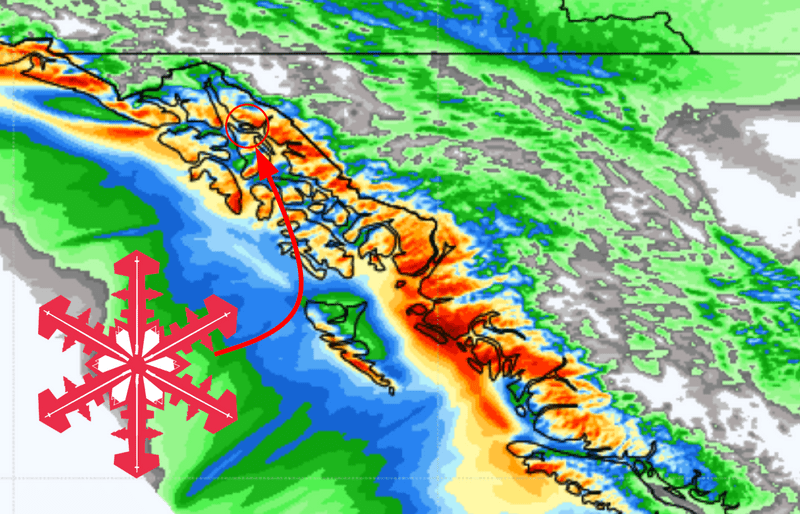 Forecast By SnowBrains Meteorologist Nathan Tarino
Updated March 10 – 8 AM MST
Forecast Summary
Recent mixed-precipitation has led to elevation-dependent conditions at Eaglecrest Resort near Juneau, Alaska. 6″ of new snow near the peak was reported over the past few days, but rain in the lower elevations made for quickly changing conditions on descent. More snow will improve conditions from top to bottom just in time for this weekend.
Moderate snowfall is expected by Friday night, making for soft turns through the weekend. Lukewarm air aloft will preserve the threat of rain near the resort base, but temperatures will be sufficiently cold for smooth and creamy turns across most of the mountain.
A period of active weather is likely through the middle and into the end of March. To be clear, the extended forecast looks great. A parade of storms will bring frequent snowfall to the region through at least the 17th of March.
Short Term Forecast
I'd been unaware of Eaglecrest before researching the area for this forecast. I was surprised to find a gem of a resort with lots of expert terrain, good backcountry access, and plentiful natural snow — the resort averages 320″ annually. It's important to imagine the terrain that will get covered by the snow in this forecast, so I've opted to include a shot of some of the lift-served terrain at Eaglecrest:
These beautiful hills will begin to see more snow late Thursday afternoon. Snow will start off light, with heavier snowfall arriving overnight and into Friday. Snow will fall to the resort base through Thursday night, but snow levels may creep as high as 1,500′ by early Friday morning. Sitting at close to 1,200′, a bit of rain is possible for the base before cooler air filters in on Friday afternoon.
Snowfall will persist into Friday night. By the time snow tapers off on Saturday morning, look for 6-10″ of new snow at the middle and upper elevations with 5-7″ of that falling by Friday afternoon. A few snow showers could persist into Saturday evening but I expect light additional accumulations if any.
A break from active weather on Sunday will make for a good day of leftover hunting on the abundance of hike access terrain at Eaglecrest.
Next Week and Beyond
Quiet weather on Sunday won't last long. Another storm will roll into the area on Monday kicking off a stretch of nearly constant snowfall through the 17th of March. While rain will occasionally mix in across the lower elevations, feet of snow will fall in the higher areas. It's a bit early to put numbers on accumulations, but I won't be shocked to see as much as 20″ reported next week.
The pattern will remain favorable thereafter, too. Troughing over the Gulf of Alaska looks to stick around into the end of March will favor continued cool and moist weather across southeastern Alaska.