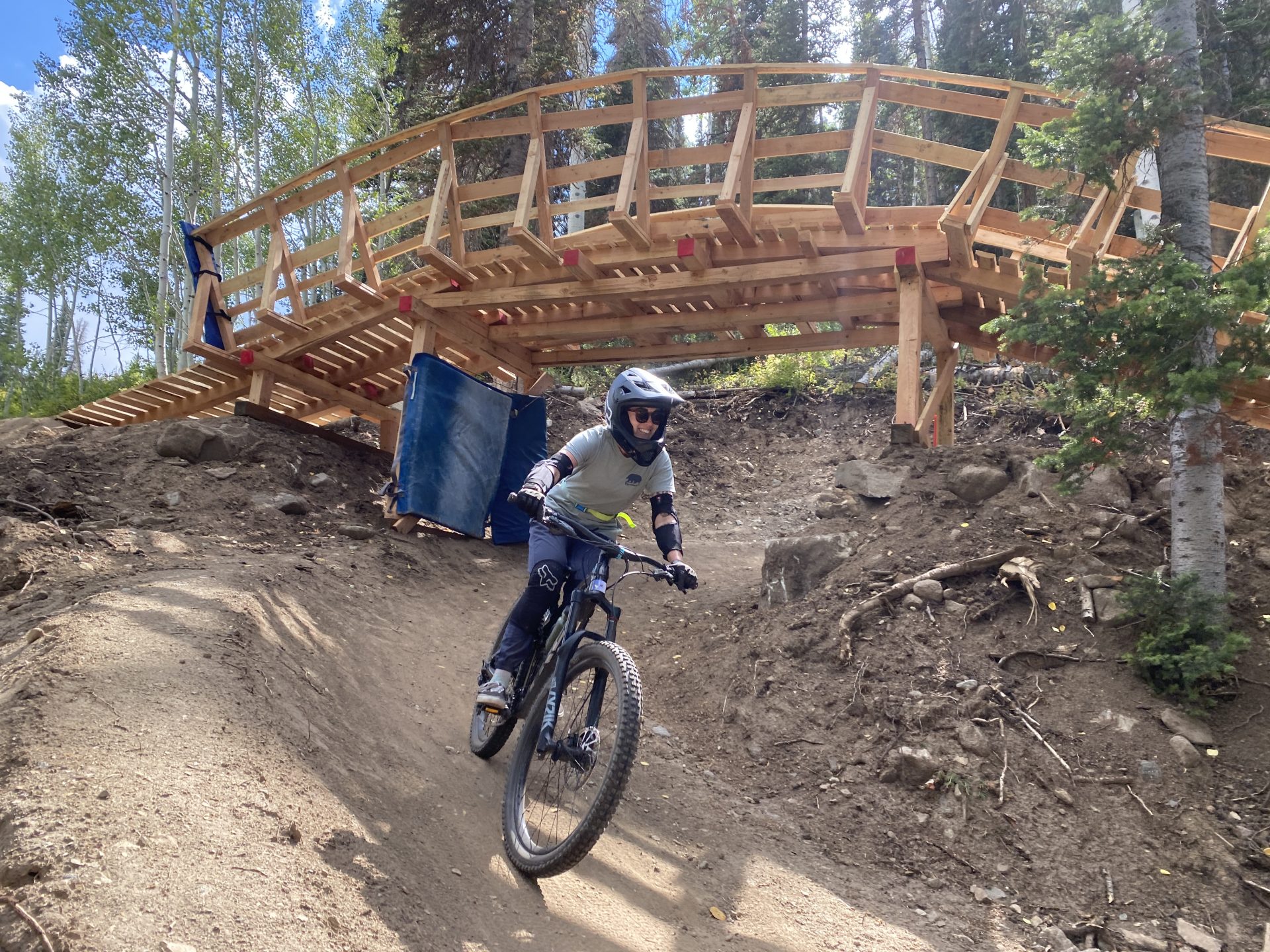 Report from Sunday, September 10, 2023
Utah's newest bike park has arrived.
The Solitude Bike Park is officially open and we went up on Sunday to check out the jumps, bumps, drops and fast flow that it has to offer.
Phase 1 of Solitude's new bike park opened with four new downhill mountain bike trails designed by Gravity Logic, adding 6 miles of new trails that consist of a green freeride trail, a blue freeride trail, a blue technical trail, and a black technical trail, all of which can be accessed via the Moonbeam Express Chair.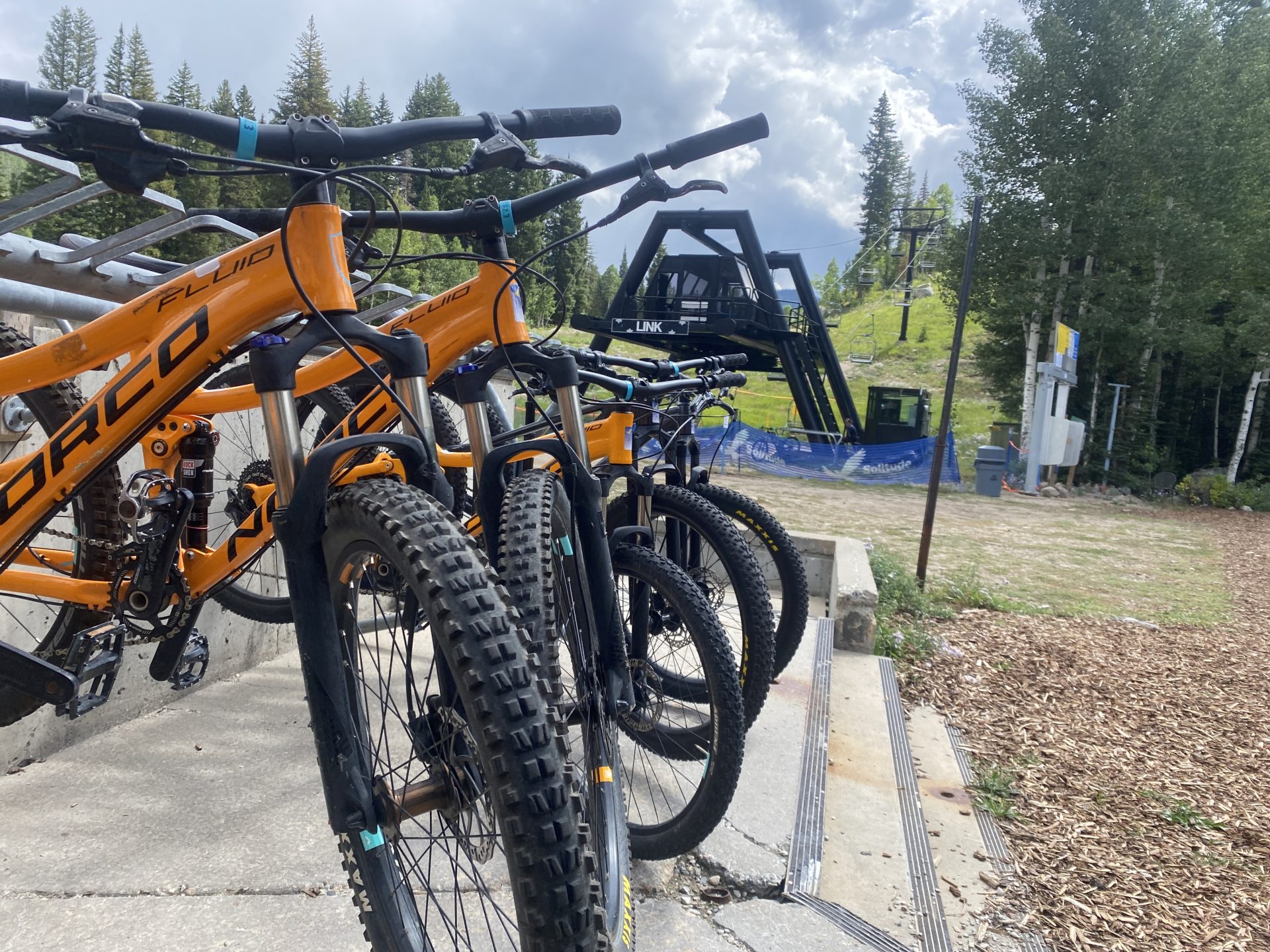 We got there around 1:30 pm, rented one of Solitude's sweet downhill bikes that are available as daily rentals, and hopped on Moonbeam, which had no lift line. 
After a short, few-minute ride up the chair, we were at the top of the bike park where the air was cool and crisp; there was light cloud cover which made the temperatures downright perfect for biking through the mountains. 
We started with Mother Lode, the green trail from the top, and cruised it through twisty, turny, wide burns that cut through a cool and damp aspen forest.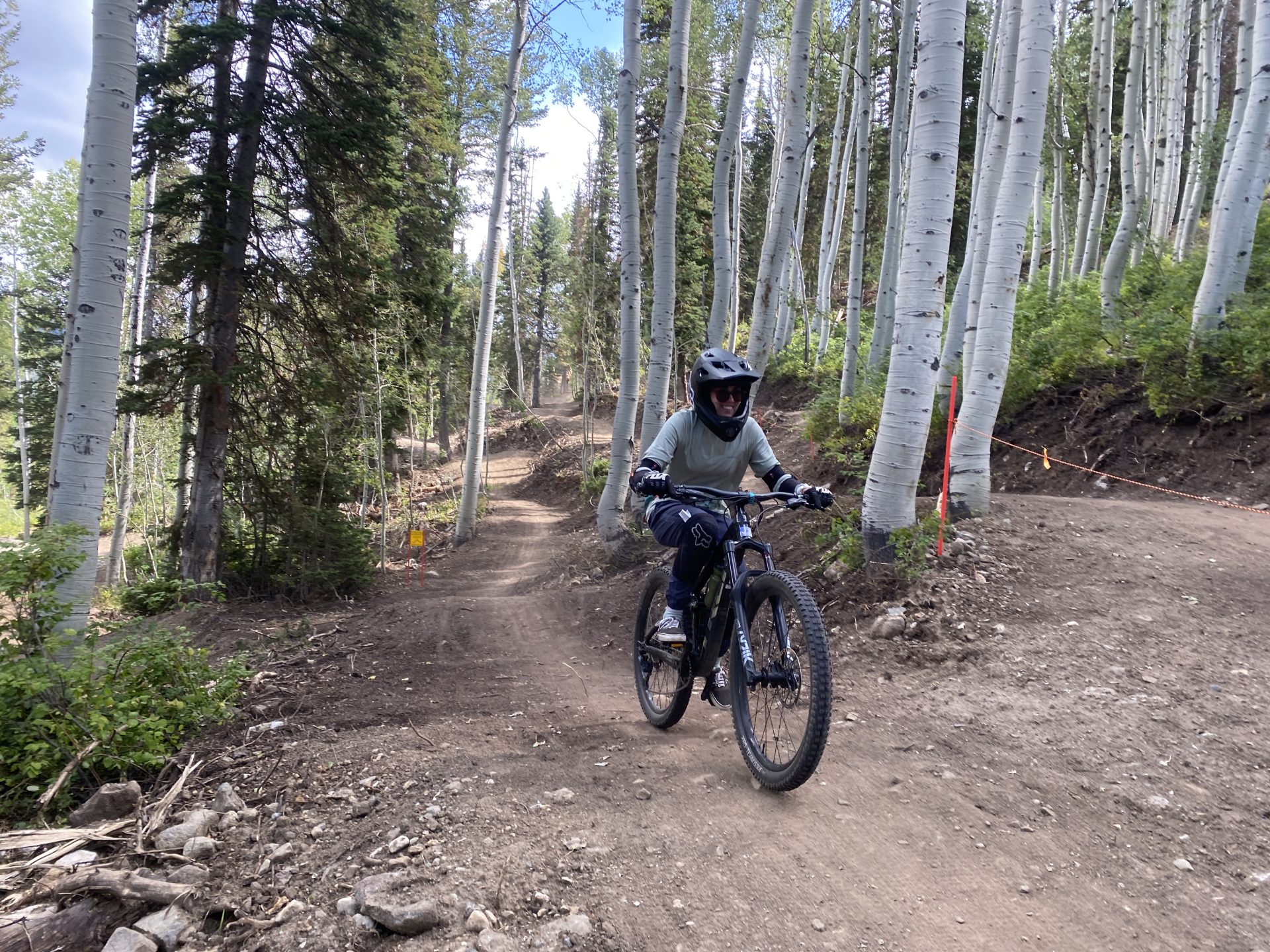 I liked how most of the trail was completely in the shade. 
Mother Lode was long and flowy and fun; it took about 15-20 minutes for us to bike down it in entirety, which was surprising, because the whole thing felt like it only took a few minutes. 
Time flies when you're having fun riding smooth dirt.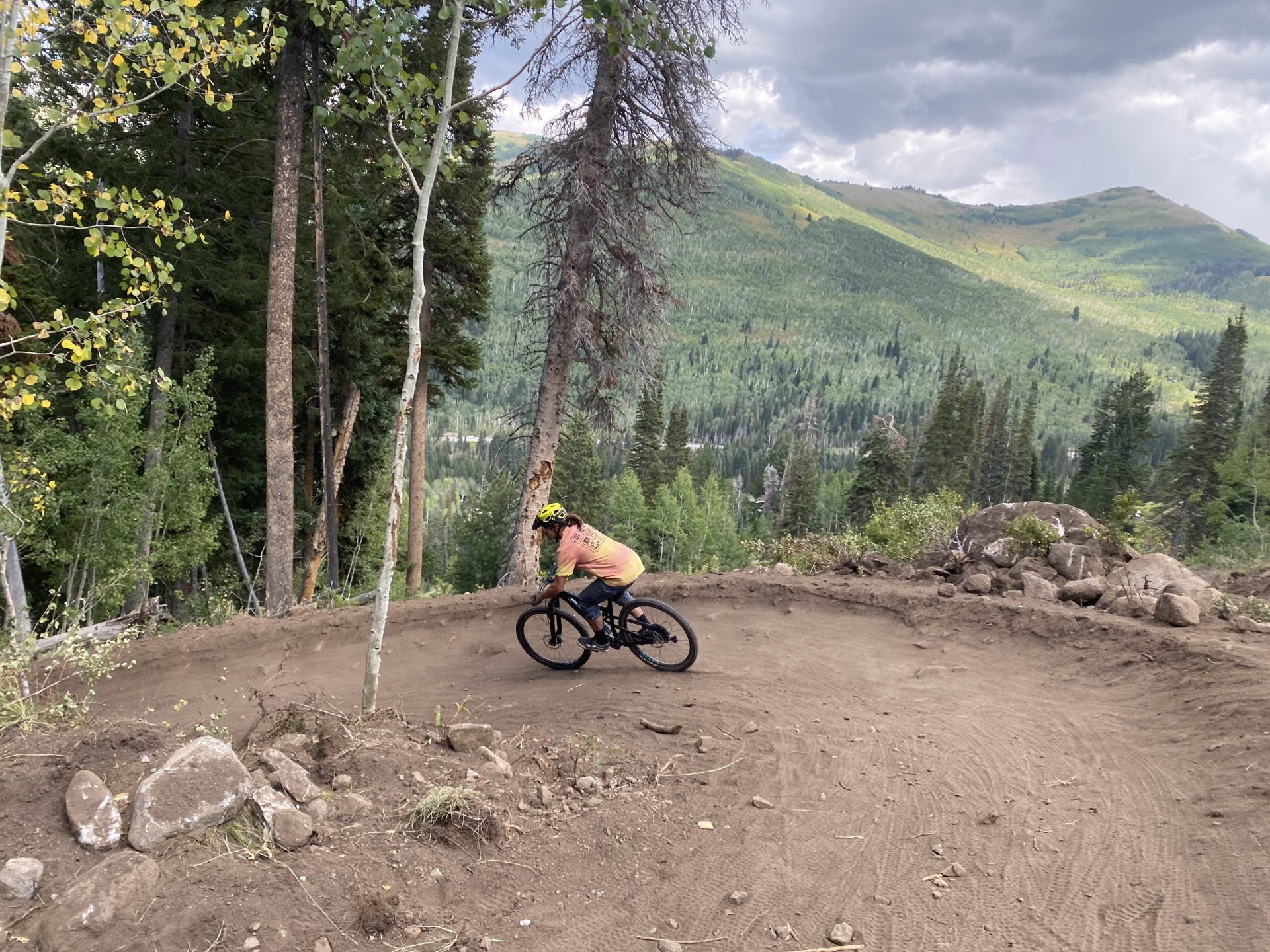 We lapped Mother Lode a few times before some lightning in the area prompted lift crews to put the chair on a 20-minute hold. 
It was the perfect time to grab some grub and a brew from the Little Dollie at the Moonbeam Lodge. 
The pork belly sandwich there was epic and paired well with a Uinta Brewing Lime Pilsner.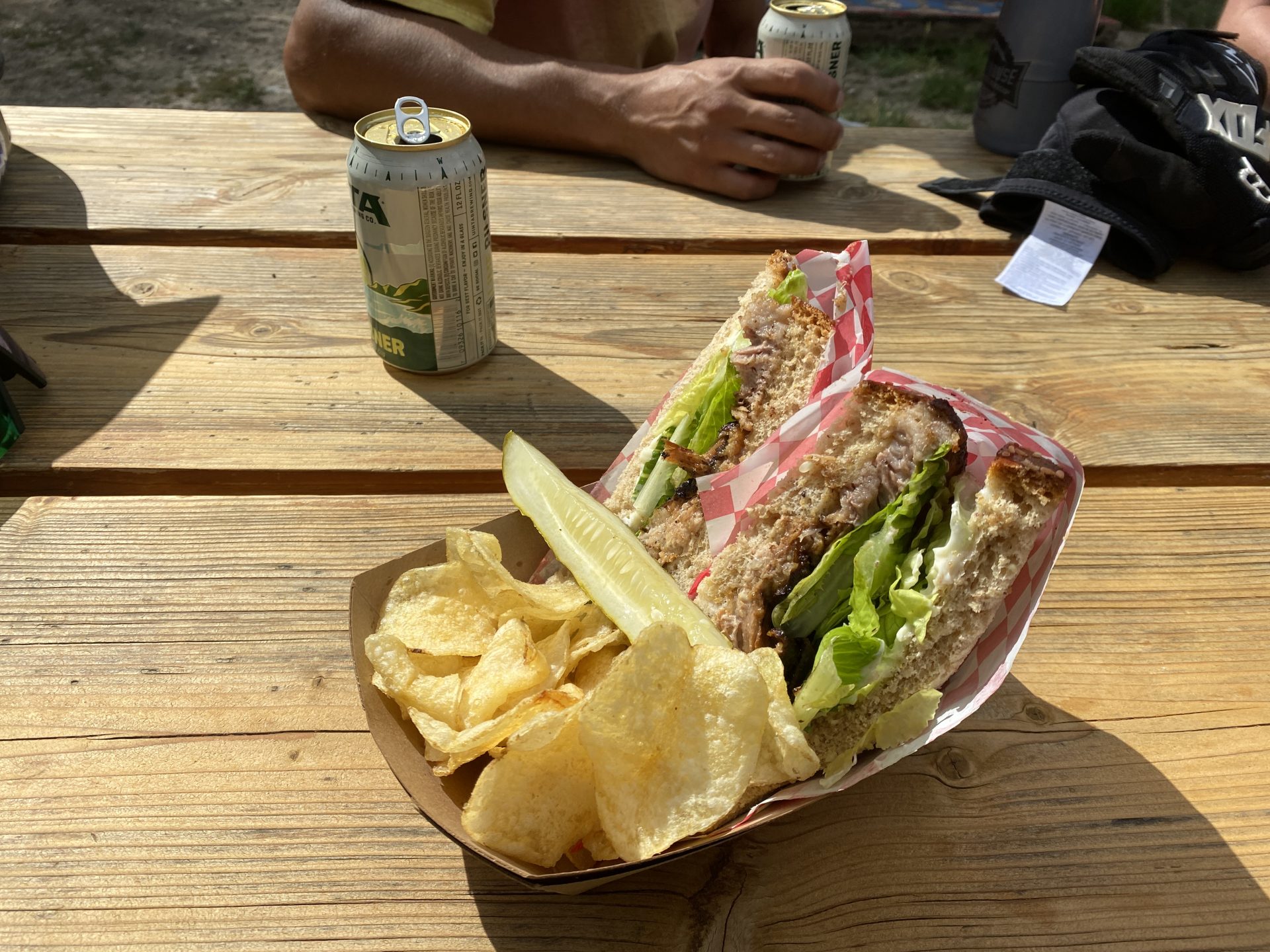 Feeling fat and happy and with the lifts now off lightning hold, we cruised back up Moonbeam with our aim set on Cobalt Cruise this time, the accompanying blue trail that starts next to Mother Lode. 
This trail was faster and steeper with tighter turns and a proper jump line that popped up intermittently along the trail, making for a very playful cruise down. 
Halfway down Cobalt Cruise, we came across a wooden bridge with a drop on the other side that made us all unintentionally exhalt screams of raw stoke.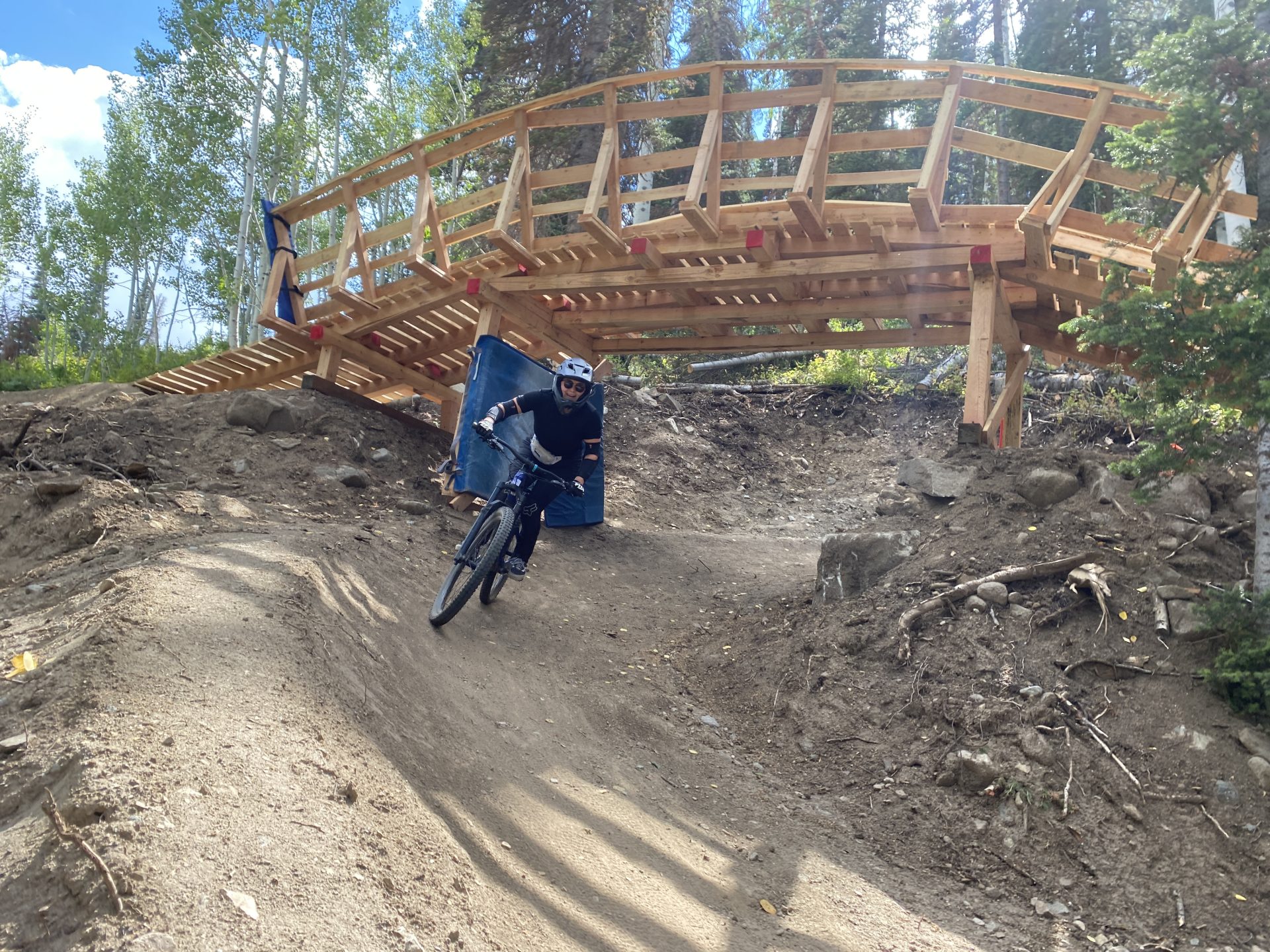 Mountain biking is too much fun, especially on brand-new downhill trails. 
I found it really nice how Cobalt Cruise (blue trail) intersected with Mother Lode (green trail) several times so that when some of our crew wasn't feeling the blue, they could take the green trail and we could still stop and meet them along the way several times before getting back down to the base of the chair.
This is nice because beginners can easily bike with their expert friends without feeling left out.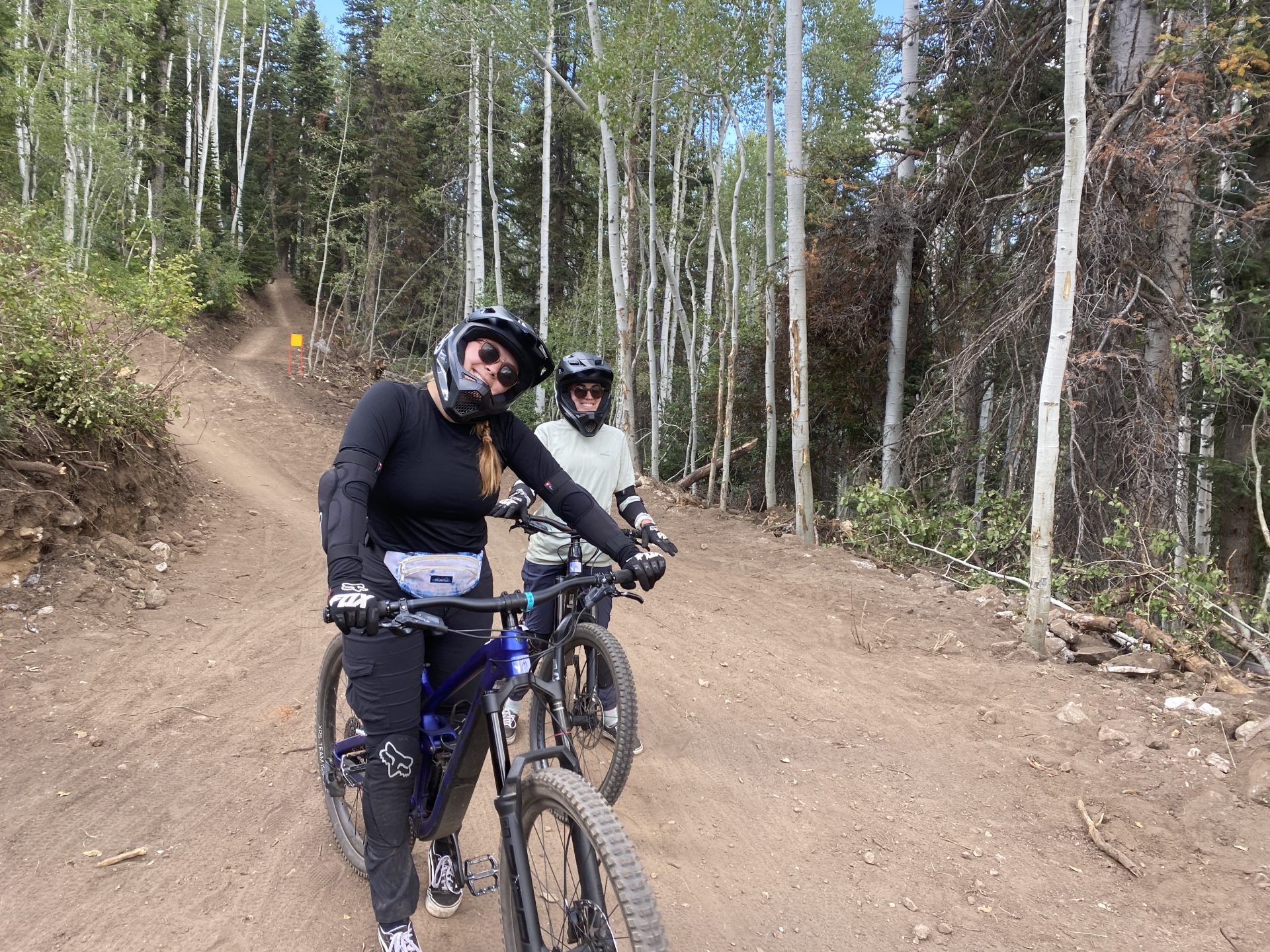 Solitude's new bike park feels like a very well-thought-out, inclusive trail system that takes everyone's skill level into consideration—we loved it. 
Then, sadly, it was time to go home. 
As we were leaving, the sun was creeping lower toward the horizon, putting Solitude and its shiny new bike trails in a golden, sparkly light.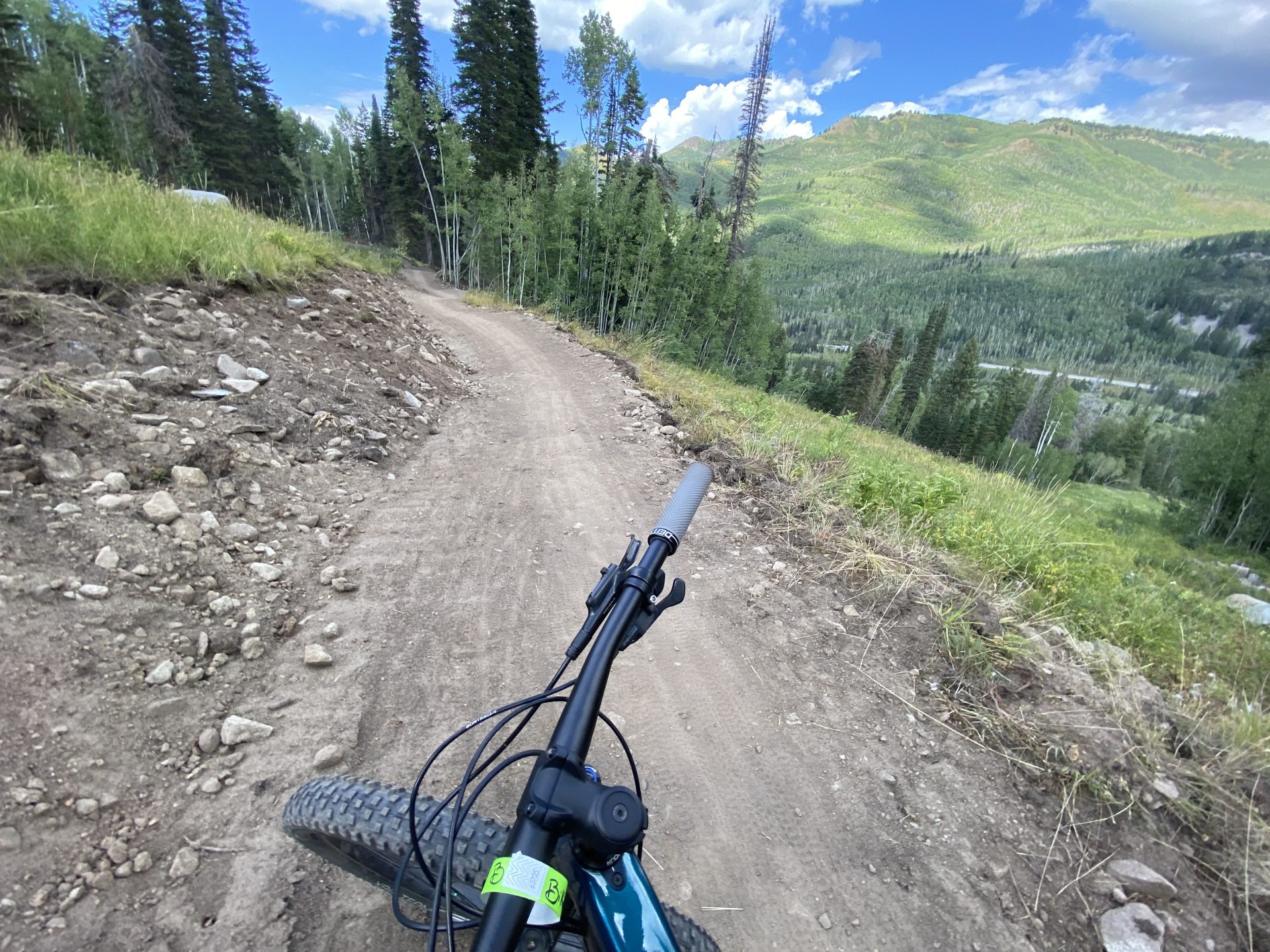 There's nothing more delightful than a day in the mountains shared with good friends…
And bikes.
Lots of bikes. 
Solitude's Bike Park is open Friday through Sunday, 10:00 a.m. to 6:00 p.m. through October 8, weather permitting.
More information
With limited weekends remaining in the season, Solitude's lift operations staff is focusing their efforts on the Eagle Express upgrade. Moonbeam Express will open with one bike carrier for every five chairs (half the bike hauling capacity expected by next summer) causing longer wait times at the lift. Visit our webcams page or YouTube channel for live feeds of the Moonbeam lift line and Moonbeam parking lot.

Some sections of these new trails are currently under construction. While trail crews work to complete the lower section of Cobalt Cruise (blue freeride trail) riders will take a detour via Serenity to return to Moonbeam Express.

Technical trails Holy Schist and Mine Shaft will be accessed by temporary connection trails. Mine Shaft will also return to Moonbeam Express via a temporary connector. Refer to on-mountain signage for navigation, usage, and safety instructions.

Moonbeam, Sunrise, and Link chairlifts operate Friday through Sunday. Trails will be closed Monday through Thursday as trail building continues. The use of e-bikes currently is not permitted at Solitude. Helmets are required on lifts, trails, and during lessons for all biking activities at Solitude. Check the Mountain Report daily for updated lift and trail status. Conditions are expected to remain dynamic throughout the summer as trail building continues, and we replace Eagle Express.
Mountain Bike Lessons 
Let Solitude's mountain bike coaches take your riding to the next level. Or, if you're new to mountain biking, we'd love to get you started. Our mountain bike lessons are available for participants age 9 and up and can deliver coaching on basic fundamentals, advanced techniques, and everything in between.
Weather
Photos