Report from January 30, 2023
Old Blue Ski Area shut down in the 1980s because of a lack of snowfall but there was plenty of powder when we were there on Monday.
The forlorn ski area is located in the Abajo Mountains of southern Utah near Monticello.
I was coming back from a four day stay at the legendary Taos Ski Valley in New Mexico and I figured the Abajos would be an appropriate stopping place to split up the drive and do some skiing.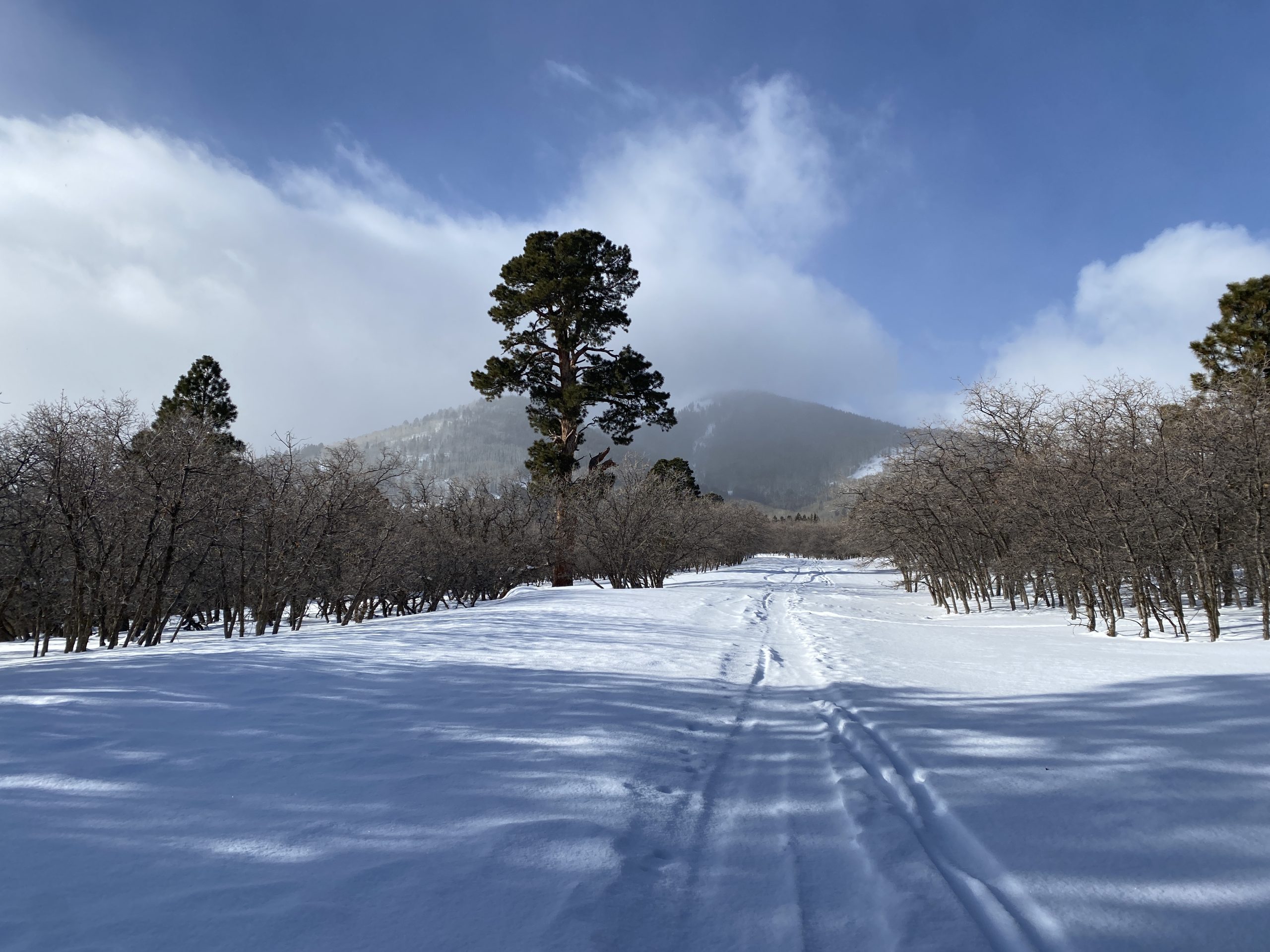 SnowBrains Client Manager Connor moved some things around in his schedule and met me down there late Sunday night to go explore the forgotten, mysterious Old Blue Ski Area.
It was partly sunny, cold, and lightly snowing on Monday morning at 9 am when we started the tour up the snowed-in road to Old Blue. 
A skin track was already in place and we followed the windy road through scrub oak and tall ponderosa pines.
As we gained elevation the high mountain peaks in front of us became more apparent. 
Looking back from a vantage point, desert encompassed the range on all fronts. Slowly, mountainsides cleared of trees resembling once-bustling ski runs came into view. 
When we reached Old Blue's ancient parking area there was an old, dilapidated lift shack sitting along a long clearing of trees running up the east-facing mountainside where a chair once spun. 
The shack had no windows; pieces of wood were sprawled all over the insides and messy metal wiring and grungy cables were strung out on the inside walls.
I imagined a lifty my age sitting there in a once clean functional sitting space, watching local skiers in vintage gear spin lap after lap at the humble hill.
I wondered how the snow was back then and if it was consistently as good as it was today. 
Connor and I busted out our drones and scoped out the surrounding terrain, catching glimpses of Abajo and Horsehead peaks in the not-so-far distance. 
Once drone time was over we skinned up the climber's right run of the mountain.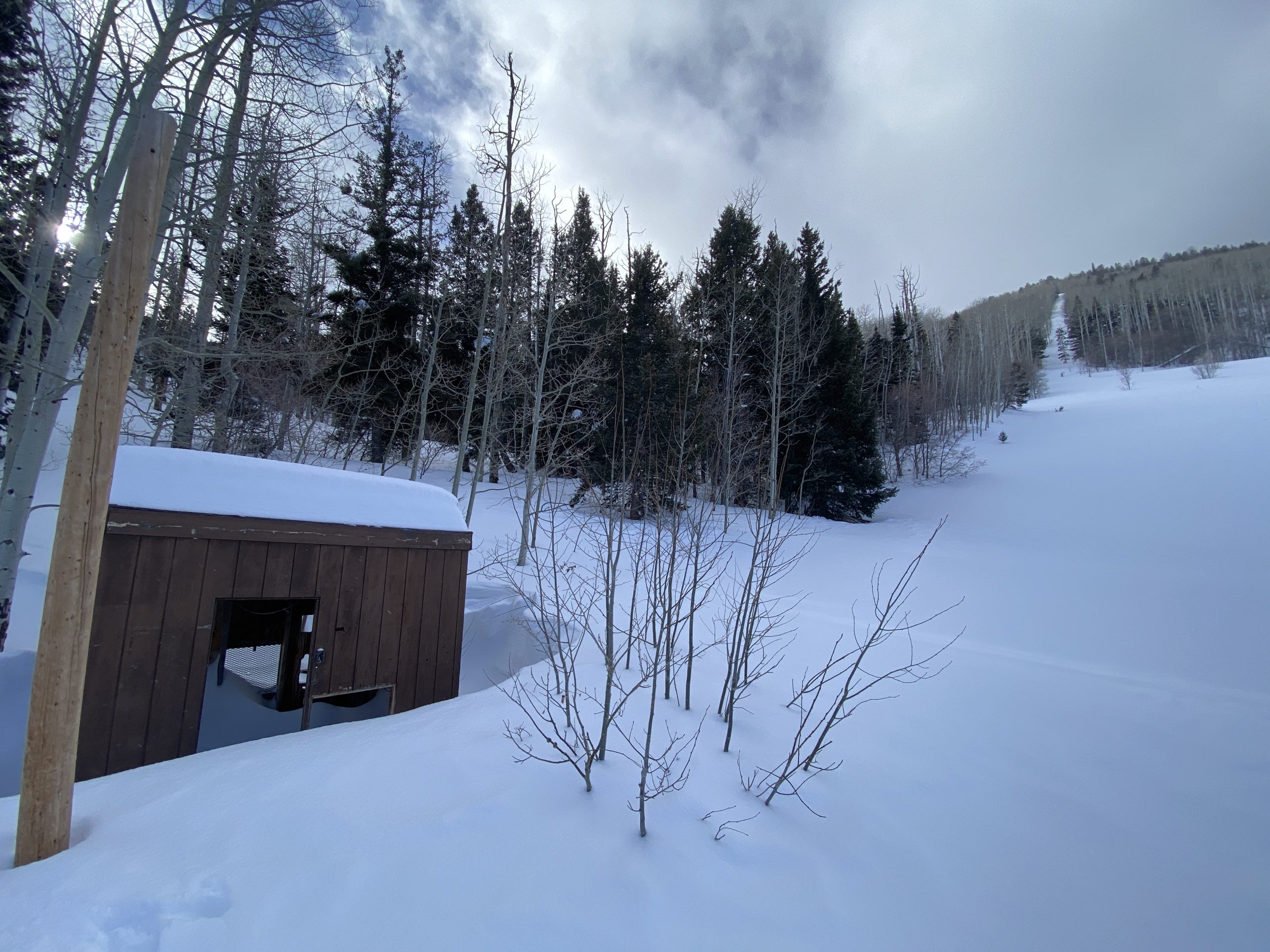 It was hard to tell because much of the dusty ski area was overgrown with new-growth trees that blockaded sections of trail, but it appeared as though the ski area originally consisted of two, maybe three set runs and some damn good tree skiing. 
We climbed to the top, digging hand pits along the way to check out the snowpack as these isolated, desert mountain ranges are infamous for their persistent weak layer related avalanche problems.
We noticed a crust layer and some facets about 2-3 feet down below newer unconsolidated snow with the snow generally increasing in hardness as you felt towards the base.
There was another ramshackle lift shack at the top of the lifeline, which had evidence of someone having camped in there at one point in the not distant past. 
We climbed to the top of the peak just above the lift shack and then skied the aspen trees back down to the lifeline. 
By this point, clouds had rolled in with increasing winds and lightly falling snow. 
The snow in the trees was protected powder that felt smooth as velvet. 
It skied wonderfully, with the occasional crusty spot.
Then we scoped out the lifeline run and sent it.
It was gorgeous powder, top to bottom. 
Recent snowfall, something like four-to-six inches of it in the past couple of days, made the run down creamy and fast.
I skied down to the bottom lift shack, followed by Connor, and we departed Old Blue as the winds had begun to howl. 
It felt as though we were the only souls in this entire mountain range today, not having seen even a whisper of life on the tour or the drive to and fro. 
A sense of eeriness had lingered with us throughout the day like a foul odor, and we often discussed visions of what this mountain may have once looked like in its prime. 
Had someone decided to reopen the ski area today, there'd be plenty of great powder to do so. 
Avalanche Discussion
Weather
Photos