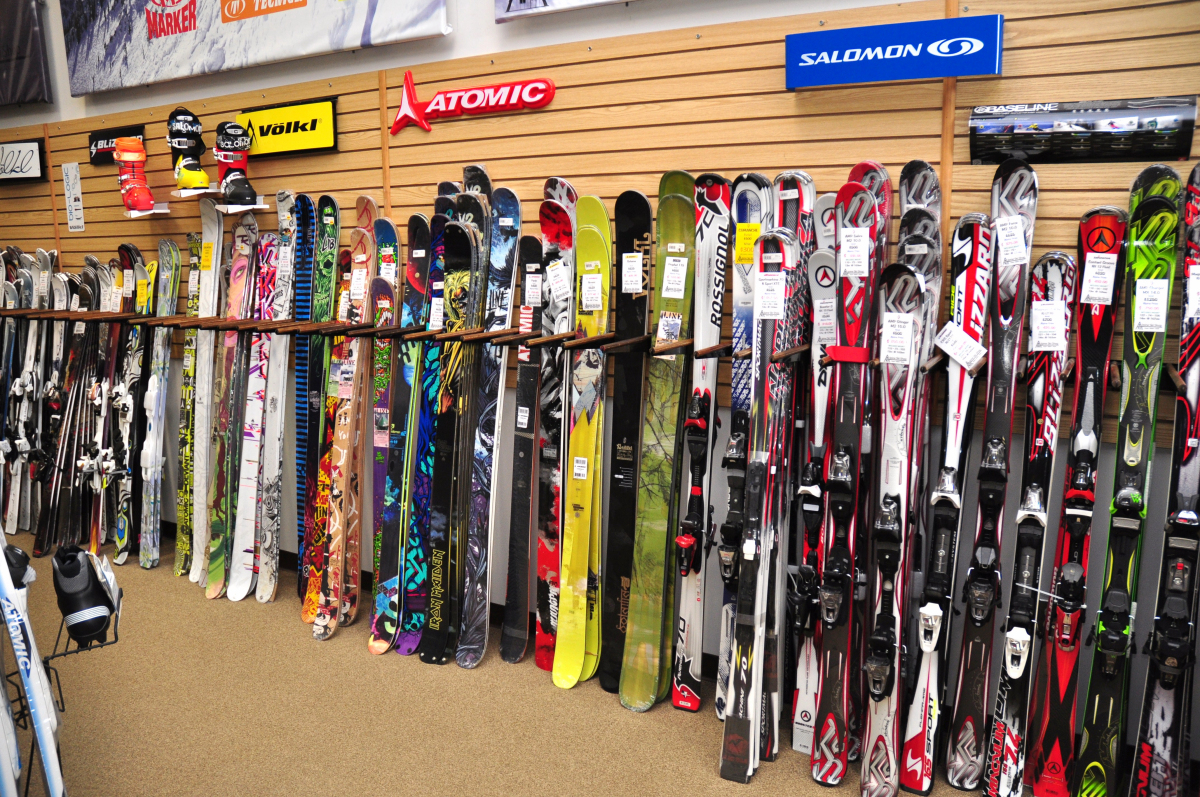 Technology has grown exponentially, and next to it the huge variety of skis for every taste. With so many skis on the market, it may result complicated to choose just a single pair. It doesn't matter if you are a novice or an expert freerider, choosing your skis can become extremely disturbing if you don't know where to start from. Here, you'll find a step-by-step ski buying guide so that finding your ski doesn't become a headache.
Step 1:

Gender
Even though they might look the same, they are not. So, your first filter should be this one.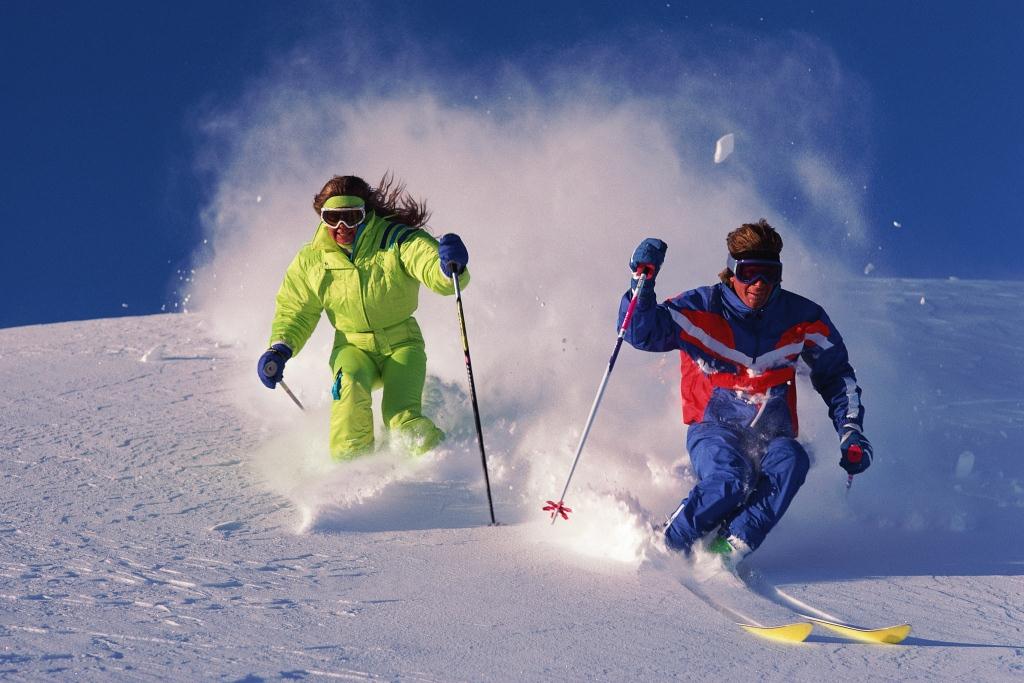 Men
Men skis are designed for men of all abilities, shapes, sizes and any type of terrain out there.
Women
Women skis are made just for the ladies. Even the most aggressive women skiers should be on women's skis. They cater to the anatomical shape, weight, and stance that women have.
Step 2:
 Category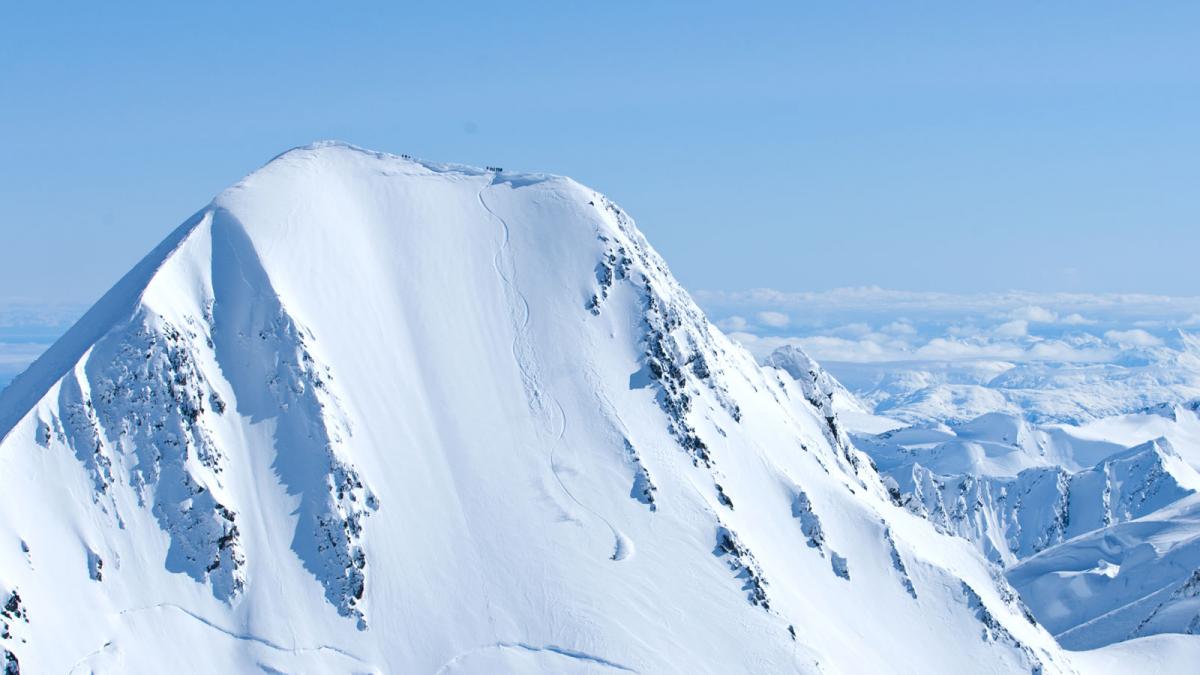 Your next step is to think what do you want your skis for. Do you want an every-day ski? Or do you want a ski for powder days? There are different categories and it's really important to understand the difference between them, so you can make a correct balance at the moment of choosing.
All-Mountain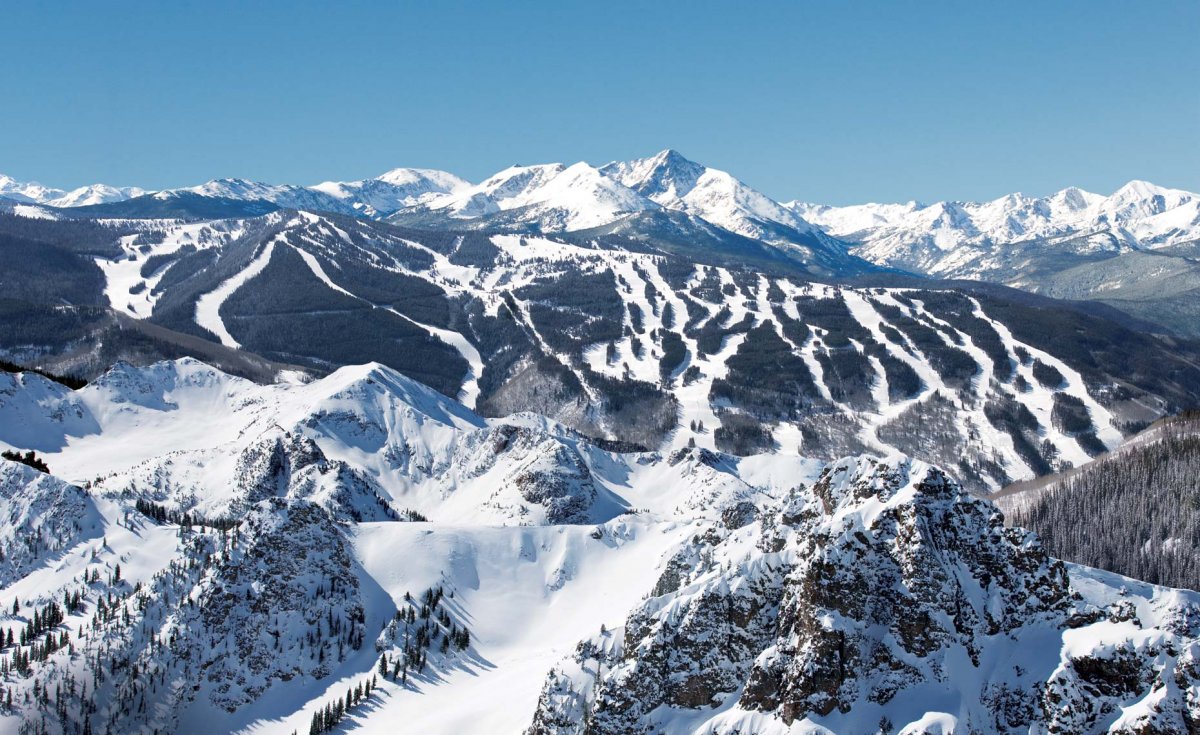 As the name suggests, all-mountain skis are for skiing the entire mountain. They are designed to handle anything you throw at them including powder, ice, groomers, steeps, heavy snow, and everything in between, but they aren't necessarily a master of any one terrain or snow type. If you're only going to own one ski to do it all, this is what you want.
Carving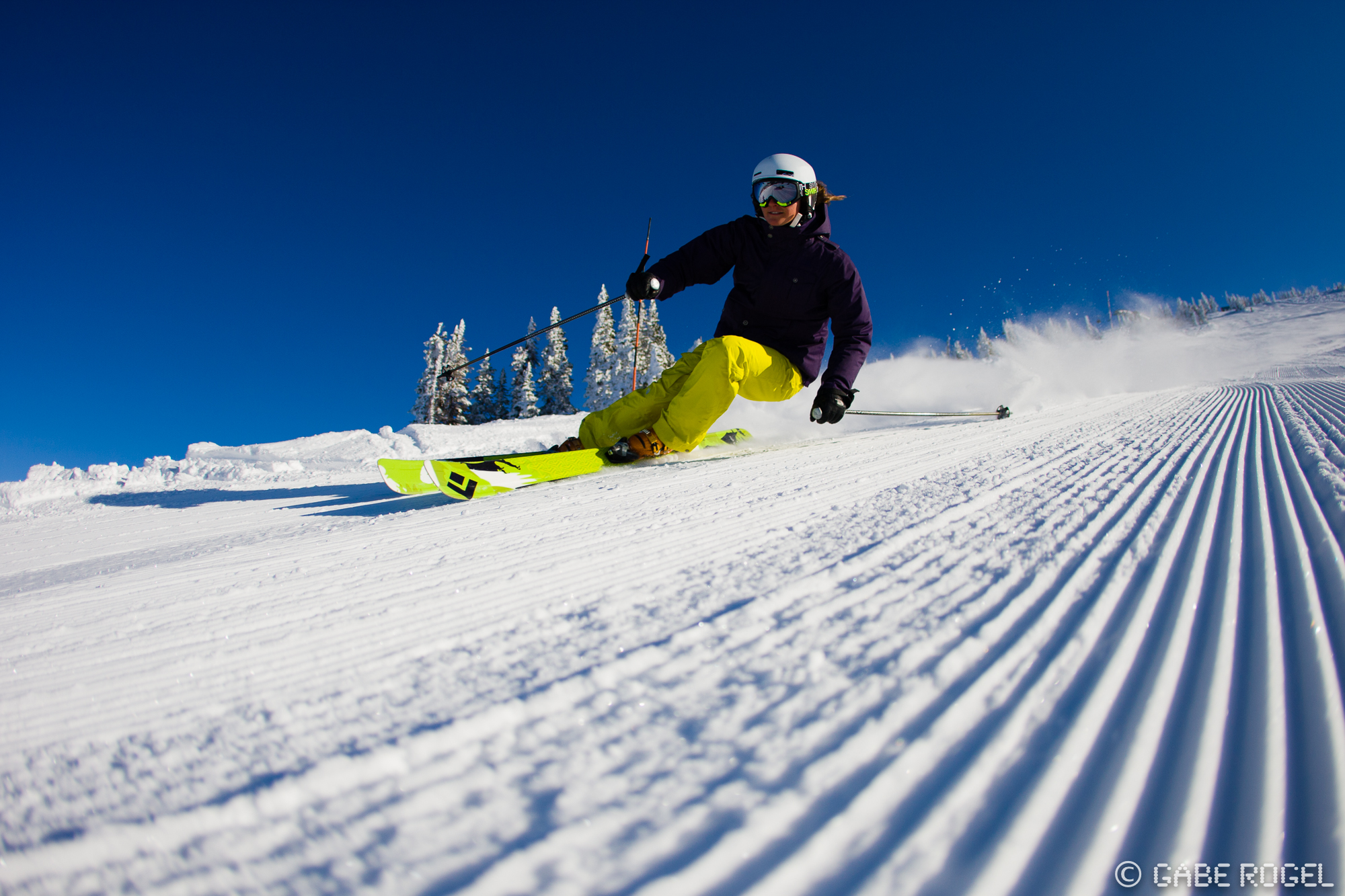 Skiers who spend almost all of their time on groomed slopes perfecting graceful, high-speed arcs employ carving skis to help accomplish the task. Carving skis are the recreational descendants of slalom and GS racing skis, with a pure focus on speed, edge grip, and precision turning. With narrow waist dimensions, a pronounced sidecut that creates a short turning radius, and camber underfoot that delivers good edge hold, these skis create an amazing experience on hardpack, but those same attributes mean carving skis are rarely more than adequate on anything but smooth, groomed trails. If you plan to spend all of your time inbounds and 90% or more of that on groomed trails, or you're looking for a 'race' feel, a carving ski is what you want. Carving skis will literally teach you more about the dynamics of skiing fast than any other ski out there, but their specific and limited nature is not for everyone.
Powder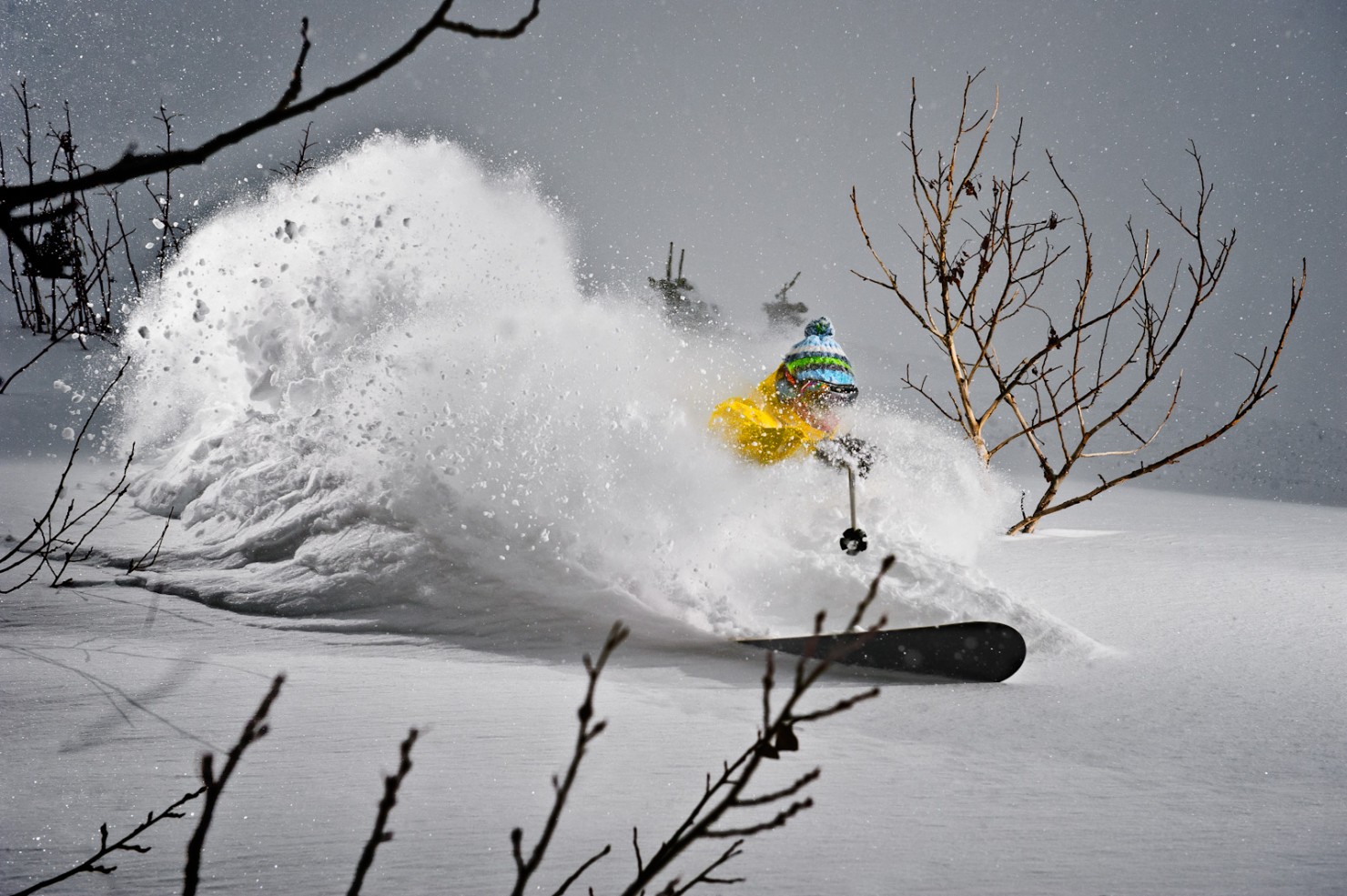 Best for powder, backcountry, and occasional groomed runs. As the name implies, these skis perform best when skiing deep powder snow. Most feature a fully rockered profile to further boost flotation, enhance maneuverability and keep edges from catching. Be aware that they're not built for precise turns on groomed runs, but they are absolutely the best choice for a memorable day when the powder is deep.
Big Mountain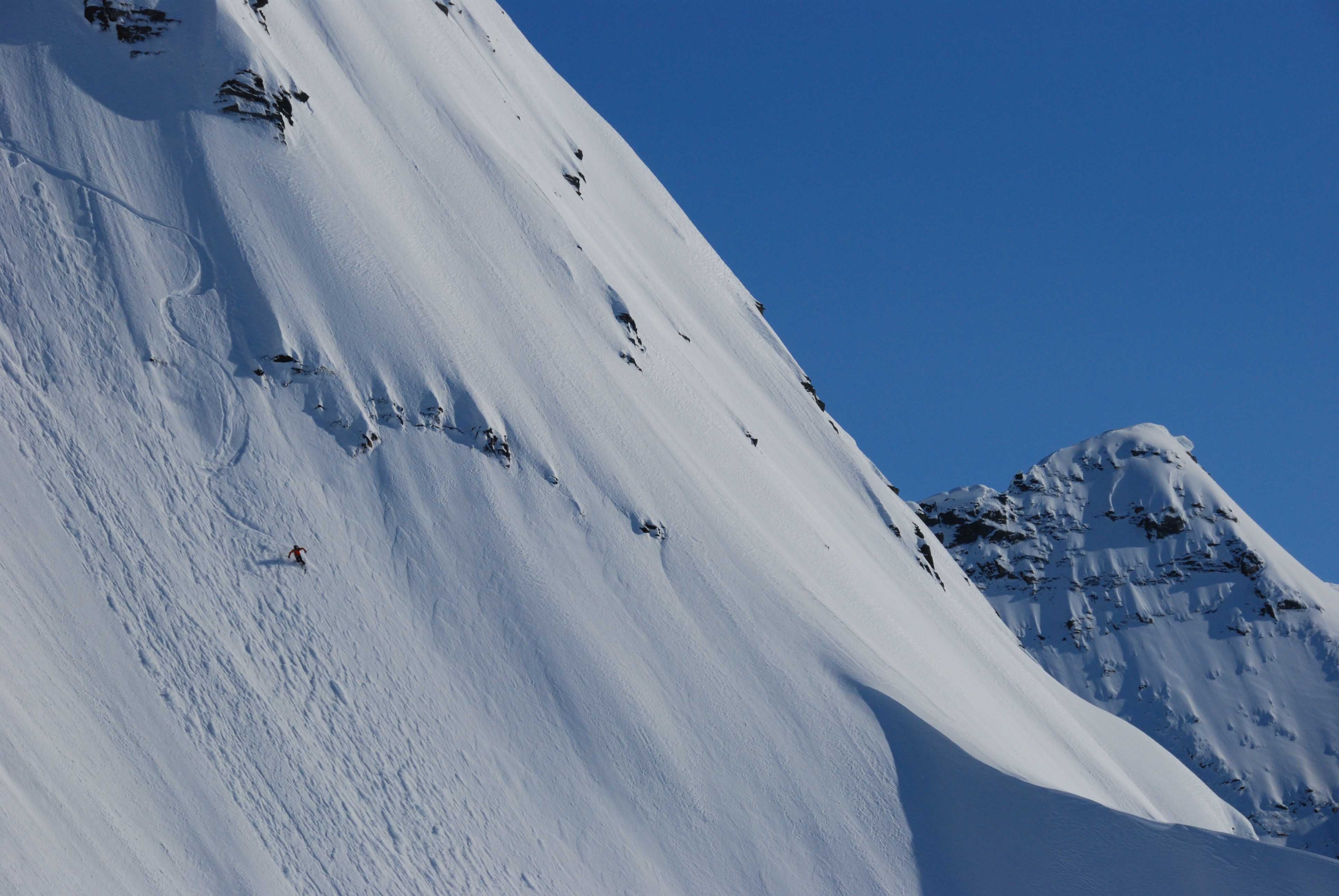 Expert skiers who like to ski fast in steep, technical terrain need skis that can handle the pressure, and therein lies the reason for the big-mountain ski category. A true big-mountain ski is like a cross between a powder ski and an old-school race ski, built to remain rock-steady at high speed but made wider to improve handling in variable and soft snow conditions. If you're a powerful, expert skier, and you need an appropriate ski for your skill level and athletic ability, a stiff, burly big mountain ski will open doors and take your skiing to the next level. If you're none of the above, well, don't say we didn't warn you.
Park and Pipe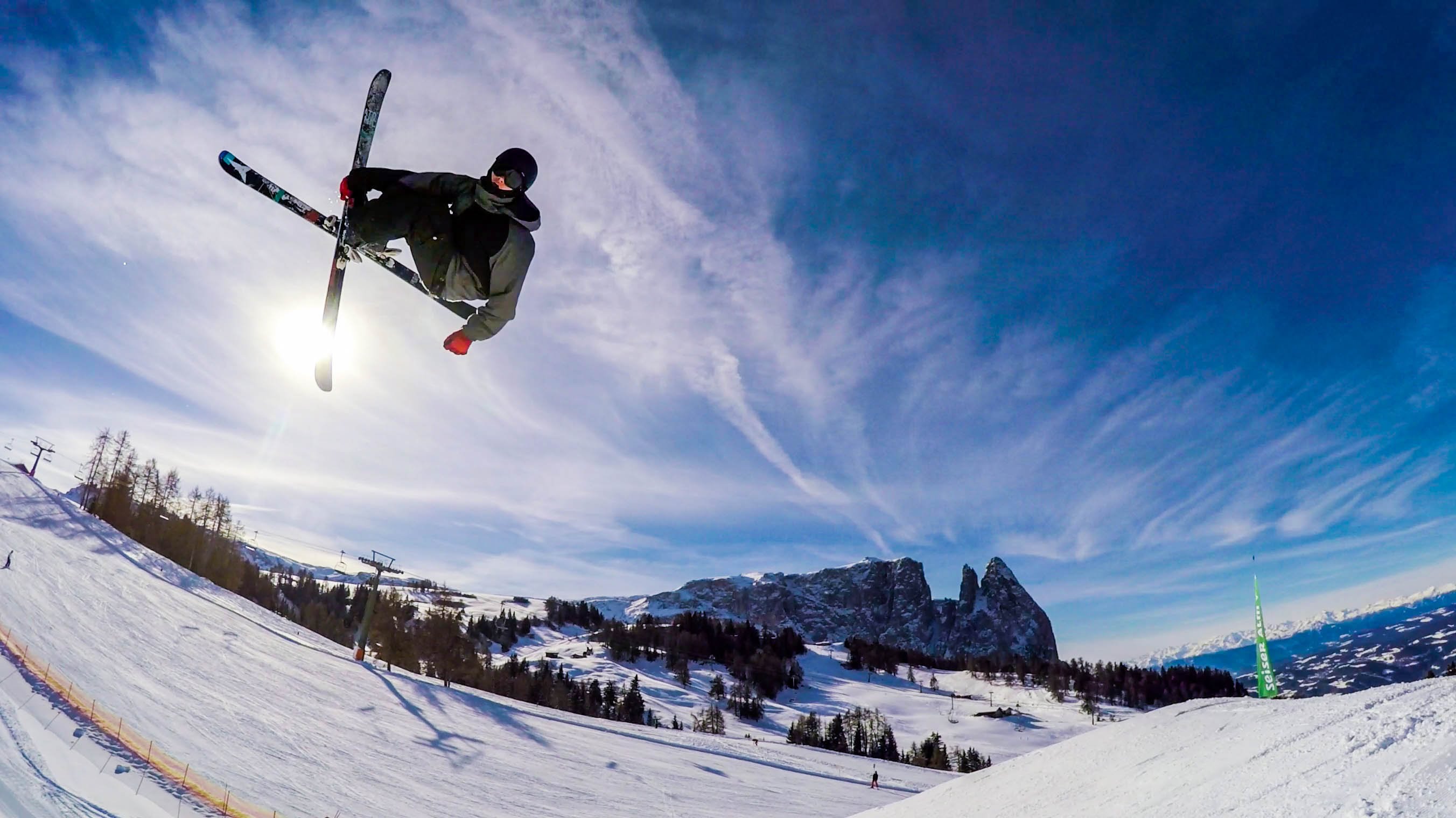 Park and Pipe Skis, also known as Freestyle Skis, are for high flying skiers that enjoy spending as much time in the air or on park features as they do on the snow. Most have twin tips that can ski forward and backward.
Step 3:
 Waist Width
Probably the most important feature of a ski to be considered when choosing a ski: the waist width.
This is the measurement at a ski's width at the middle (waist) of the ski, which is usually the narrowest point. Narrower waist widths are quicker edge to edge during turns, while wider waist widths provide better flotation in powder and choppy snow.
You will usually see ski dimensions specified by a 3-number measurement for the tip/waist/tail, like 115/90/107mm. In this example 115mm refers to the tip width, 90mm refers to the waist width, and 107mm refers to the tail width.

Less than 85mm
Skis under 85mm are best suited for skiers that will be spending just about all of their time on the groomed trails. This waist width can range from beginner all the way up to expert and everything in-between. High-powered carving skis for experts usually have a waist width around 80-85mm which makes the ski very agile, yet wide enough to go through the crud that pops up on the groomers. Skis for beginners are in this waist width that will make them lighter and easier to control while learning.
85-95mm
Skis 85-95mm are primarily used for on-trail skiing but have the ability to spend some time off the groomers in the right snow conditions. They have maneuverability on and off the trail and versatility so you can spend time in the powder.
96-110mm
Skis 96-110mm are the ideal all-mountain waist width for skiers seeking true versatility. They make medium to long radius turns on the groomers with ease and have the ability to float in all but the absolute deepest of powder (and we hope you get those days).
More than 111mm
111+mm waist widths are best for spending as much of your time as possible in the ungroomed terrain. Ultra wide waist widths provide you with the most floatation in the deep powder and the most stability when things get cruddy or bumpy. They are not the agilest ski for making short quick turns on the groomers but are easily manageable for making your way back to the lifts for another lap.
Step 4:
 Turn Radius
Turn radius is the shape of a ski determined by its tip, waist, and tail width, usually expressed in meters. The narrower a ski's waist is in relation to its tip and tail, the shorter the turn radius and therefore the deeper the sidecut. A ski with a short turn radius will make quicker turns, while a ski with a long turn radius will turn more slowly and is typically more stable at high speeds.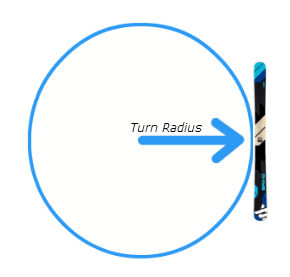 A short turn radius (less than 17m) goes hand-in-hand with carving skis.
A medium turn radius (17-22m) is for all mountain skiing, or park and pipe skiing.
A long turn radius (more than 22m) characterizes big-mountain and powder skiing.
Step 5:
 Profile
There are three main types of ski profile: camber, rocker, and flat. Many modern shapes use a combination of more than one of these. No one profile is better than the others; they are just different and your choice is absolutely personal. Here we describe the main combinations.
Camber
Many skis offer a continuous, downturned arc (or bow) that runs for much of the length of the ski. When a skier stands on a ski, it flattens due to the skier's weight. At that point the entire length of the base can provide stability and the ski's metal edge can initiate turns. As a skier moves from turn to turn, camber provides the energy for a ski to snap back from turns, creating a sensation of "liveliness." In short, camber is the built-in spring that makes a ski lively.
Rocker

Rocker is essentially the opposite of camber and is sometimes known as reverse camber or negative camber. The side profile of a rockered ski resembles the upturned rails of an old-school rocking chair. On a flat surface, the midsection of a rockered ski will rest on the ground while its tips and tails rise off the ground much earlier than they do for a cambered ski. Rocker offers improved flotation in powder and offers greater maneuverability.
Rocker/Camber

Rocker/Camber skis pair a traditional cambered profile underfoot with an elongated, early rise tip borrowed from fully rockered skis. This profile places the front contact point further back from the tip, while the rear contact point remains close to the tail. The rockered tip allows for better flotation in deep snow and a less catchy feel on hard, while the cambered rear stores and transmits energy similarly to a fully cambered ski and retains edge-hold when your weight is over the tails. More and more all-mountain and big-mountain skis are being built with this profile. Because of its asymmetric shape, this profile does not ski switch as well as other profiles, but if you are looking for an all-mountain charger that floats in the fluff without giving up too much hard snow performance, Rocker/Camber is a great choice.
Rocker/Camber/Rocker
Rocker/Camber/Rocker skis have the playfulness and float of a rockered ski as well as the added edge hold of a cambered ski.
 The contact points on skis with this profile are closer towards the middle of the ski than a fully cambered ski, but still not underfoot. The cambered midsection provides a longer effective edge on hardpack, increasing edge hold and stability, while the rockered tip and tail provide floatation in deeper snow and allow the ski to initiate and release from turns easier. This profile provides playfulness for park skiers, flotation for powder lovers, forgiveness for beginners and versatility for those who only have one pair of skis. Many ski manufacturers offer multiple types of Rocker/Camber/Rocker to accomodate different skiers, pairing different amounts of rocker and camber with different ski widths and sidecuts.
Rocker/Flat/Rocker
Rocker/Flat/Rocker is another variation on the rocker theme that seeks to provide a little more hard snow edgehold and pop than full rocker while retaining ease of turning and float. Performance is between a fully rockered ski and a rocker/camber/rocker ski.
Step 6:
 Size
Length changes the way a ski performs while you're going in a straight line, while you're turning, and while you're skiing at any speed. Within a single make and model, a shorter length will usually make the ski more nimble, which leads to quicker turns and more maneuverability at slower speeds, while the longer lengths in that ski will have a longer turn radius and be more stable at a higher speed. The reverse is also generally true: longer skis tend to be more sluggish at slow speeds, while shorter skis tend to lose stability as you go faster. It stands to reason that as a general guideline, taller, heavier people and more advanced skiers tend to prefer longer skis because they have more leverage over the ski and feel more comfortable making longer turns. Shorter, lighter people (and less-experienced skiers) will usually feel more comfortable with the maneuverability of a shorter ski.
Click here for an online ski size calculator.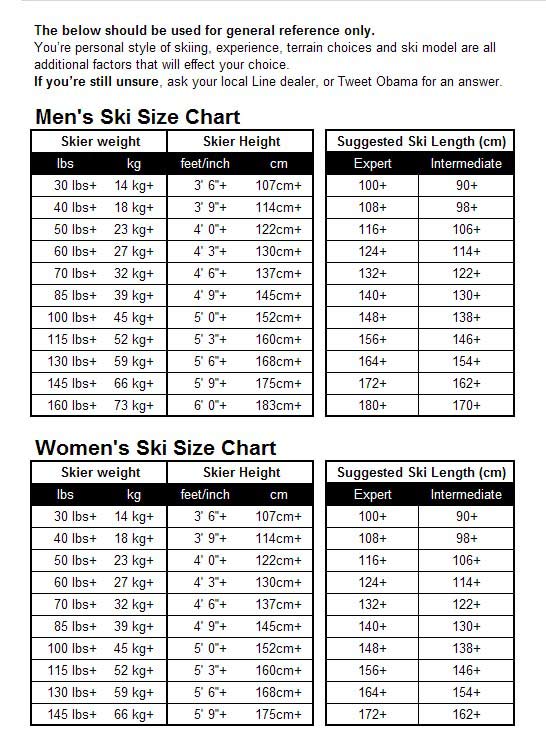 Step 7:
 Go buy your skis and hit the mountain
Now you are ready to buy your own skis. You know everything you need to know when you enter to your local ski shop, or navigate through any online ski store. So stop reading and find your perfect ski!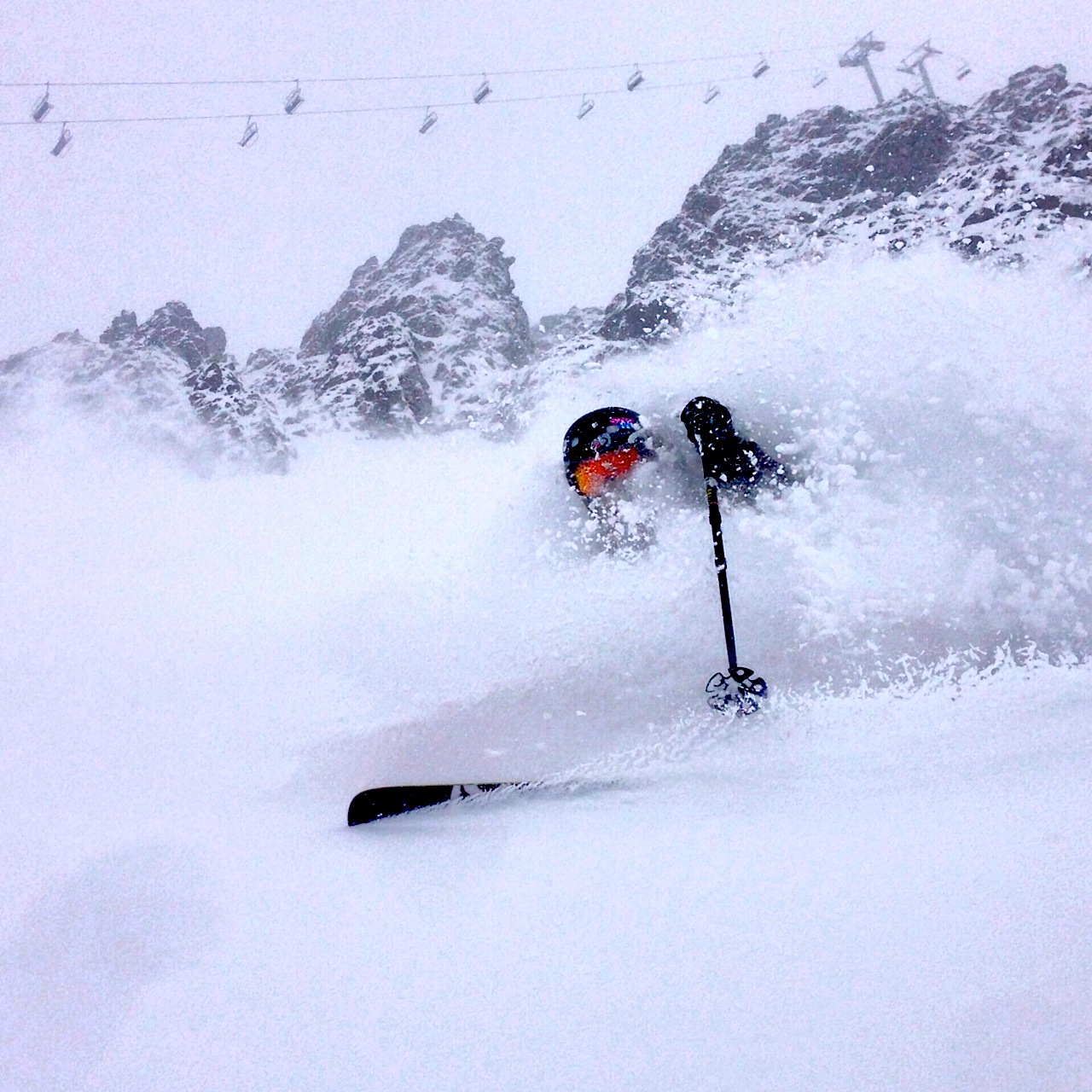 Some graphs and information from evo.com