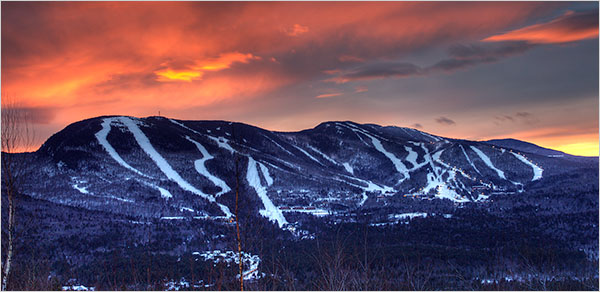 Sunday River Resort, ME added a winter 2020/21 page to their website this week, offering updates to guests for what they should expect this upcoming season.
The page covers all aspects of their operation, from on-mountain, ticketing, food, retail, and parking. Expectations are similar to what we have seen from other resorts this week.
The resort will not be asking pass holders, or Ikon Pass holders, to make reservations to ski.
Full policy below:
While many things remain uncertain about the future, we're committed to delivering a fun and safe experience this winter. Below is an overview of what to expect based on our current plans.
On-Mountain
Opening day will be based on when we are able to offer top-to-bottom skiing with no lift downloading. We will initially open to passholders only.
We remain dedicated to providing the most dependable snow in New England and will push to open new terrain as fast as possible and take advantage of our expansive resort footprint to spread skiers out.
Lift line layouts will be adjusted to allow spacing between lanes.
Lift capacity will be reduced by not combining parties on chairs, and limiting single loading onto one or two based on chair capacity.
Radio Frequency Identification (RFID) gates at chairlifts will allow direct-to-lift access for passholders and lift ticket purchasers, and limit guest-to-team member contact.
Face coverings will be required across the resort including while riding lifts.
Ticketing
We do not currently plan on requiring reservations for Season Pass, Ikon Pass, or ticket pack holders.
Season passes and ticket packs are on sale through October 12, and will go off sale after that point.
Lift tickets may have limited availability on peak dates. Tickets in ski and stay packages will not be affected.
Online lift ticket purchases will be encouraged and possibly required, with contactless pickup kiosks in all base lodges and hotels.
The Welcome Center at South Ridge Lodge will have expanded hours on Friday nights for ticket pickup to avoid Saturday morning congestion and delays.
Parking & Shuttles
New parking areas will be available for day-use parking at the Grand Summit and Jordan Hotels.
Both hotels will have space available for day guest use with restrooms, food facilities, and ticketing, but no bag storage.
Shuttles will operate with reduced capacity levels to allow spacing between parties and follow state guidelines.
Shuttle routes and drop-off locations will vary based on lodge capacity at the time of pick-up.
Use of drop-off areas at each base are will be encouraged for families and groups to reduce shuttle volume.
Base Lodges
Masks will be required in all indoor public spaces, except when seated to eat.
Guests are encouraged to minimize the amount of time spent in base lodges, with a limit of 30 minutes.
Seating will be limited to 50 people per room with six feet of distance between tables following state guidelines.
Bag storage will be limited to bag check areas at each lodge and based on availability. No bags can be left in open areas. Guests are encouraged to leave bags in their cars as much as possible.
Restroom access will be limited to exterior entrances only to reduce walking traffic through lodges.
The Grand Summit and Jordan Hotels will have day guest facilities for booting up, warm-up breaks, seating, and eating. There will be no bag storage available.
Food & Beverage
Seating in all restaurants will be limited to 50 per room with no standing areas following state guidelines.
New lunch options:

Grand Ave at the Jordan Hotel will have soup offerings and seating.
Camp at the Grand Summit Hotel will offer seated lunch service.
New bar added upstairs in White Cap Lodge by Shipyard Brew Haus.
Online ordering available for interior and exterior pick-up from the South Ridge Food Court.
Lodging
The Grand Summit Hotel, Jordan Hotel, and Snow Cap Inn will operate following state guidelines. More information is available on our lodging page.
The Youth Lodge, as a group-oriented property, will not open this winter.
SnowSports School
Adjustments will be made to meeting times and locations.
Designated warming areas will be available for SnowSports School programs.
Equipment Rentals
Expanded hours on Friday night at South Ridge Lodge for weekend arrivals.
Online reservations will be encouraged.
Events
No large gathering events are planned.
Competitions will follow the guidelines of each event's governing body.
We will continue to work with Boyne Resorts, as well as our partners at Ski Maine and the National Ski Areas Association to determine best practices while following the guidelines set by the State of Maine.