Resorts, skiers, riders, and snow sports enthusiasts are all looking to this upcoming season with much anticipation for another great year. Record numbers of skiers came out last season, according to the National Ski Areas Association. Those numbers were the highest number of participants in skiing or riding since 1978/79 and are a great sign that the ski industry is strong and growing. Those numbers could be a signal that the 2023/24 ski season could see equal or more participants hitting the slopes this year. That may be great for the resorts that are looking for guests to visit the mountains, but what about the skiers and riders who do not want to hit a resort that is jam-packed and overcrowded?
The town of Park City, Utah, released its projected calendar for the upcoming season to assist guests with deciding on what day(s) to visit. The calendar forecasts 66 peak traffic days this season, all weekends from December 1 to the end of March. The Sundance Film Festival in late January was on the list for special events as well as the FIS World Cup at Deer Valley in February.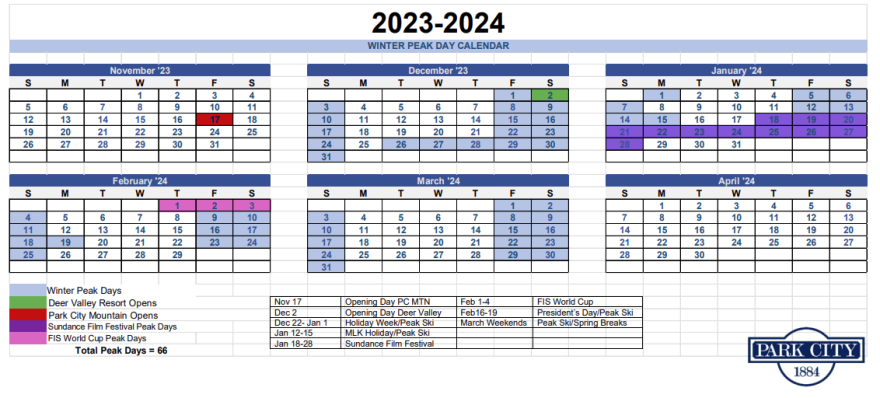 Park City also announced plans to help reduce traffic congestion during this upcoming season to make traveling to the resort faster and easier. This includes adding more signage, barriers, and traffic restriction lanes to help with traffic flow and eliminate any bottlenecks. These plans still require approval from the Utah Department of Transportation before Park City can implement them.
This year's calendar has almost 30 fewer days for peak times than last season and that is due to Park City removing Mondays and Thursdays from the list. Those days were taken off because the traffic numbers did not warrant utilizing resources that could be used on peak days instead. Dates every guest should be aware of during the season are President's Day Weekend (February 16-19) and MLK Day Weekend (January 12-15). Park City's opening day is scheduled for Friday, November 17th this season which falls in the range of when the resort typically opens.