Looking to earn some turns as well as check some National Parks off your bucket list this year? As tourist season at many National Parks has ended, it's the perfect time to visit. There's no better way to explore the West's National Parks than skiing them. Here are five National Parks with some of the best backcountry skiing.
National Parks can continue to be enjoyed throughout the wintertime, it's an even better time to visit. However, always be mindful of the weather and check conditions before leaving. Sources like avalanche.org have updates on conditions for regions all over the west that will give the avalanche danger. Also, don't forget to check the weather, make sure you're aware of any storm systems moving through the area. Checking the conditions is not the only safety precaution to take, make sure to bring the proper equipment as well. It's important to know how to use your equipment. Last of all don't forget to be respectful of the natural environment. Most importantly, have fun! 
Grand Teton National Park, Wyoming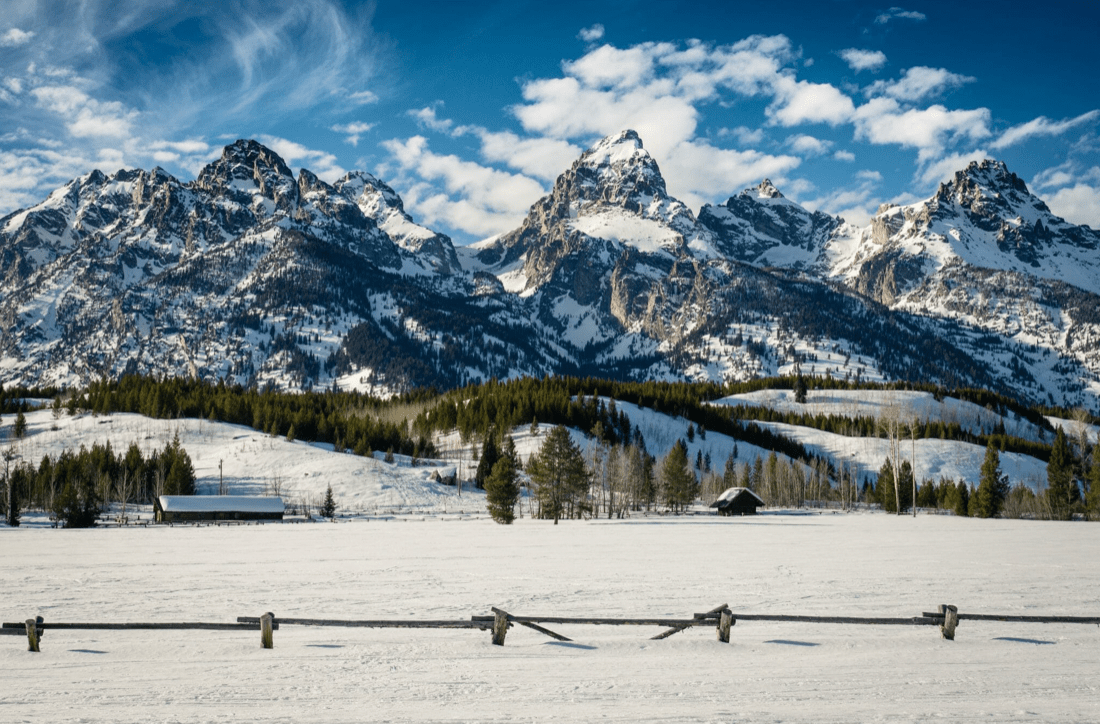 Season: December through April
Located just a few miles from Jackson, Wyoming, Grand Teton National Park is known for its stunning jagged peaks. For those brave enough to make the trek up, the park allows skiers access to mountaineering adventures with epic descents through the many couloirs. There are lines to ski all over the park. The most popular begin at Taggart Lake trailhead. 25 Short and Maverick's offer turns right off the skin track for intermediate and beginner skiers. For those looking for a full mountaineering experience, continue to some of the lines through Apocolypse Couloir or Silver Couloir.
Rocky Mountain National Park, Colorado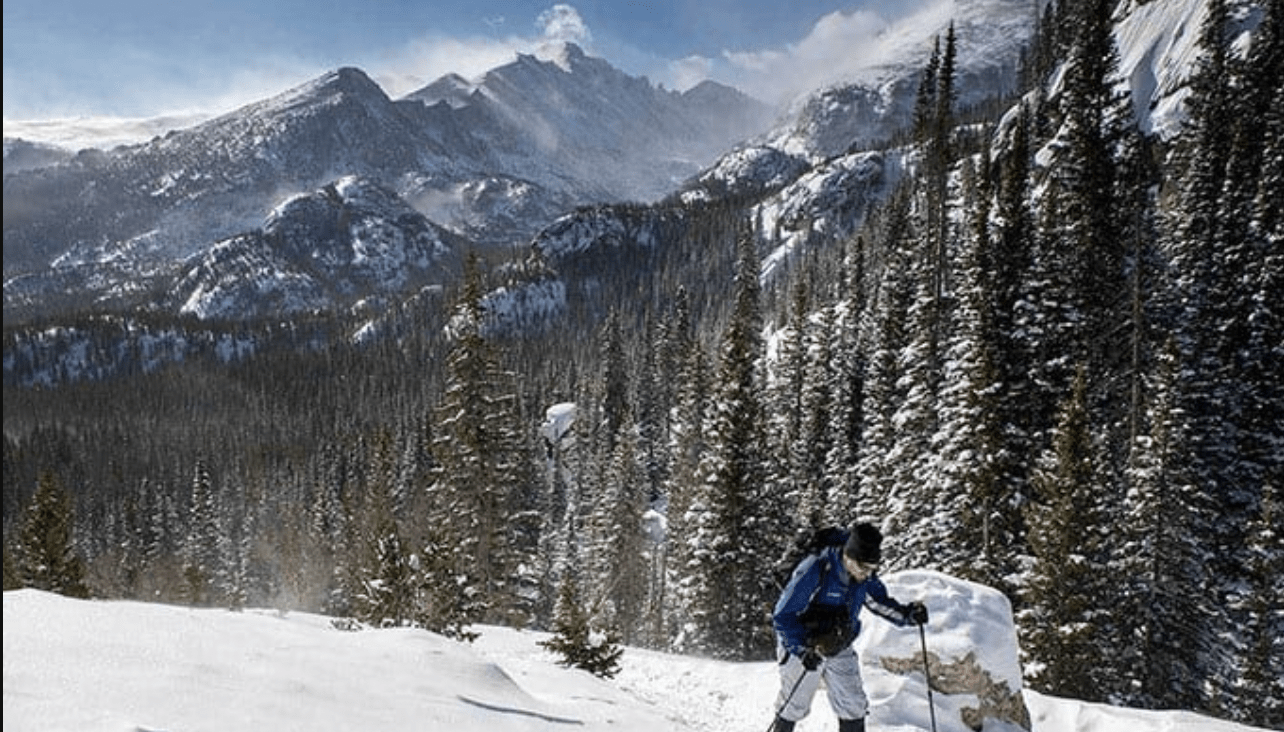 Season: December through May
Unlike the advanced terrain at Grand Teton National Park, Rocky Mountain National Park has terrain for those new to backcountry skiing and the more seasoned skier. With access to easy turns right off the skin track, it's perfect for entry-level skiers—those willing to skin up a few extra hours or so will be rewarded with fresh untouched pow. The best trailhead to begin at is Hidden Valley. From there, the skin track will take the most worthy adventurer to fresh fluffy pow. The park is conveniently located just an hour and a half from Denver.
Glacier National Park, Montana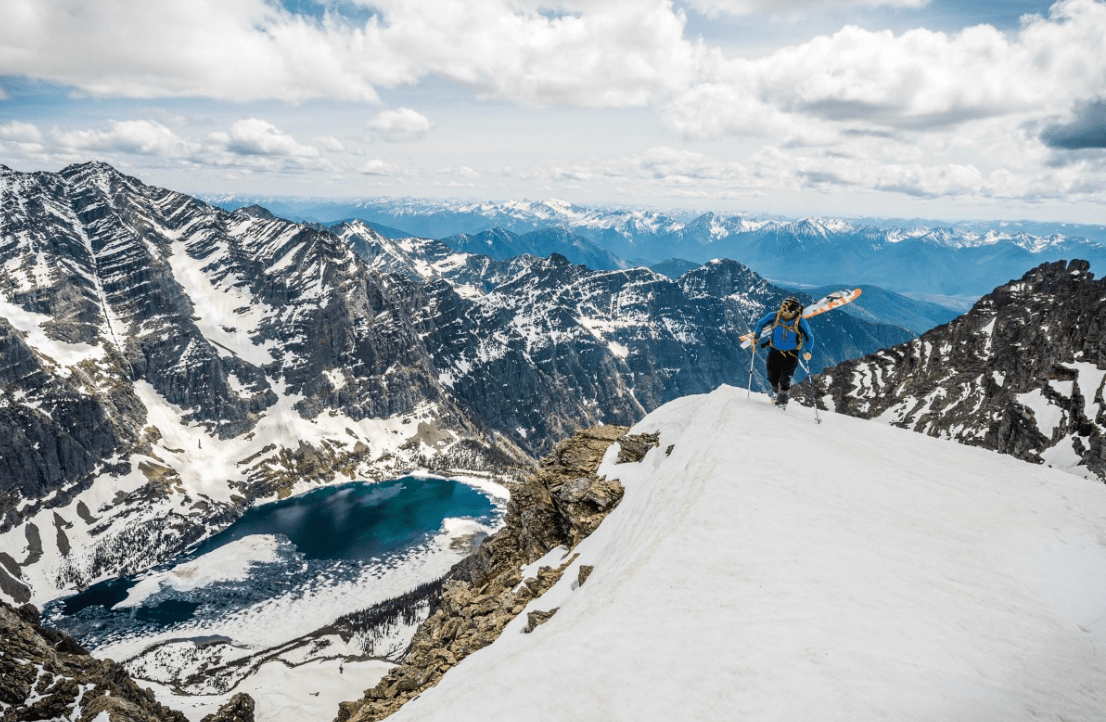 Season: November through May
Glacier National Park, where everything is bigger and better. Glacier has it all including the ascents, the views, and of course the descents. Offering a variety of terrain, Glacier National Park features several passes for backcountry skiers to explore. From Maria's Pass with low-angle trees to steep descents along Apgar or Two Medicine with epic drops all with amazing views, Glacier will not disappoint.
Crater Lake National Park, Oregon

Season: December through May
Crater Lake National Park not only offers thrilling descents but is known for ski lines with unique views downhill towards the lake. Not only are breathtaking views available from anywhere in the park, but there are a variety of trails and terrain for all levels of skiers. Whether you're interested in touring around the lake or ascending Garfield Peak to drop lines in West Bowl or West Chute, you'll experience its iconic views. Keep in mind permits are required here when recreating in avalanche zones.
Mt. Rainier National Park, Washington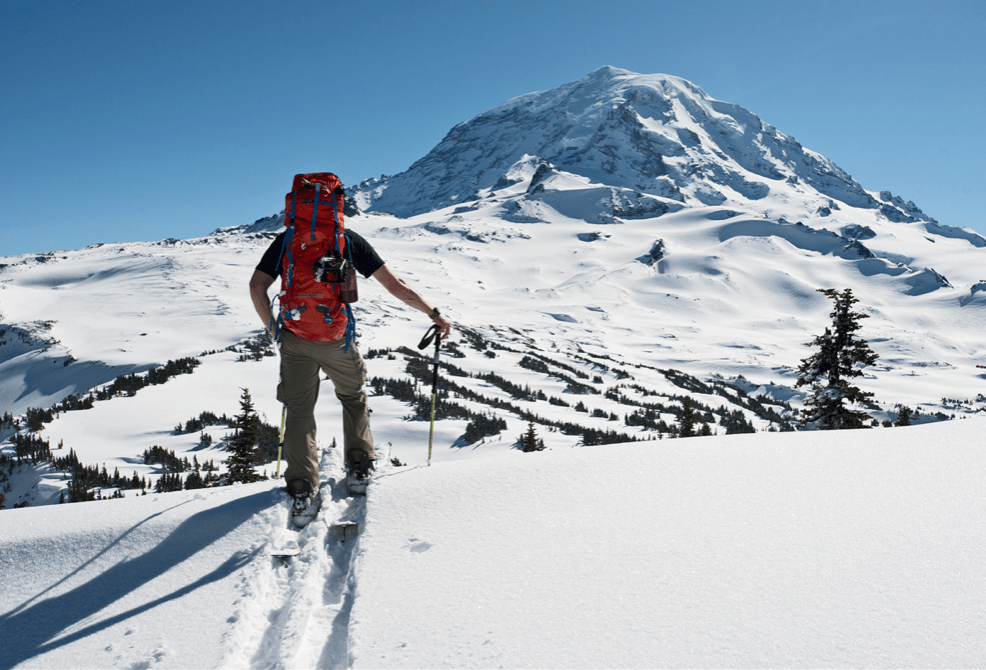 Season: mid-November through Mid April
Skiing at Mt. Rainier National Park is exceptionally popular for many reasons. A popular destination for many ski mountaineers, Mt. Rainier offers challenges for all types of skiers, whether you're looking for a day trip or an overnight at Camp Muir. The most popular track begins at the Longmore parking lot. Short daily time slots allow for mitigating crowds on the skin track. From Longmire, the trek begins as skiers work their way to Camp Muir. Many day adventurers will then turn around painting their lines on the volcano as they go. Mt. Rainier offers many jaw-dropping panoramic views of the surrounding landscape as well.