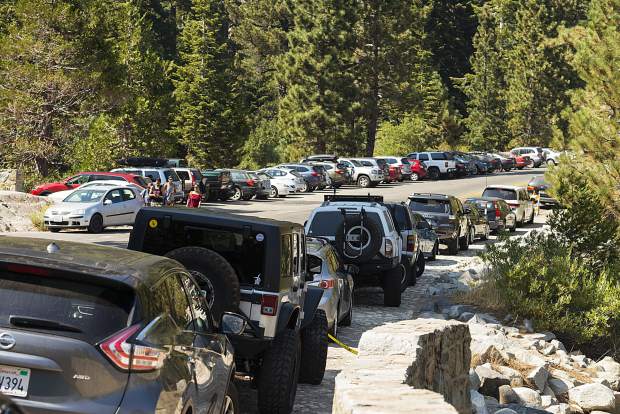 To make up the $1.5-billion shortfall in transportation funds in the Tahoe area, officials are proposing charging road users a fee for driving in and out of the Tahoe Basin Area.
The region is battling problems associated with road congestion and global warming. A study by The Tahoe Transportation District, and given unanimous backing by the board, might mean that millions of people who visit Lake Tahoe every year could bear a greater burden when it comes to funding transit, trails, and other infrastructure projects (local residents would pay less).
The so-called One Tahoe plan would produce a flexible source of money that could reduce traffic congestion and cut down on greenhouse gas and other emissions by creating new forms of transit with bike trails and walking paths, reports the Reno Gazette Journal.
"I think we have an opportunity here to really take a giant step in the Tahoe Basin in terms of transportation," said Cindy Gustafson, a Placer County, Calif., supervisor and district board member. "I'm tired of talking. We need to come up with funding."
The idea to charge though is controversial and has its naysayers who claim it might prompt visitors to stay away from Lake Tahoe altogether. Director Cody Bass, a member of the South Lake Tahoe City Council, said a fee could push visitors to competing destinations, such as the Eastern Sierra resort community of Mammoth.
"We have a lot of regional tourism," Bass said. "They will literally go somewhere else if they are going to be charged, even if it is $5."
Although directors agreed to keep studying the plan, they removed any commitment of support to the idea before approving it unanimously.