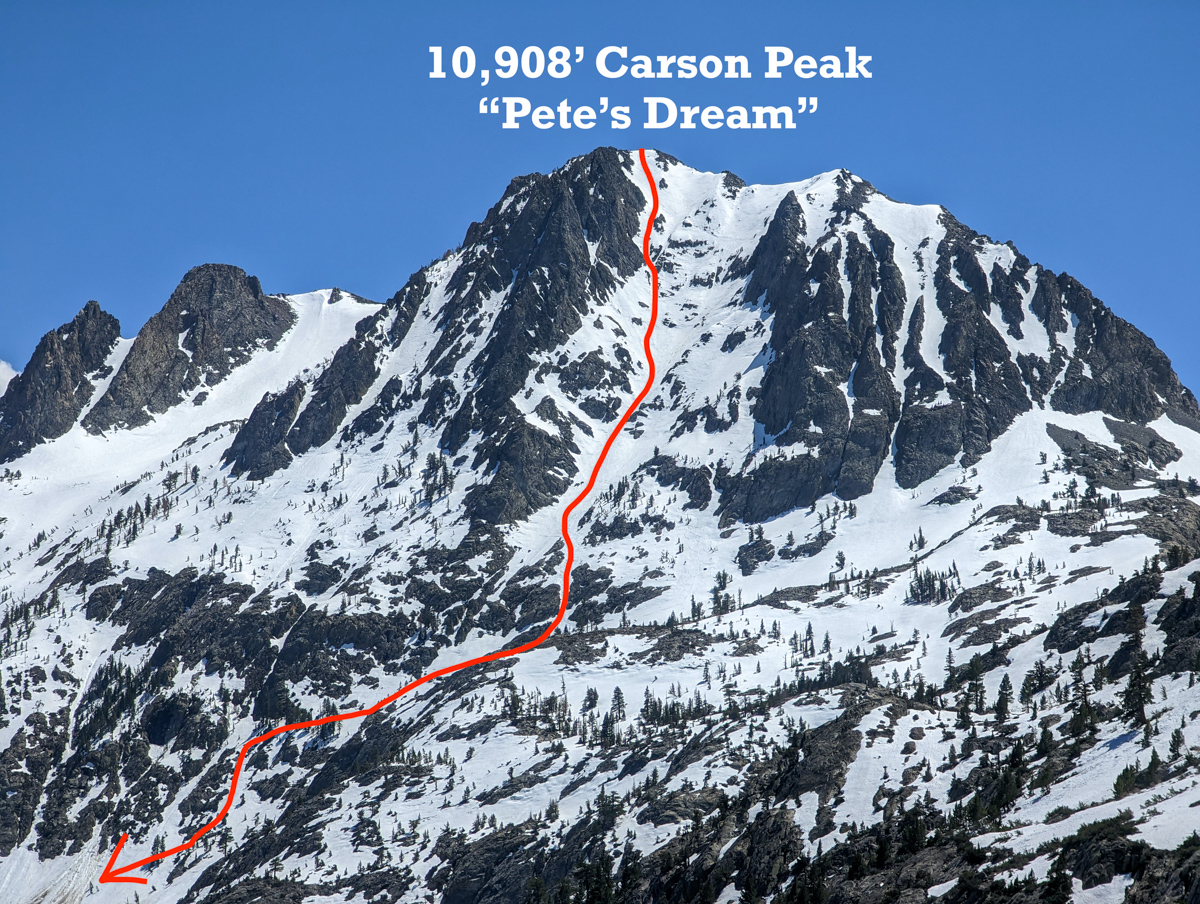 Report from May 16, 2023
Brought to you by Mono County Tourism
Yesterday, we went for a dream line.
Pete's Dream off 10,908′ Carson Peak, CA.
45º steep, complex, exposed, and all above a cliff band.
This line has been haunting our dreams since 2006 when we went to look at it and backed off out of fear…
Yesterday, the stars and conditions aligned to ski Pete's steep, hanging face in good corn with great friends.
10,908′ Carson Peak, CA – Pete's Dream Details
Summit:  10,908′
Car:  7,300′
Vertical From Car:  3,600′
Vertical skied:  3,600′
Max Pitch:  45º
Avg Pitch: 40º
Aspect:  North
Distance:  5.1-miles round trip 
Time From Car to Top of Carson Peak:  3 hours 
Car to Car Time: 5 hours
Recommended Equipment:  Skins
We started our day by driving to Silver Lake and gawking at Pete's Dream from the road.
Line options were discussed and photos were harvested.
From there we parked at the base and started up at 9 am hoping to hit the due north line just as the sun had chased every shadow off the face.
The initial climb was steep, sloppy, hot, and brutal at times.
The long flat to Fern Lake was shady, cool, and much needed.
From Fern Lake to the summit plateau, the sun beat down us without mercy.
I can't remember being that hot for a long long time…
The summit plateau blew a cool breeze on us that allowed for clearer thinking again.
But it was never-ending…
I was tired and frustrated at times and in need of some sort of change of view.
After what felt like miles of flat we reached the summit ridge and drank in views of Mt. Banner, Mt. Ritter, the Minarets, the June Lake Loop, and a plethora of large peaks to the west we'd never seen before.
A 1/2 mile or so of ridge-walking brought us to Carson Peak, views of Silver Lake, and a northern slope that dropped into oblivion.
Fear.
I stepped away from the slope so I wouldn't have to look at it as we geared up.
It was noon and just about time to drop in.
The shadows on the face appeared to be gone.
With skis on, the fear faded…
It's a wonder how having skis on will seemingly lessen the steepness of a slope by 5-10º…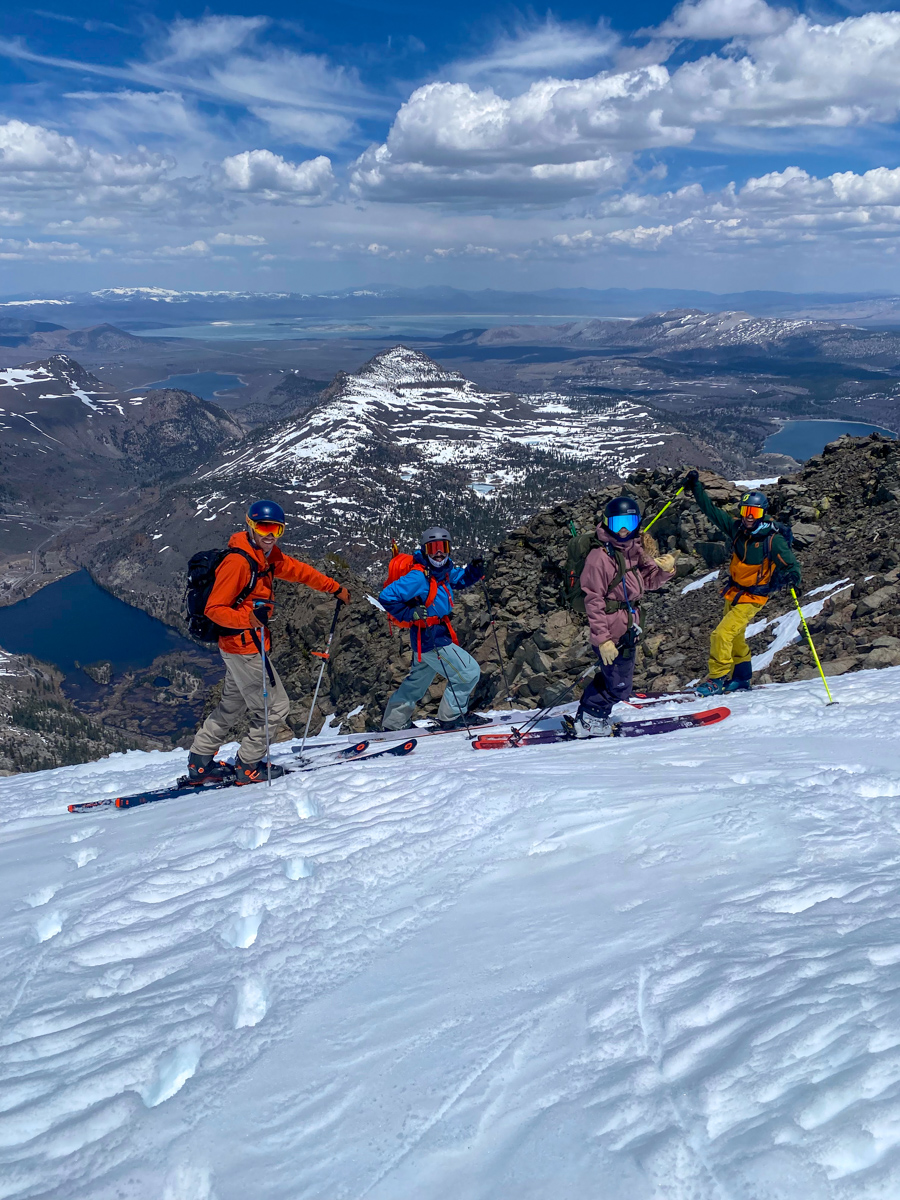 I dropped first and it was already soft.
I hooted after my 4th turn to let the crew above (Dobbs, Emily, Ben, Mark) know that it was soft and fun.
Route-finding and flow were the next challenges.
Despite studying the face in our photos all morning, I was instantly confused.
I'd been warned not to stay right and challenge the tight choke on the right, but the fall line and stubbornness pulled me directly into it.
It's always a challenge to navigate steep, complex, rocky, consequential terrain on the fly and Pete's Dream was no exception.
All the plans I'd made via my photo of the face dropped into the abyss.
I skied what made sense.
Many of the chokes I'd wanted to ski were too tight.
I hacked, chopped, jump turned, and sprayed.
All while trying to keep as much flow as possible.
The tight choke zone was rocky, steep, and truly fun.
I snuck out of it and felt my mind buzzing.
I was free of the consequence now with thousands of feet of 40-45º unadulterated pleasure below me.
I was tired.
I arced turns, feeling thrilled from the wind on my face and the smoothness of the snow.
The flow overcame me before my consciousness came back and I slammed on the brakes.
"Oh yeah, this is all a big cliff band with only one skinny exit chute."
I jogged left, found the chute, and caught my breath.
The exit chute that held deep slush was sluffing.
It skied very fun with big splashy turns and tight walls.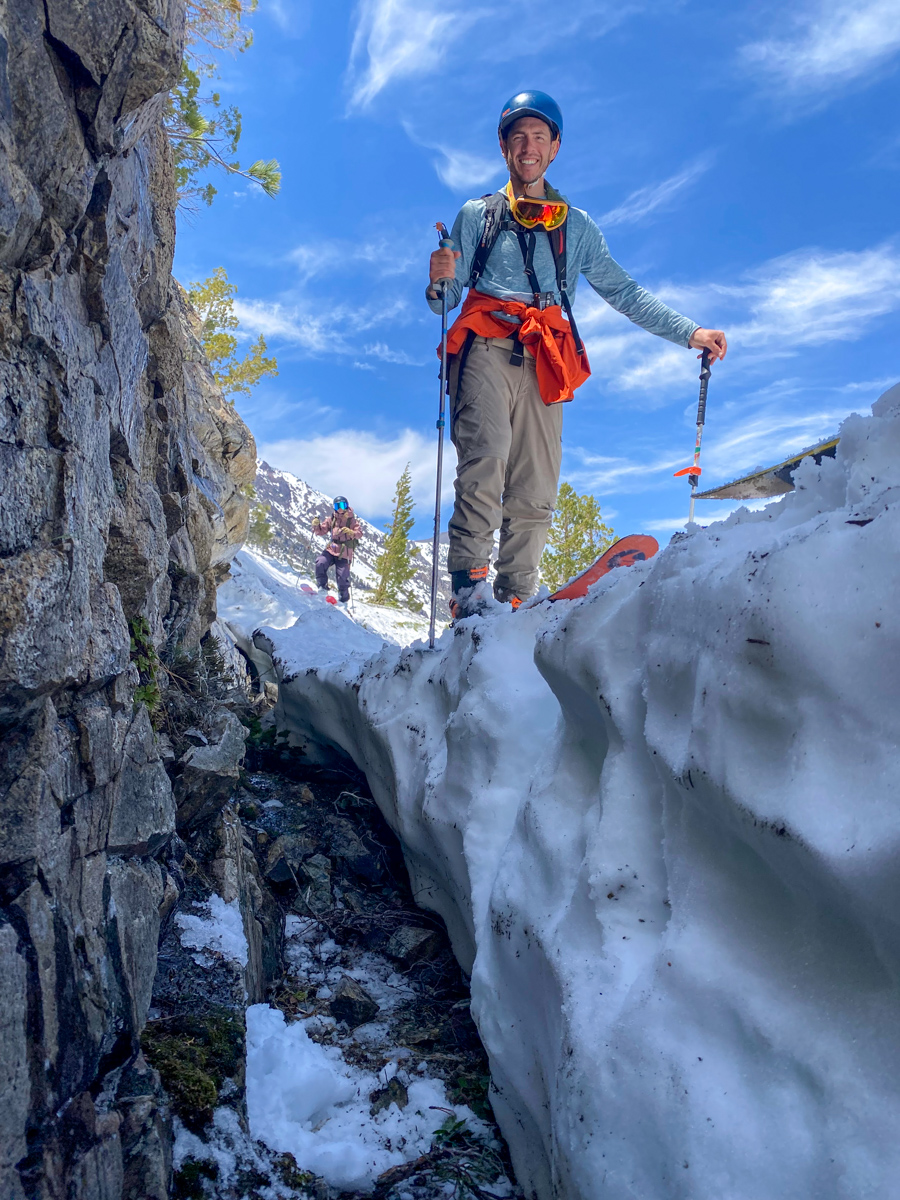 Once on the apron, I tucked into the trees and waited for the rest of the crew.
Once reassembled, we skied a super slushy face down to the final cliff band that doesn't have a way to ski through anymore.
We weaseled our way down onto the cliff face and found a way to traverse, take off skis, and bushwhack back to snow.
Once on the final apron, we stickily glided and laughed our way directly into a thick aspen grove and took off our skis.
From there it was a 5-minute walk to the car in flip-flops.
We drove directly to Silver Lake and jumped in.
Sergio, the Silver Lake Resort employee, greeted us and didn't mind our beer-drinking shenanigans.
To swim and play in a lake in full view of the complicated line we'd just skied felt surreal.
Thanks, California!
SPRING 2023 REPORTS
PHOTOS IN CHRONOLOGICAL ORDER