Everyone has to have a reason to get out of bed. For some people, it's the paycheck they're about to earn, or the kids they're about to get ready for school, or the classes they're about to take. I was ready when the light switched on at 1:30 am on Sunday, August 13th, 2017. I was going to go skiing.
We had just woken up at the Brewer Creek Trailhead, a dirt parking lot nestled in the National Forest surrounding Mt. Shasta, 40 minutes away from the nearest town by dirt logging roads. The team was Emilio, a snowboard racer I know through the Stanford team, Tony, another snowboard racer who's trained with Emilio, and myself. Our chosen route was the Hotlum-Wintum ridge on Mt. Shasta, also known as the Hotoon snowfield. This would be my first route on the North/East side of the mountain, as well as the site of Emilio and Tony's previous (unsuccessful) summit attempt. The HW ridge is far less frequented than Avalanche Gulch, and is know for being an excellent ski descent ("even into July!" the guidebooks say). We'd aim to summit the mountain in one continuous push from the parking lot, and then enjoy a ski descent down as far as we could stretch it.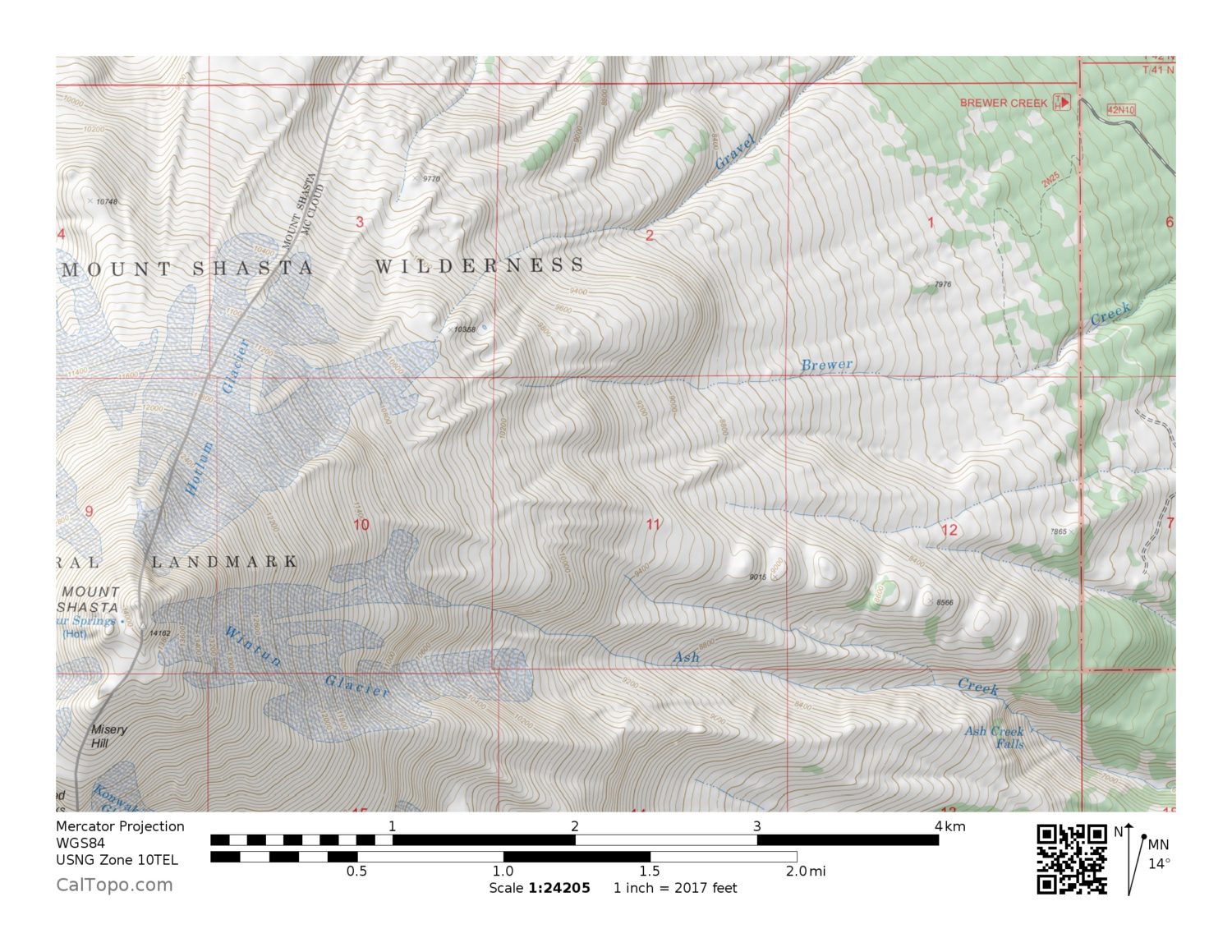 I'll be going over the route in all the detail you could possibly be interested in later on, but here's the essential beta (if you just came here looking for that):
Hike/skin (depending on the season) south out of the Brewer Creek trailhead, following the trail if possible, and heading towards Brewer Creek. Intersect with Brewer Creek at or a few hundred feet above treeline, and turn right to begin traveling up the mountain. There should be two large ridges running up the mountain, one to your south, and one to your north. These border the Hotoon snowfield. Climb this snowfield to about 12,000 feet, generally staying parallel and close to the south ridge. Around 12,000 feet, cross the rocky ridge to your left (south) before you will be prevented from doing so by the cliffs higher up on the ridge. Crossing this ridge, you will come to the Wintum glacier, which is not crevassed at this elevation. Above you, you will see a very wide chute. This chute runs to about 14,100′, and deposits you right on the summit ridge, perhaps 50 feet to the north of the true summit, where routes from the south (including Avalanche Gulch) also intersect with the summit ridge. Tag the summit, and descent. Make sure to not get lost descending into the treeline (i.e. make a GPS waypoint or cairns where you leave the trail), as finding the Brewer Creek trailhead is very difficult if you're off trail.
That said, beta you read online generally isn't that useful, so without further ado, here's what happened on our trip…
The game plan was a one day blitz, followed by the long drive back to the Bay Area. We arrived at Brewer Creek at about 6:30 pm on Saturday, and got ready for a short night's sleep.
The alarm went off at 1:30 am for a 2 am planned departure. We picked up our already packed bags, and left the the ~7200′ trailhead at around 2:20 am. While I have seen much worse, the trail was washed out in many places, and not very easy to follow in the dark. Watching our GPS, we aimed south towards Brewer Creek canyon once the trail petered our for good, expecting to hike along the creek and to find snow around  9000′.
Instead, when we intersected with the Brewer Creek canyon at around 8200′, we found a 20 foot wide ribbon of snow connecting to the larger snowfields far above. We took our skis off of our packs at around 3:30 am, and began skinning.
As strange as it sounds to say, the skinning was absolutely fantastic. The snow surface was consolidated and neither very suncupped nor very icy, the angle was low, and a full moon blazed overhead, illuminating the mountain ahead of us. The air was dry and the sky cloudless but smokey. Occasionally, a meteor from the Persied shower would cross the sky, leaving a trail of glowing plasma behind.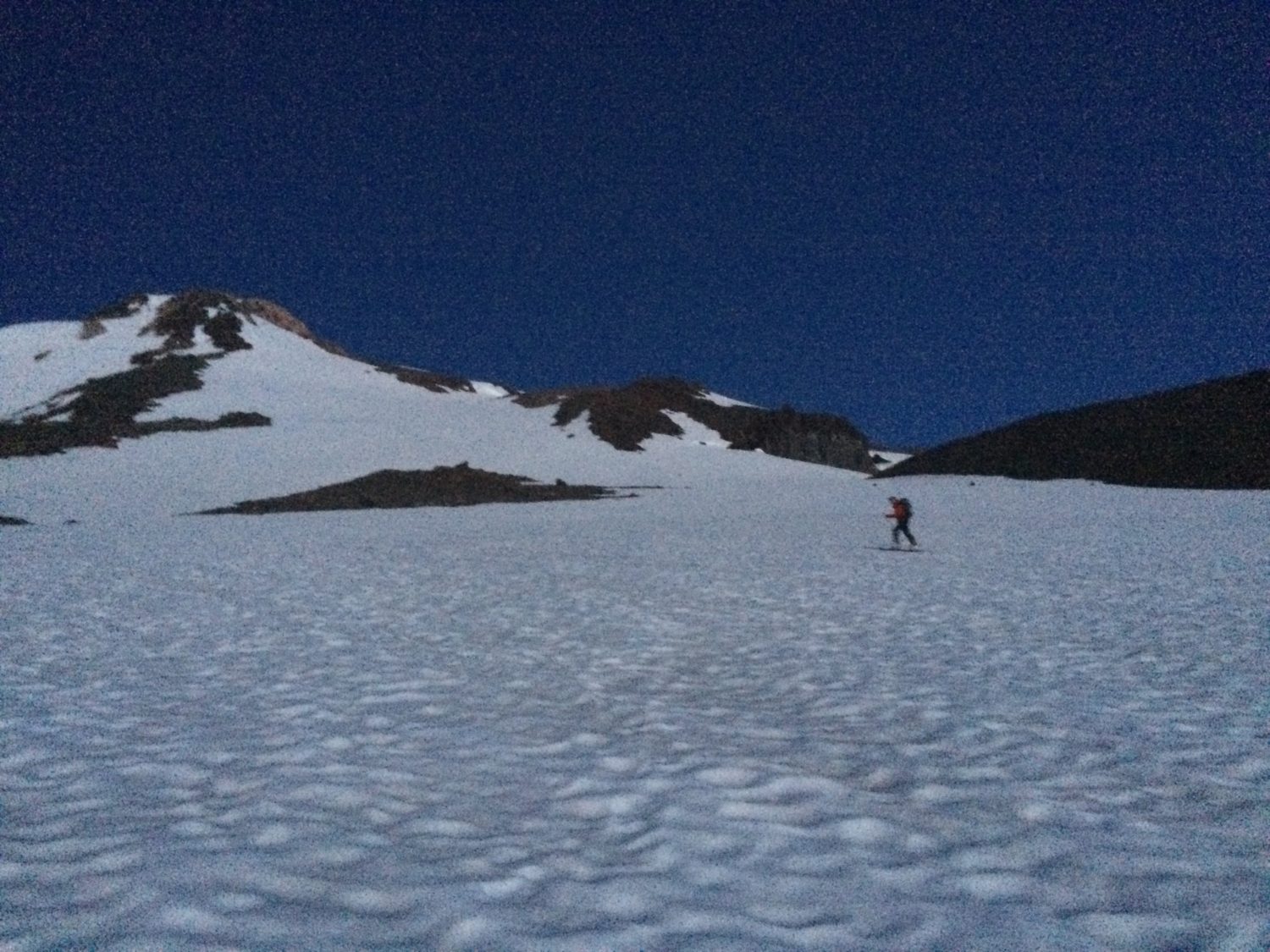 The volcanic rock and moonlight made everything feel otherworldly, like the scene for some kind of skier origin-myth or a vision of Mars after 10,000 years of terraforming. It was a good time to be alive.
Around 9,000′, the skinning got much steeper and icier. Emilio and Tony were having a lot of difficulty getting enough traction on their splitboards, and started slipping all over the place. With headlamps glistening against icy snow, they transitioned to crampons early, and we continued up together.
At about 10,500′, the sun started rising at our backs, illuminating smoke trapped below an inversion layer and painting the snow under us with a surreal shade of orange. I switched to crampons, and we continued up the wonderfully consolidated snow surface. The snow was remarkably unsuncupped, with the cups max 1″ deep, and with large sections of completely smooth snow. We'd heard rumors of thurderhail/thundersnow earlier in the week, perhaps that got deposited on the snow surface, and smoothed everything out?
We traversed across the HW ridge proper around 12,500 in order to get across below a headwall. While I wouldn't call it the crux, this was probably the most dangerous part of the climb. The ridge was loose volcanic scree, with large heavy rocks mixed with slippery sand. It was essentially impossible to walk across it without dislodging a rock every couple of seconds, making balance difficult and large scale rockfalls an unnerving possibility. Walking on this stuff at 12k in ski boots with skis on my back was not particularly fun.
Cresting over the ridge, we got our first view up-close of the Wintum glacier. We joined it where it was essentially just a steep snowfield, running up into a chute with several shallow rollovers concealing our view of the summit. Below us, we could see the glacier drop away, cracking into crevasses and seracs as it rolled over a ledge about 1200 feet lower down.
From the Wintum, it wouldn't be clear where our exit point to traverse back across the ridge was, so I built an arrow out of rocks to mark where we should cross over.
While the Hotoon had stayed a nice firm neve the whole way up, the Wintum was already well on its way to baking into slop when we reached it at 9:30 am. As I had the lightest pack and was climbing slightly stronger than my two partners, it became clear that I was going to set the bootpack up the rest of the route.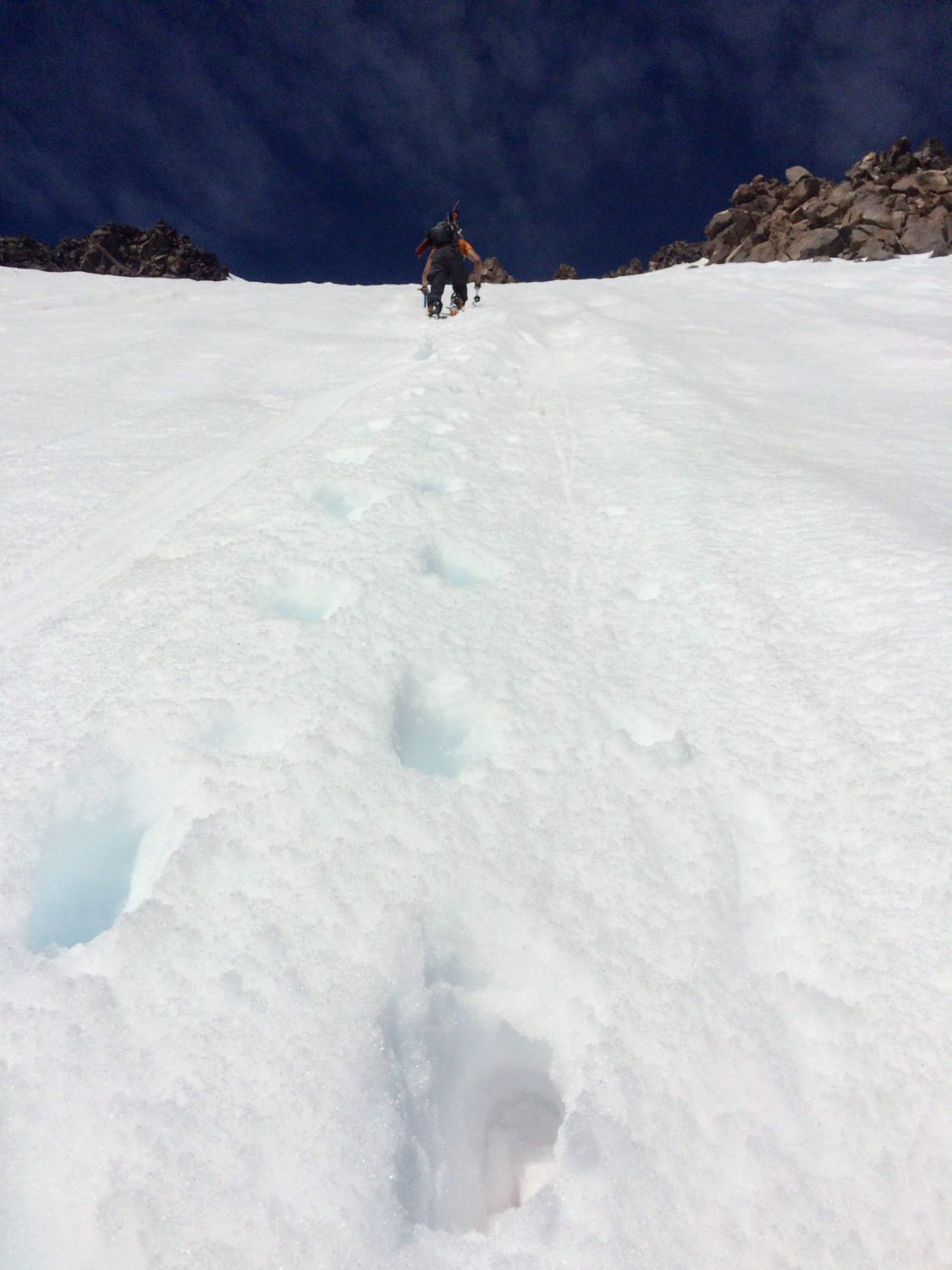 The route ascended while traversing left, and had the annoying characteristic of slightly rolling over in multiple places, leaving us guessing as to if the ridge or rockpile we could see silhouetted against the sky was really the summit, or just one more little pile of rocks that poked out slightly farther than the rest. The topography of the slopes above us (and the runnels on the snow itself) seemed poised to funnel rocks down right on top of us while we were close to the rock on our right, so I traversed us left into less dangerous territory as quickly as I could. I never saw anything fall, even with the quickly warming temperatures, but the situation still had me feeling uneasy.
Under the best conditions, there's a certain amount of enjoyment that can be derived from setting a good bootpack up a cool face, similar to the enjoyment that can be had from shoveling snow or trail running. As has been said before, it's kind of like fun, but different.
While the face arguably started that way, by 13k the snow had softened even more, and I was in full posthole mode much of the time. Adding to the fun, I was worried enough about the rockfall danger that I decided to wear my helmet while getting blasted by the sun. I was squeezing sweat out of the liner every time we stopped. Next time, I'm bringing a real climbing helmet, whether or not it's certified for skiing.
The bootpack on the Wintum glacier was the crux for us, for sure. That said, it's more of a "I'm tired and dehydrated and climbing mush is hard" kind of crux rather than a "400 feet of unprotected 4th class soloing" kind of crux.
Some time around 11:45 am, Emilio yelled up to tell me that clouds were starting to roll in. Sure enough, when I turned around, whispy clouds were forming below our feet. "What altitude?" I yelled back. "13-8" came the reply. I had just finished my 2.5L bladder, my only water. We didn't want to try to climb in a whiteout, but we also didn't want to turn back. Time was no longer on our side. Time to put the hammer down and sprint.
Thankfully, my memory has dulled the pain of that last 300 feet. I do remember topping out utterly wiped, throwing off my crampons, and running along the last 50 feet of ridge to the summit. It's weird to suddenly come into the Shasta that I've climbed twice before, with the crowds and familiar routes, so close to the summit. Thankfully, the clouds forming on our route were not the beginnings of a storm, but were instead isolated just the top of the Wintum glacier.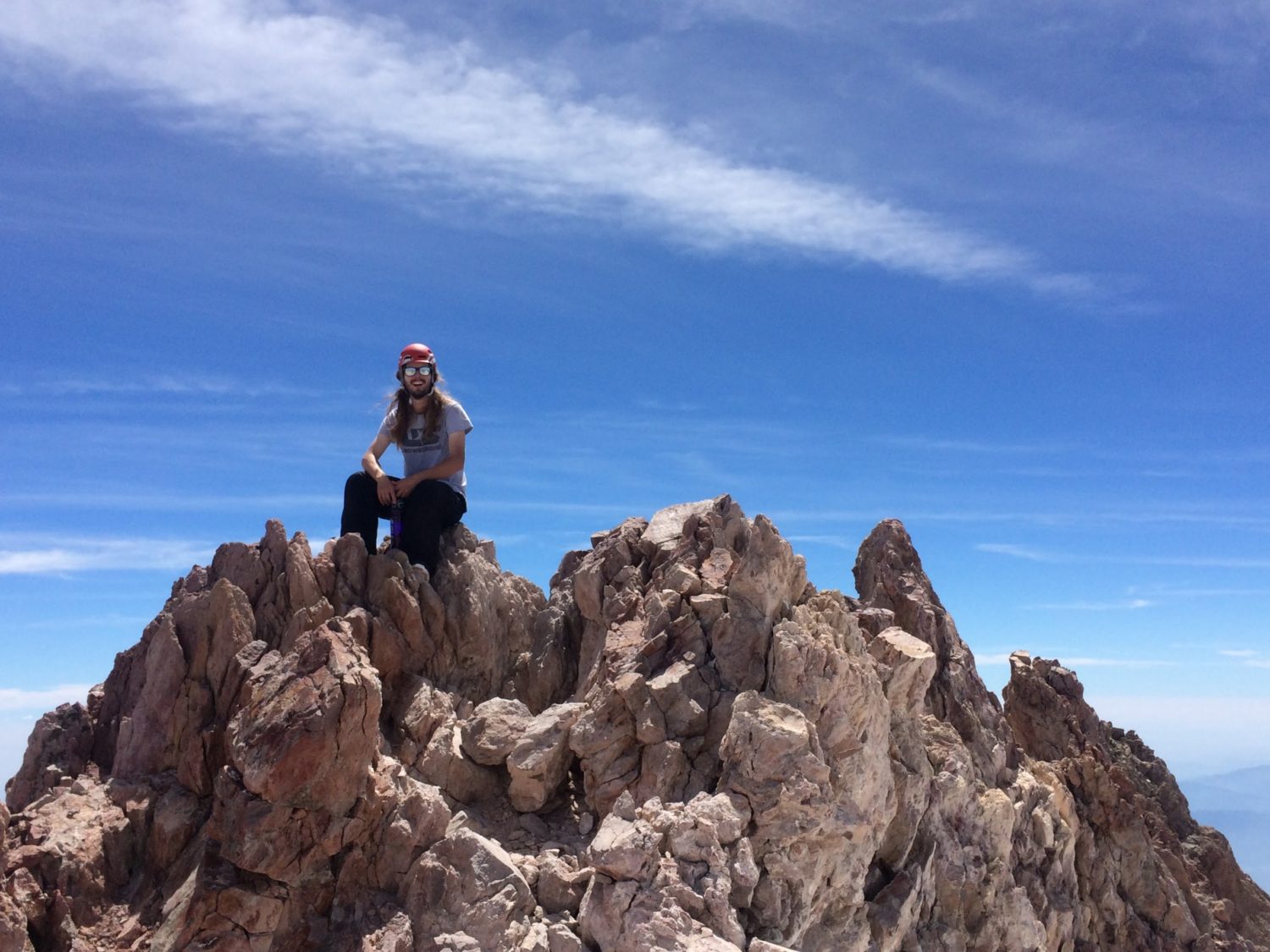 What was supposed to be a 5 minute summit stop turned into more like 30 minutes. I called my parents. Pictures were taken. Summit registers were signed.
Sitting down on the summit ridge at around 14,100′, we ripped skins, put away crampons, and prepped for the descent. The clouds had completely covered our line. It was August 13th, and we were about to ski 6000 feet of snow.
By the time we started descending, the first foot or so of the snow was essentially isothermal, and although everything was very well consolidated, we discussed the possibility of loose wet action. The small wet sluffs we sometimes set off on the bootpack didn't travel far, but we had noticed large loose wet slides lower down (around 9,000′, on a slope we were not going to ski, but a similar aspect). The decision was made to descend one by one, to stop in safe zones, and for me to do a ski cut to test for stability. We felt it was safe, but didn't want to take any risks we didn't have to. We would also ski with ice axes for self-arresting, and stay away from areas where we were concerned about rockfall.
I was voluntold to drop first.
I made three ski cuts, and found basically what I expected: a little loose wet sluff, a top layer that was wet and loose, but generally well bonded to the gradually hardening snowpack below, and no major causes for concern. I slashed some turns down a couple hundred feet of late summer chopped up slop. It felt phenomenal.
Soon, Tony and Emilio joined me, and we descended one by one down the face. Small sluffs started with each turn. Emilio and Tony took it easy, staying behind their sluff (and trying to keep it off me!), but I preferred to stay ahead of mine, whooping as I streaked down the low forty degree slope.
The section from about 13,000′ to 12,500′ was especially fun. The slope angle and surface let me slash SL turns down the ridges that had formed between between runnels, the sluff sliding down the channels on either side of me. I've never skied a real spine, but this is what I imagine spine skiing is like on easy mode. When Emilio, Tony and I arrived at our exit point where we'd take off our skis and splitboards to traverse across the ridge, we were absolutely yelling our heads off with joy. This wasn't just skiing in August, this was amazing.
Crossing the ridge back to the Hotoon snowfield was probably the sketchiest part of the trip. We staggered ourselves to be safe, but falling on the loose volcanic rock/sand mixture was a real possibility, and rockslide didn't seem too unlikely either. We arrived safely on the other side, and clicked back in.
While we were exited to see the smooth surface of the Hotoon snowfield between 12,500′ and 10,000′ in the morning, we were even more pumped when we came to it the second time. The surface had softened to a not quite corny, but smooth and soft and above all else fun texture. The slope itself was a wide open field, angled in mid thirties. Slope and terrain combined with snow quality to make the descent to 10,000′ just pure joy. We couldn't get enough of how fun it was. This wasn't the Type 2 Fun climbing we'd been doing earlier. This was Type 1 Fun, for sure.
By 10,000′, the suncups had grown, and while the skiing was still fun, it wasn't quite the same as higher up. Even with 4,000′ behind us, we still had 2,000′ of skiing to go.
At last, our strip of snow left us sitting in front of the shoes and water bottles we had left there at 3 am. Soaked socks and boots came off, and fluids went in. Our packs many pounds heavier from the boots, skis, and splitboards, we loaded up and began looking for the trail.
In the dark, the trail from the trailhead had flown by, but now, it dragged on. With every switchback, I thought I could just make out the parking lot, with its chemical toilet and comfortable rocks to sit on, but every time I was deceived. Until, what seems like 5 miles later, I wasn't. Filthy ski pants came off, and packs were thrown into trunks. We had been on our feet for thirteen hard hours, and still had a seven hour drive back ahead of us.
This had been a good day.
Those who have visited Mt. Shasta before have likely seen the new-age crystal shops, and strange hippy clothes on visitors. It's easy to label the people who come to worship at Mt. Shasta as crazy, with their beliefs in UFOs docking with the summit, long dead French natural philosophers wandering the snowfields, and seven foot tall beings called Lemurians (who, get this, once engaged in thermonuclear was with Atlantis) living inside the volcano's core.
But we skiers and snowboarders who come to the mountain in summer are just as crazy. We come to chase dreams of snow we should have given up long ago, to work ourselves to the bone to stand on top of a pile of rocks, and to look for a bit of our own salvation and peace sliding down the mountain's glaciers. Our actions have no external purpose; the only real things we can accomplish through Mt. Shasta occur within ourselves.
I have thrown in my lot with the crystal collectors, the new-age believers with their dreads and baggy pants, and the alien conspiracy theorists. I have found my place of worship, and it is Mt. Shasta.