Sunshine. 
Sunshine dominated our trip to Antarctica in November 2018 with Ice Axe Expeditions.
The 2018 trip was simply epic.
***If interested in skiing/riding Antarctica in 2021 or 2022, please email me:
Contact@SnowBrains.com
It makes me reel just thinking about it…
We skied powder, soaked in mind-bending vistas, ate delicious food, hung out with penguins, watched whales fly, and laughed.
We laughed a lot.
It feels like cheating to be in such an intense, frozen landscape when the warm sun is barreling down allowing you to appreciate every square inch of the place.
97 clients and 24 mountain guides from 18 different countries set sail in the 331-foot newly remodeled (including 2 new more powerful, quieter Rolls Royce engines) Ocean Adventurer from Ushuaia, Argentina (the furthest south city on Earth) with Ice Axe Expeditions on November 3rd, 2018.
It took us less than 2 days to cross the most notorious open water passage on Earth – The Drake Passage.
When you first arrive in Antarctica and see the towering masses of ice – the icebergs, the ice cliffs, the glaciers – you're stunned.
You're unsure. 
You're baffled.
Then, it all starts to make sense.
You start to wind your way through the icebergs, up the glaciers, around the ice cliffs. 
Your perspective changes. 
You change.
Forever.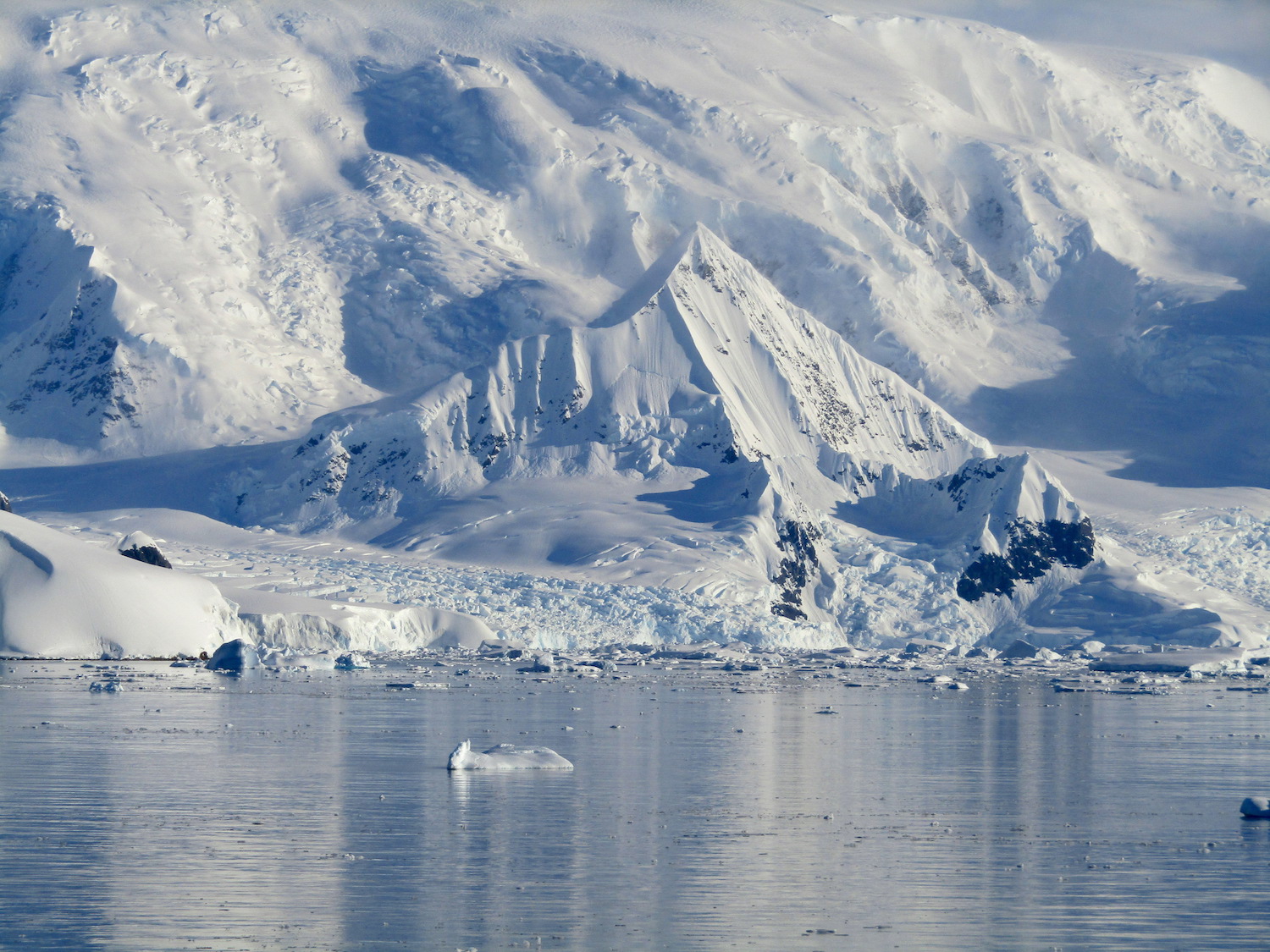 ***
2018 ANTARCTICA TRIP SKIING DETAILS:
***
***
Day 1:

  Deception Island
***
Our first stop was an active volcano:  Deception Island. 
The snow came down hard at Deception Island.
Most opted not to ski in the white-out as we perused the ruins of an early 1800s whaling camp. 
The snow stacked up, the penguins waddled, and the sand steamed from volcanic energy.
Satisfied, we packed up and headed to the continent of Antarctica. 
As we left Deception Isle, a Humpback Whale breached 10 times next to our ship. 
We took it as a welcoming.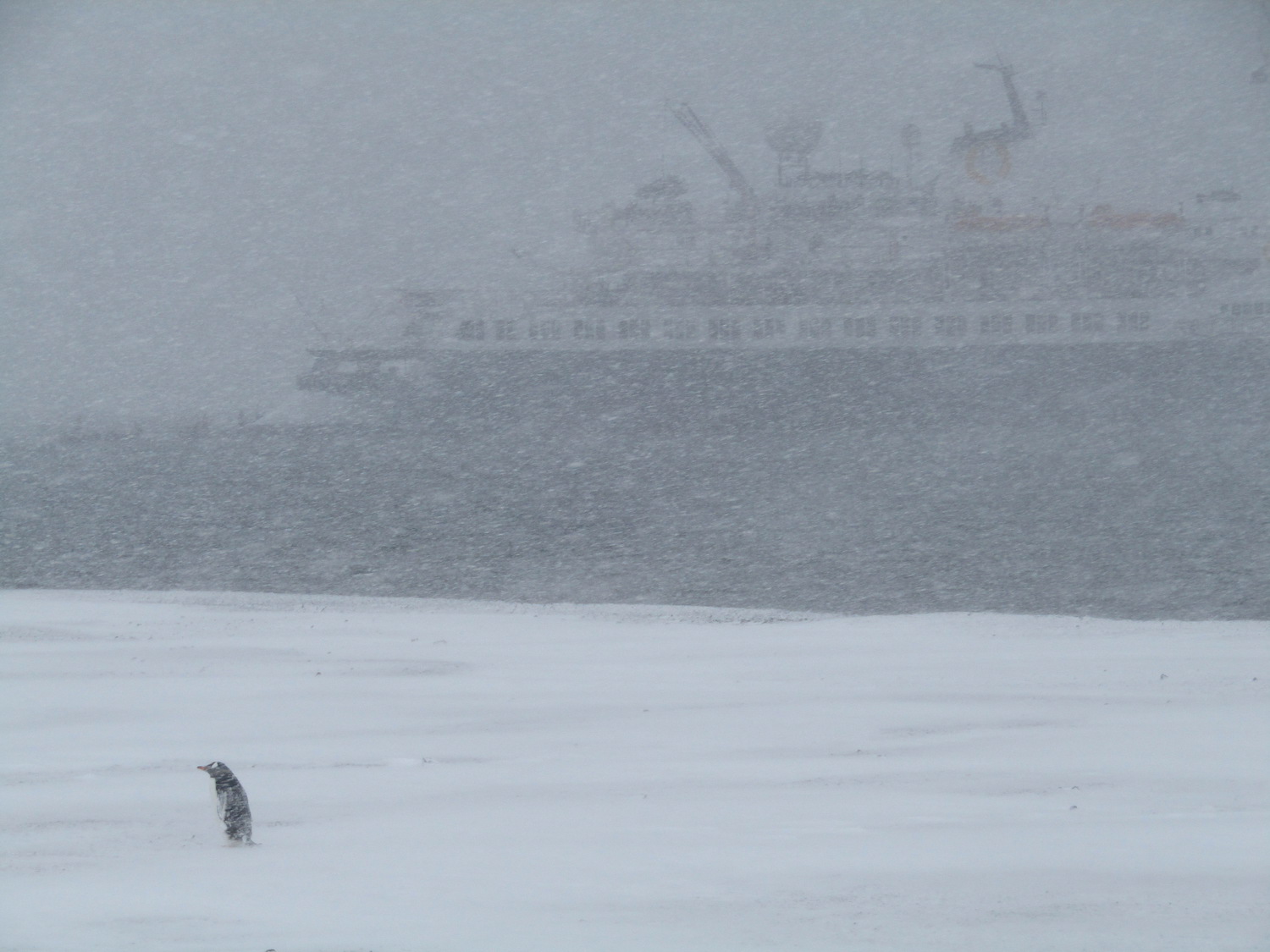 ***
Day 2:

 Chiriguano Bay on Brabant Island
***
Filtered sunshine & powder awaited us on our first ski day at Brabant Island. 
Chiriguano Bay delivered 4″ of powder snow and terrifically fun skiing all over.
Mt. Victoria is always an impressive & gorgeous ski.
We watched a Leopard Seal stalking penguins and the penguins running from him. 
The Angels of Antarctica, Snow Petrels, graced our presence this day.
***
Day 3:

 Ronge Island & Arctowski Peninsula
***
4-8″ of new snow.
Sunshine.
Our highest summit of the trip – Mount Tennant. 
Amazing views, great photos.
We came home for "High Tea" then cruised back out for a run on the Arctowski Peninsula of the Antarctic Peninsula that was pure cold powder fun.
On our way home, we saw 2 Humpback Whales from only 50′ away. 
Then swam right past us and we could hear their deep, hollow, loud breathing.
***
Day 4:

  Paradise Bay & Antarctic Peninsula
***
We skied "Main Bowl" in Paradise Bay on the Antarctic Peninsula.
The snow was hard but smooth and skied like a groomer.
When then crossed over to a different part of Paradise Bay and skied 2 fantastic "sun-kissed snow" runs before heading back to the ship.
We did the Polar Plunge this night into 32ºF water in the sunshine and then held our outdoor BBQ on the back deck and the setting was spectacular. 
The all you can drink hot spiced wine didn't hurt anything.
Todd Offenbacher's comedy-adventure slideshow was the highlight of the indoor entertainment on the trip, as per usual.
***
Day 5:

 Nansen Island
***
Great tour on day 5 as we wound our way back into the depths of the island and back. 
1 run, 2 runs, then 3 more runs back in a zone I love on the edge of the isle.
Wild views from up there.
Warm this day.
We went on a fun Zodiac cruise to nearby Enterprise Island to see the old shipwreck.
I jumped in the hot tub this night for the first time and watched the sunset. 
Wow…
***
Day 6:

 Livingston Island
***
This day started sunny and nice and quickly became cloudy, windy, and cold.
We did 1 run in the main zone.
On our 2nd run, the wind became an issue and we pulled the plug and headed back to the ship.
After lunch and a nap, we headed to Half Moon Island and to spend time with the Chinstrap colony.
We watched a Giant Southern Petrel eating a dead seal and it was intense. 
***
Day 7:

 Headed Home
***
Our last ski day was canceled due to extreme weather approaching the Drake Passage. 
Our captain made the right call. 
Other boats stayed one more day and had to turn around and seek shelter for days after attempting the Drake. 
This storm was potent but we made across before its full fury was realized.
I can't express how incredible, intense, luxurious, and unique this trip is. 
Incredible views and skiing, in-your-face wildlife, ridiculous luxury anytime you're in the ship, a fascinating social scene, and relentlessly unique experience.  
There is simply nothing like Antarctica.  
It truly is a world unto its own.
Ice Axe Expeditions will be cruising to Antarctica to ski again in November 2020.
I've been invited to guide the trip again and I'd love to share this experience with you and yours.
If interested, please email me here for the ski trip of a lifetime:
Contact@SnowBrains.com
***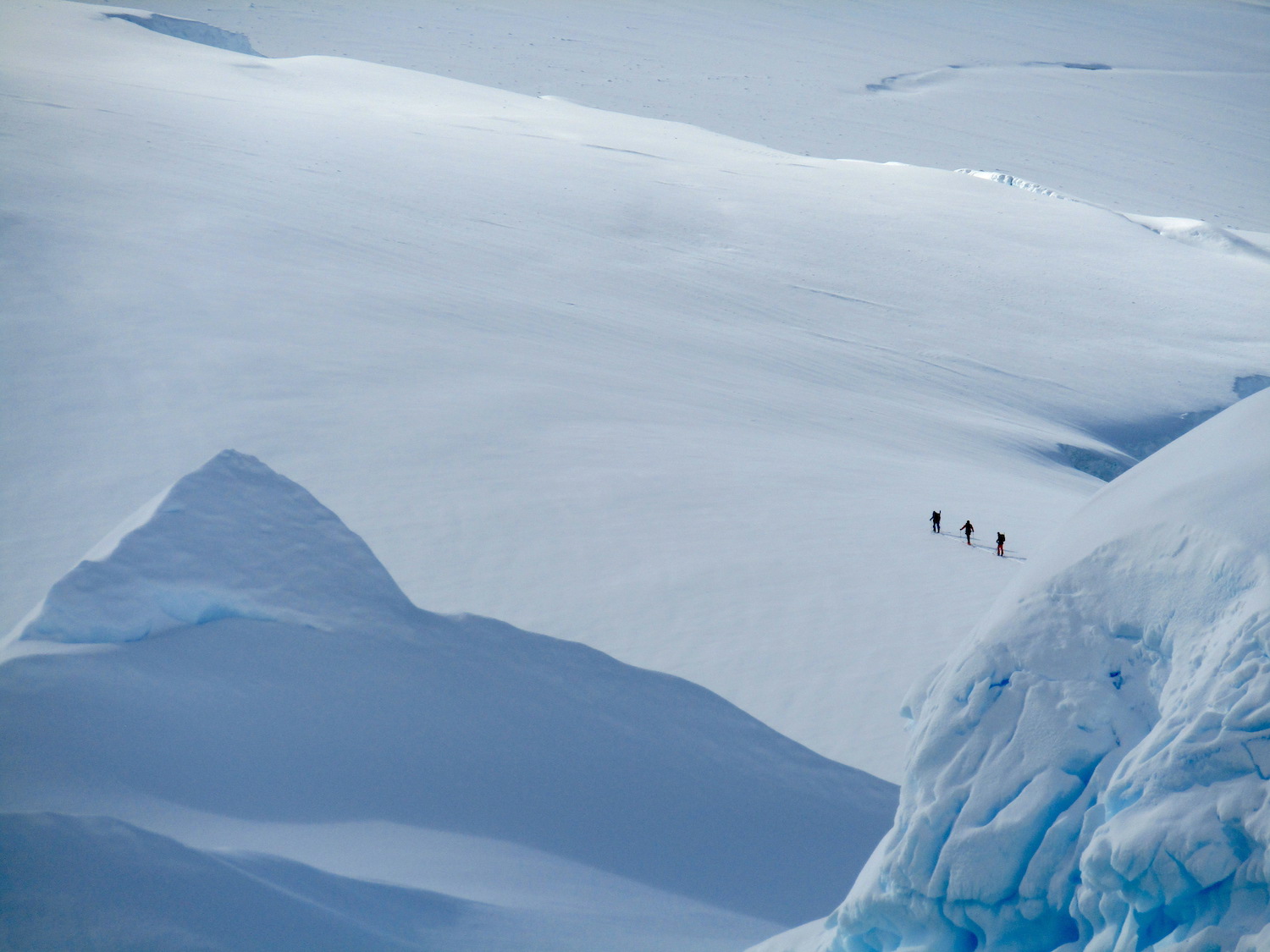 I'll let the 100+ photos below tell the rest of the story.  
Thanks to everyone.  
Such an unreal trip…
ANTARCTICA 2018 PHOTO TOUR: