National Fire News
as of July 18 at 5:00 a.m. MDT (on a scale from 1 to 5)
Current hours for the National Fire Information Center are
(MST) 8:00 am – 4:30pm, Monday – Friday
208-387-5050
This report will be updated Monday through Friday.
Please check the IMSR for more information.
July 21, 2022
Three new large fires were reported in Oklahoma, while Alaska, Arizona, South Dakota, Texas, and Wyoming each had one. Extreme fire behavior was observed on the Chalk Mountain, Pine Ridge, and Caney Mountain fires in Texas and the Sand Springs fire in Wyoming. More than 6,400 wildland firefighters and support personnel are assigned to incidents across the country.
Since January 1, 37,417 wildfires have burned 5,510,675 acres across the United States. This is well above the 10-year average for the number of wildfires and more than double the amount of acres burned. While some of the wildfires this year were caused by lightning, most of them were caused by people. Usually, the cause is careless behavior like unattended campfires, misuse of matches and fireworks, discarded cigarettes, burning leaves and yard debris on dry, windy days, and sparks from vehicles and equipment. As temperatures reach record highs in many states the potential for wildfires is very high. It's important for each of us to do our part to prevent wildfires.
Critical weather conditions are expected in parts of the Great Basin, northern Rocky Mountains, and high plains of Nebraska and South Dakota today. Stay informed on current and expected weather and fire danger with the Predictive Services fuels and fire danger summary, fire weather and potential briefing, and the seven-day significant fire potential outlook
Weather
A ridge of high pressure situated over the western United States continues to bring above-normal temperatures and low relative humidity to much of the region. Temperatures will reach the high 90s across the lower elevations today and above 110°F in areas near the Mojave Desert. Texas and the southern Plains will get a slight relief with highs a few degrees cooler than recently, and scattered thunderstorms are expected in that area, possibly on the dry side in northwest Texas. Breezy conditions and isolated thunderstorms ahead of an incoming trough are possible across the inland Pacific Northwest, and into western Montana and Wyoming. Monsoonal moisture will continue to circulate in the Southwest, producing isolated thunderstorms and localized heavy rain in the higher terrain, but due to the strength of the ridge, will be mostly limited to Arizona, New Mexico, and Colorado Rockies.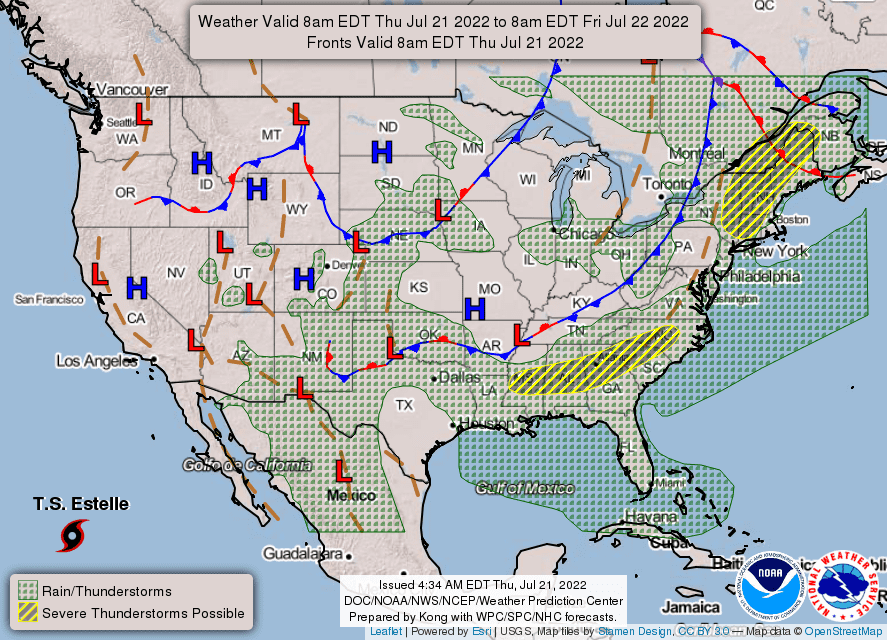 More Info: