National Fire News
as of July 12 at 5:00 a.m. MDT (on a scale from 1 to 5)
Current hours for the National Fire Information Center are
(MST) 8:00 am – 4:30pm, Monday – Friday
208-387-5050
This report will be updated Monday through Friday.
Please check the IMSR for more information.
July 22, 2022
Currently, 94 large fires and complexes have burned 2,249,390 acres in 15 states. Nine new large fires were reported, two in Idaho and one in Alaska, Arizona, Florida, Hawaii, Montana, South Dakota, and Texas. More than 6,400 wildland firefighters and support personnel are assigned to incidents across the country.
Very dry fuels and strong winds have increased the potential for extreme fire behavior in parts of Idaho, Montana, and Wyoming. Record temperatures in Texas and the southern Plains continue to increase wildfire potential. Stay informed on current and expected weather and fire danger with the Predictive Services fuels and fire danger summary, fire weather and potential briefing, and the seven-day significant fire potential outlook.
When you recreate on our precious public forests, parks, and rangelands, it is critical for you to be fire safe. Have spark arresters on equipment and vehicles like chain saws, motorcycles, and all-terrain vehicles. Exhaust systems on any vehicle can easily ignite vegetation, so drive and park in designated areas keeping off and away from dry grass and brush. Always check for fire restrictions in your local area before you go. Now more than ever, wildland firefighters need you to do your part to prevent wildfires and recreate responsibly.
Weather
Hot and dry conditions persist over much of the West today under a ridge of high pressure. An upper-level trough moving over the Pacific Northwest will lower high temperatures slightly from recent days, and create conditions for sustained west-southwest 15-25 mph winds, gusting to 35-45 mph, and low relative humidity of 7-20% across eastern Idaho, southwest Montana, and northwest into central Wyoming by early afternoon. Isolated to scattered mixed wet and dry thunderstorms are likely from northeast Washington to the northern Plains and possibly over Wyoming.
Hot, dry, unstable, and breezy conditions are likely in portions of Nevada and central and southern California along and east of the Coastal Ranges and through mountain passes. Scattered monsoonal thunderstorms remain likely across eastern Arizona, New Mexico, Colorado, and portions of the higher terrain in Utah. Hot, dry, and unstable conditions will continue across Texas, Oklahoma, and the Ozarks into the Lower Mississippi Valley. Thunderstorms will develop across portions of the Southeast, especially near the central Gulf Coast, and may extend into Arkansas, Louisiana and Texas.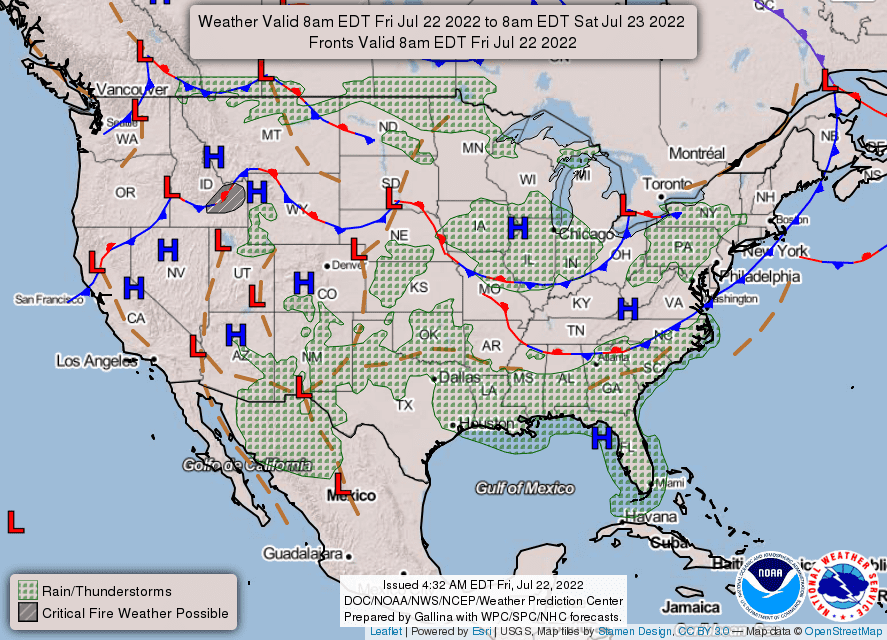 More Info: