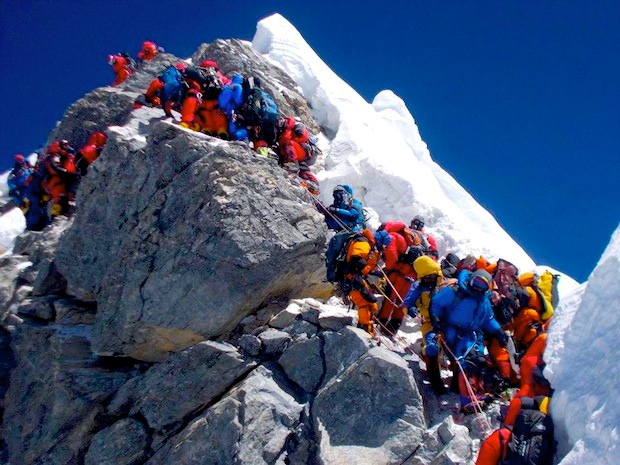 A Utah man died Wednesday while descending Mount Everest as hundreds of climbers attempted to summit the world's tallest mountain during favorable conditions.
Donald Lynn Cash, 55, of Sandy, collapsed while returning from the summit early in the morning, the Himalayan Times reported. Climbing guides tried to save him, even offering him their oxygen. Guides carried Cash below the Hillary Step but unfortunately, he died in the afternoon. He was part of a 15-member expedition.
"Don was larger than life. He inspired and was admired by so many. We lost one of the good guys today, so very sad," wrote one man on social media, who identified himself as a close friend.
Over 200 mountaineers attempted to summit Everest's 29,029-foot peak yesterday when the weather cleared, sparking a bottleneck and 'summit traffic jam' that led to people being stopped on the side of the mountain for hours, local media reported. Only a few windows of good weather each May allow climbers the best chance of reaching the top of the world.
An Indian woman climber also died on Mt Everest last night, bringing the death toll to four for this Everest climbing season. According to Thupden Sherpa, an official at Arun Treks, Anjali S Kulkarni from Mumbai breathed her last at above Camp IV after she fell ill while descending from the summit point yesterday.