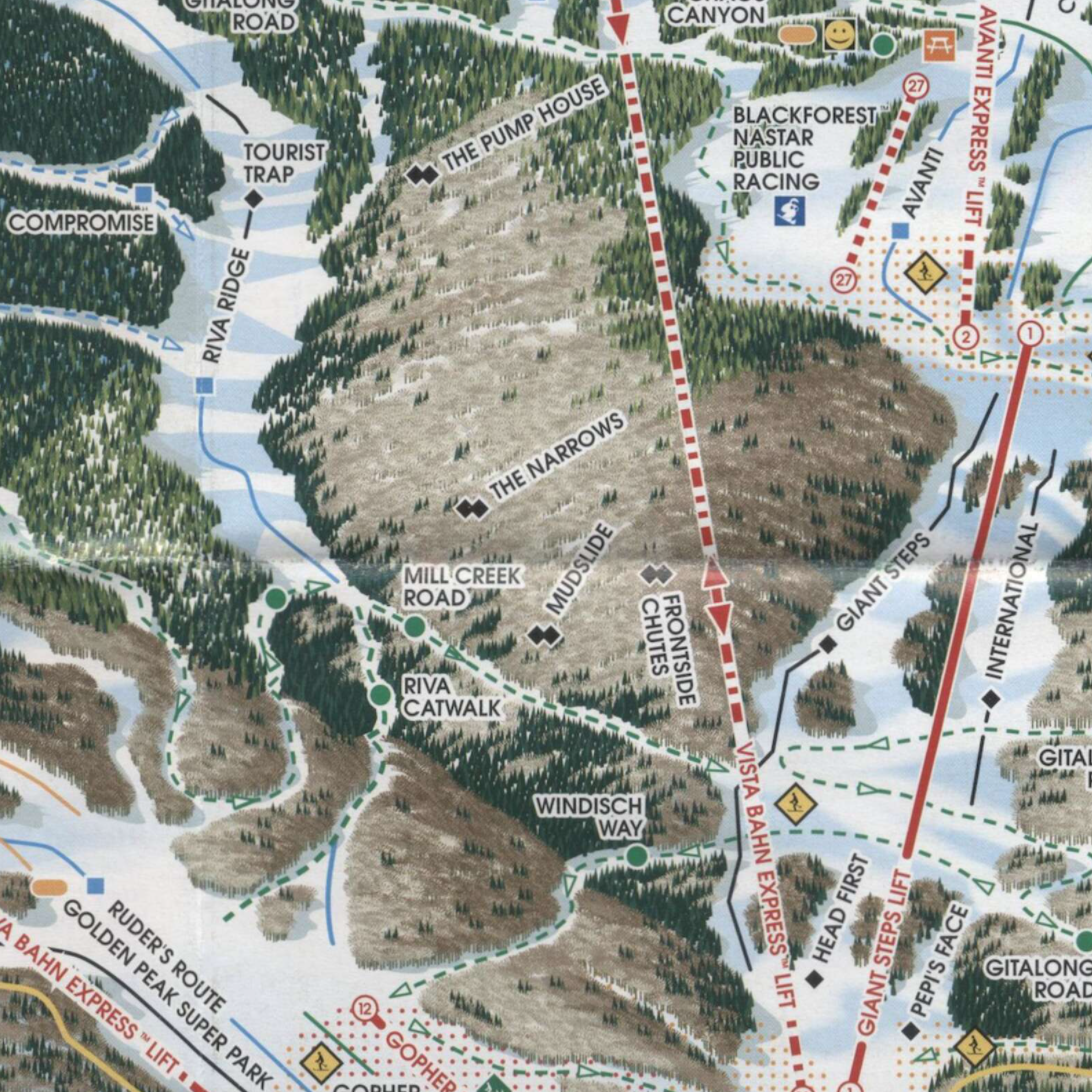 Double-black diamond ski run The Narrows has been removed from Vail Mountain's trail map and the area's gate has been closed. The Narrows was accessible through a gate on Gitalong Road near the Avanti Skills Zone area of the mountain, and gave access to a large portion of terrain between the Gondola One Line, Mill Creek Road, and lower Riva ridge, Vail Daily reports. Locals know the run as an excellent, front-side powder day stash for days when crowds charge Vail's back bowls.
The exact reason why The Narrows has been removed from the trail map remains unknown at this time, but Vail spokesperson John plack said in an interview with Vail Daily:
In 2021-22, "The Narrows is no longer a run on Vail Mountain."
A fence has since been put up in front of The Narrows, showing it as closed. No explanation has been given as to why Vail closed off the trail. Neighboring runs Mudslide and Frontside Chutes are still open.
Vail Mountain removes double-black diamond run 'The Narrows' from ski area | https://t.co/kgDf5Wuhxm https://t.co/CkSFnITbHT

— mk9999 (@mk999910) January 30, 2022
One local Vail band called Your Robot Overlords has started selling "Save The Narrows" in their Threadless.com store as a protest against Vail's decision to eliminate the trail, according to Vail Daily. The "about the design" section of their online shop reads, in all caps, "The powers that be closed one of the last great frontside runs this year. Protest with us."
After recent news stating that The Narrows was permanently closed, John Plack issued another statement, clarifying that the trail was not actually closed but rather only removed from the Vail Mountain trail map. He told Vail Daily that the run is still available when conditions permit but that it has been removed from the trail map this season, meaning that the run isn't completely gone. 
So why did Vail take it off the map? A theory one Reddit user has shared is that people like to see a mountain reported as 100% open, and a steep, avalanche-prone double-black run may often keep the resort from reaching 100% on a powder day. Another possibility is that not enough people actually ski the run for what it's worth to patrol and maintain it—but if that were the case it would seem unlikely that the local public would respond as negatively as they have, and probably wouldn't be selling t-shirts dissing Vail.