Report from MLK Day, 2022
Footage shot on Insta 360 One X2
We've waited a long time to get back on steep north-facing terrain. Since December 12th or before—since that dreaded depth hoar first plagued the Central Wasatch's snowpack this season. For over a month that eerie weak layer has kept us in the trees as low-angle warriors trying to fill the void with powder. Don't get me wrong—it's been fun. But it hasn't snowed for well over a week now and low-angle-pow without the pow tends to get old.
So when we saw the avalanche forecast turn green showing a low avalanche danger on all elevations and aspects this week we decided it was time to go poke around on the upper half of the compass rose. We headed for Cardiac Ridge.
We started at 9:15 by hacking our way through the ice crust on a slippery, slimy old skin track on a south-facing aspect up to Cardiff Pass. It was warm and partly sunny with a unique, zebra-striped cloud pattern hovering above us all day. We weren't sure what to expect in terms of how good the snow would be on Cardiac but the stoke was high.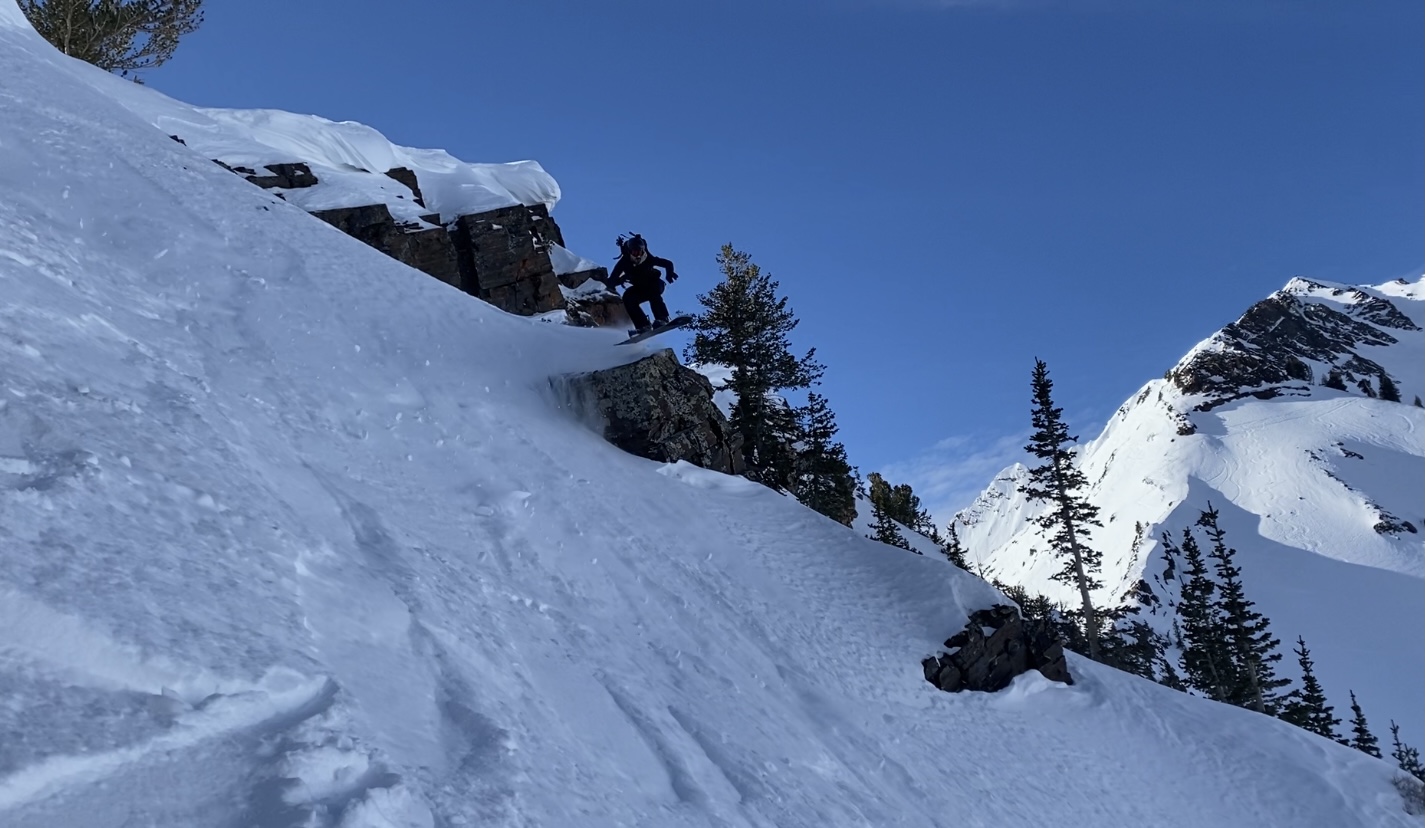 On the ridgeline separating Big and Little Cottonwood Canyons, Juan kicked off the day by sending a small cliff into smooth, compacted, north-facing powder. Calvin and I followed behind him into Mill D and found soft turns. Big smiles on the line to get to the line.
We regrouped at the base of Cardiac Ridge in a flat area and picked our ascent path. We chose an offensively obvious skin track that went up to the skier's right of the cliffs separating Cardiac Ridge and the Ivory Flakes.
A quiet, sweaty 45-minutes-or-so and we were on top of Cardiac Ridge. I'd never seen this angle of the Wasatch and I was blown away; the dauntingly steep East face of Twin Peaks to my west with the Salt Lake metropolis behind it, all of Big and Little Cottonwood around me, the Northern Wasatch and Uinta Mountains visible in the distance—I could see it all from my mountain watchtower.
Juan went for a spicy line on a fin that jutted straight into the sky while Cal and I dropped a steep, open chute to the skier's left Juan's line. His was a lot spicier than ours and Cal and I both got nervous for a moment watching him navigate the razor's edge of that rock fin with death exposure directly to his right side. He looked like a billy goat up there except that billy goats wouldn't even go up that high.
He bailed on going to the top of the fin, downclimbed, and then dropped into an east-facing, ramp-looking couloir. Cal followed, coming down skier's left of Juan's line into an open shot that had the feel of a steep, wide chute. I followed Cal and found that the snow was downright weird—grabby, punchy, funky, with an occasional soft turn of sugary, faceted snow. I skied fast and awkwardly, almost falling once or twice but holding it together until the snow softened up towards the bottom of the ridge where it was more protected.
The culprit for the bad snow? Probably wind. It worked its voodoo on the exposed upper portion of the ridge while lower down the snow was more out its way. As a group, we had talked about skiing a west-facing descent into Mineral Fork but lost all motivation to do so after we saw how the snow was up high on an east-facing aspect, knowing that it was probably the same or worse on the other side of the ridge where the proposed descent was.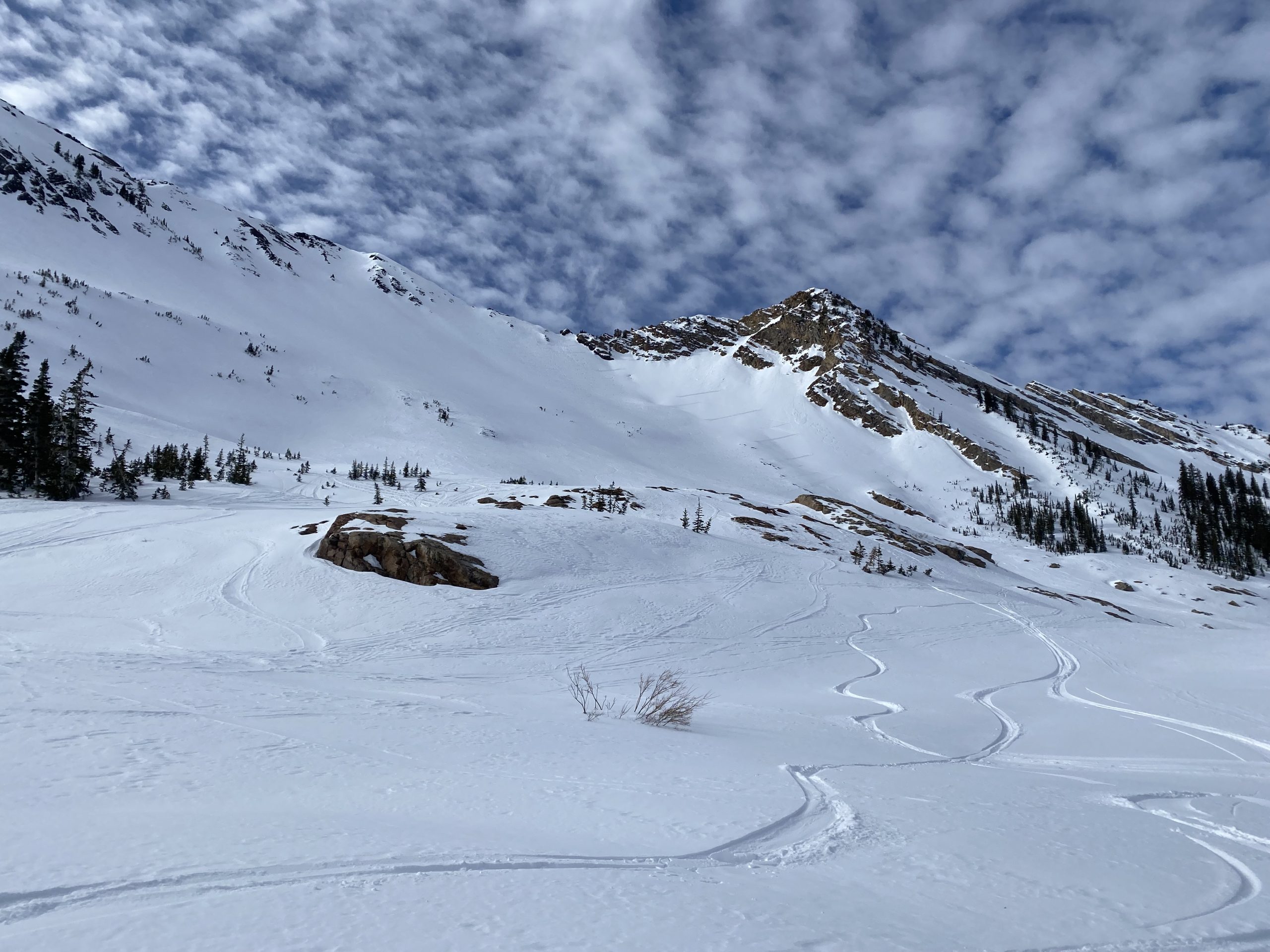 So up and back to the Little Cottonwood ridgeline we went. Once we got there we transitioned to downhill mode, ready to ski back down to the car at around 3:15 and the snow looked awful. We expected the icy, crusty-looking snow in the zone in front of us called Two Trees to ski poorly. Calvin and Juan even had ice axes in their hand.
The first 50 feet or so were icy but then to our surprise—corn! A little further down off the exposed south-facing ridgeline, the sun had warmed the snow to a damp, forgiving, pudding-like consistency except that it wasn't sticky. Our confidence was immediately boosted and we all suddenly started making longer, faster more joyous turns.
More smiles. We had found some good snow—on accident!  Our plan was never to ski back down to the car—it was to go down into Mineral Fork. But the snow was bad there, so we went here —where we thought the snow would be bad too. But it wasn't. So we party skied the thick corn snow all the way down to the road, making easy, playful turns in steep gullies, in between cliffs, over rocks, and through small mountain shrubbery. It was fun.
We walked along the highway back to the car in the canyon's afternoon glow feeling pleasantly buzzed. But it wouldn't last. These mountains always leave you hungry for more.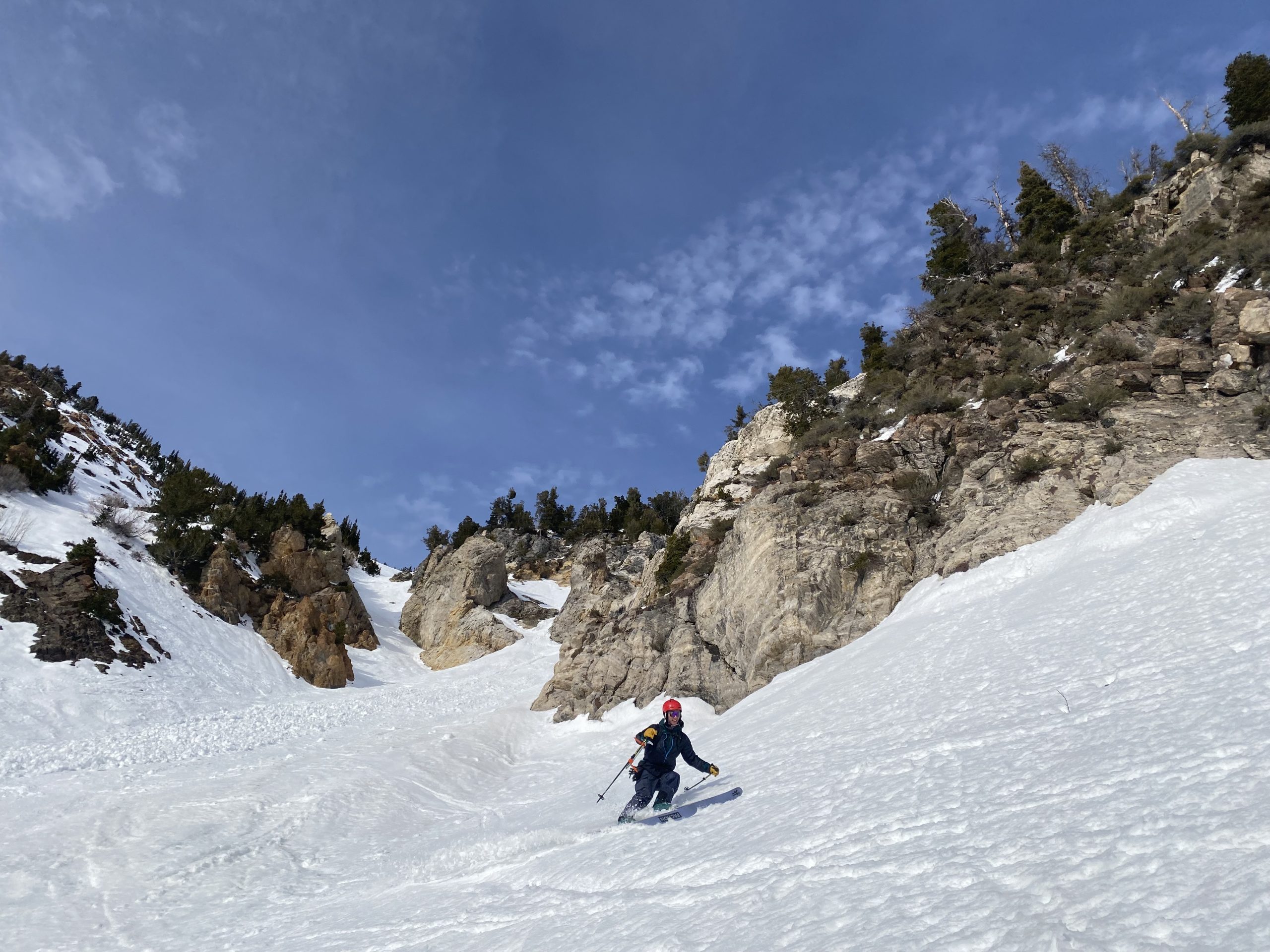 Avalanche Forecast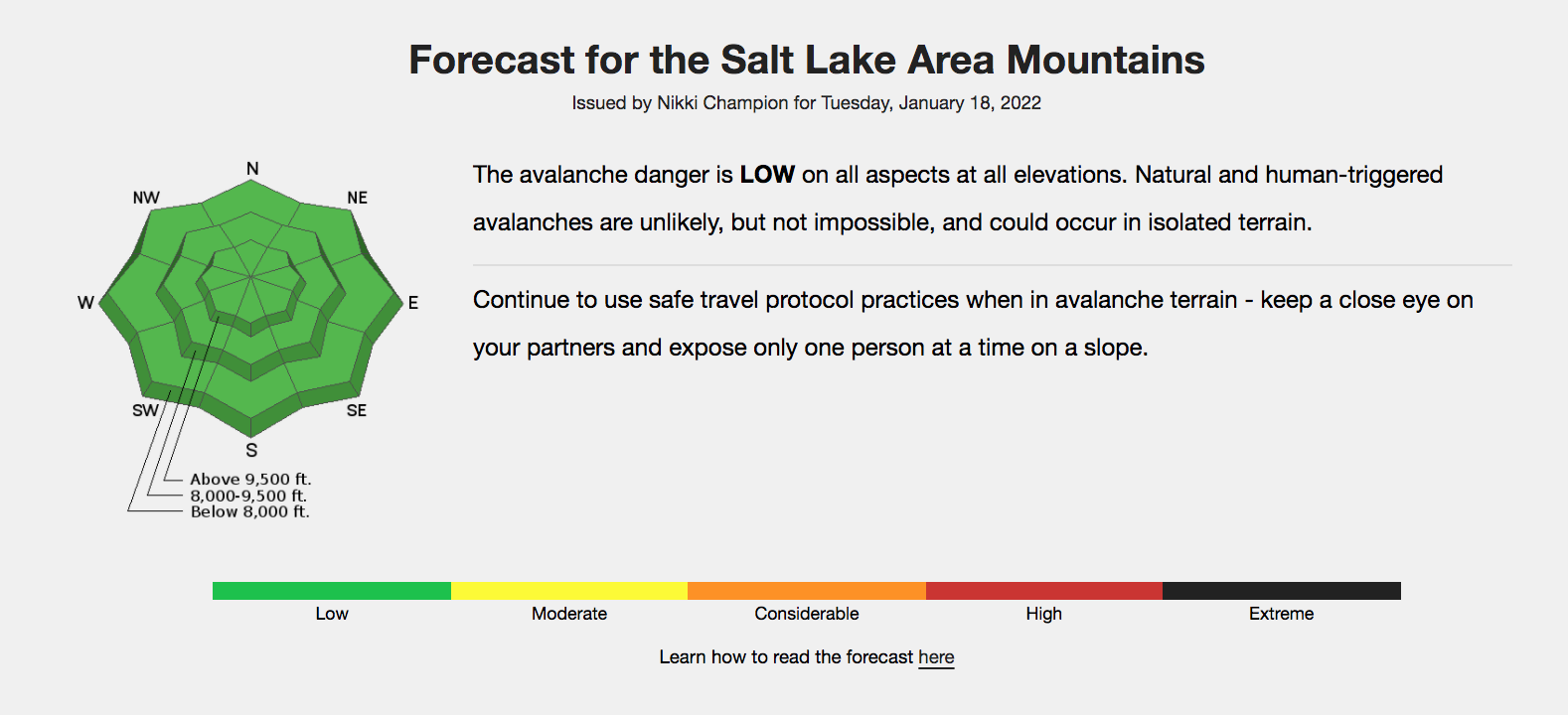 Weather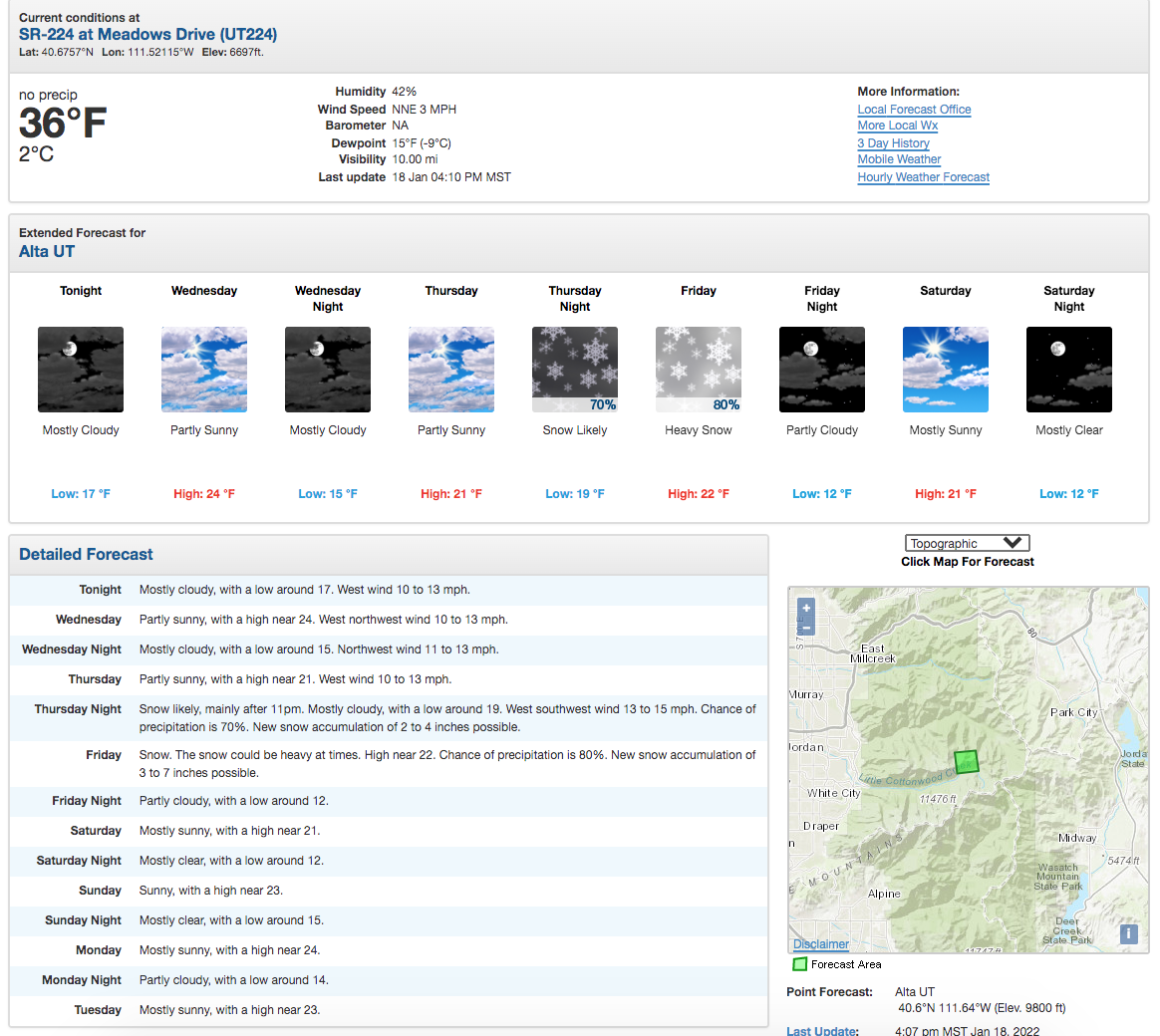 Photos